What the hell is beer cheese?
This is the one thought that raced through my mind, moseying down the snack aisle at the grocery store. 
You see, Weekender taste testers were anxious to try Lay's limited edition "Turn Up the Flavor" trio of chips that will be available through the end of April.
The new chips were a "Flamin' Hot Dill Pickle Remix," a "Wavy Electric Lime and Sea Salt," and the aforementioned "Kettle Cooked Classic Beer Cheese"-flavored chip.
In case you were wondering, beer cheese is a popular cheese spread commonly found in Kentucky and Indiana.
Traditionally made with a sharp cheddar and a cup of beer, the spread can be augmented by mustard, horseradish and cayenne to be used on pretzels, crackers or crudites.
Think of it as a Midwestern version of queso.
OK, now that we know what beer cheese is, there still remains one nagging question: what does singer-songwriter Bebe Rexha have to do with salty snacks?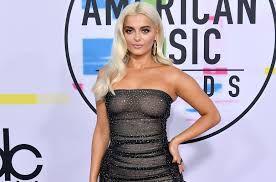 The answer, apparently, is a lot.
Each of the three chips was inspired by a different genre of music. If you scan the QR code from the back of the bag, you'll be able to hear a new Bebe Rexha song. If you log onto LaysTurnUpTheFlavor.com, you'll get a chance to win concert tickets, presumably, to a Bebe Rexha show.
Am I anticipating your next question? If it is who is Bebe Rexha, yes. She's the female voice you hear on that annoying Florida Georgia Line song, "Meant to Be."
How are the chips? Keep on reading.
LAY'S FLAMIN' HOT DILL PICKLE REMIX
MUSICAL INSPIRATION: Hip-hop
HOW DOES IT TASTE: Let's get one thing out of the way. I'm a fan of sour and spicy. In fact, I prefer it to the more popular sweet and spicy. While this chip captures the sourness of a gherkin, it lacks the firepower found in other Lay's Flamin' hot chips. Perhaps, it was the addition of sour cream and garlic that tempered the heat level. This isn't a bad chip but it is what it is. If you enjoyed a spicy and garlic-y pickle, you'll love this chip.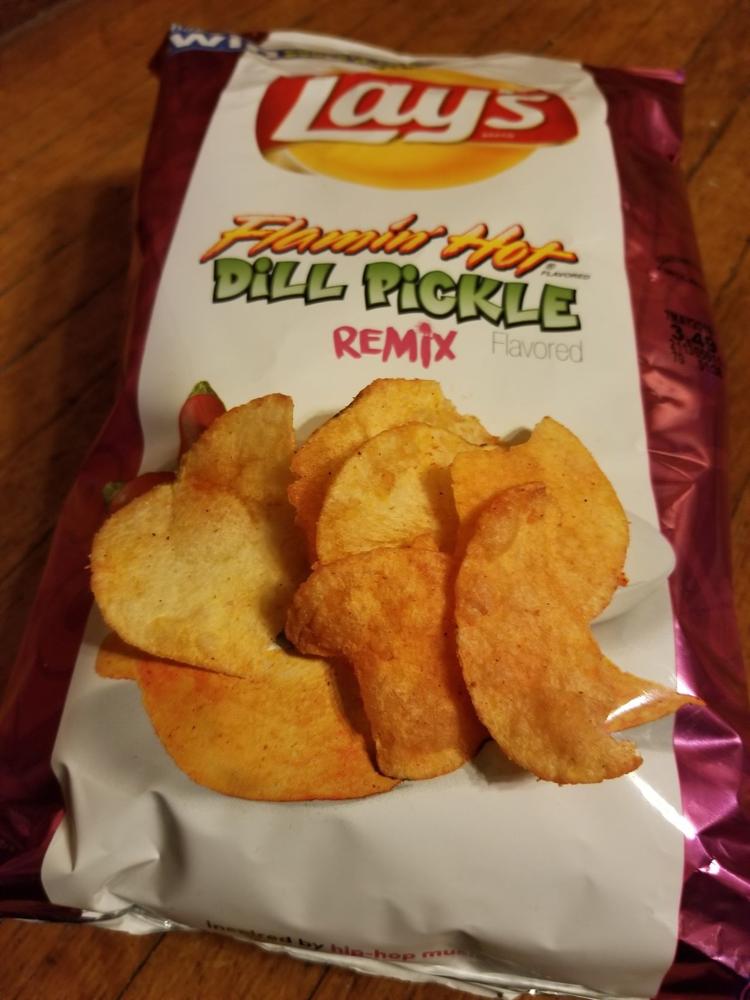 MUSICAL EQUIVALENT:  Rapper Common. Respectable but safe.
SCORE: 3.5 (out of a possible five)
LAY'S WAVY ELECTRIC LIME & SEA SALT FLAVORED CHIPS
HOW DOES IT TASTE: Certain flavors get odd reactions from me. While I'm sure Lay's was trying for a margarita-inspired chip, I kept tasting key lime pie or a lime Life Saver, While the chip was far from tart, there was also a sweetness that kept raising its head. I'm guessing this to counteract the sea salt, but I think it was to the detriment of the chip. Sadly, this was a misfire.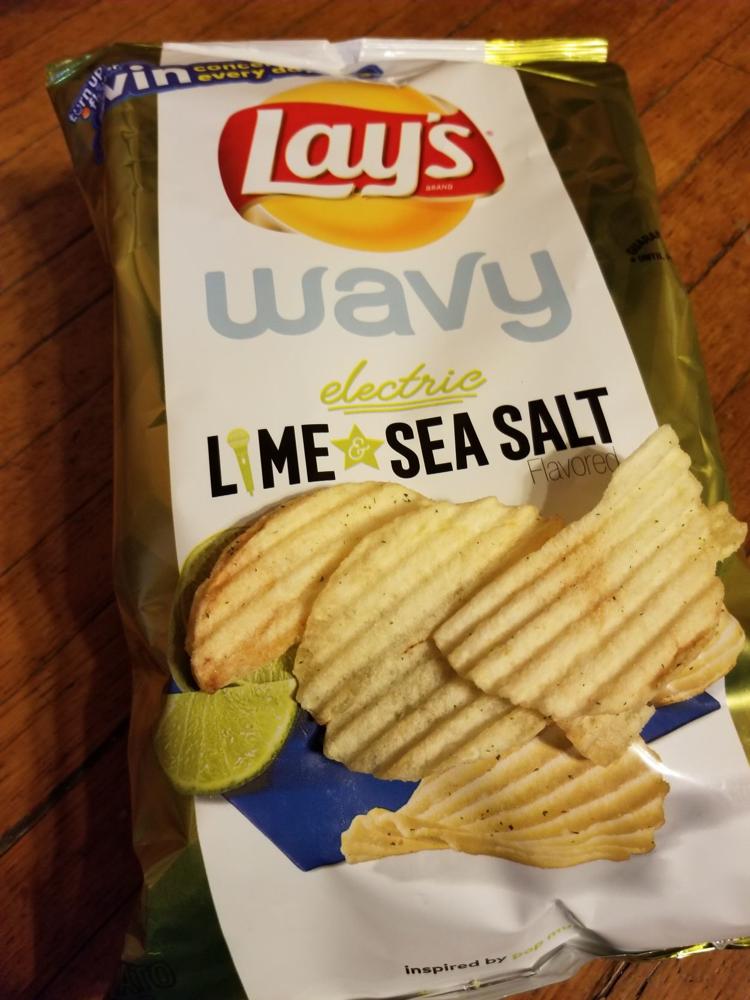 MUSICAL EQUIVALENT: Your parents at a Jimmy Buffett concert  
SCORE: 2.5 (out of a possible five)
LAY'S KETTLE COOKED CLASSIC BEER CHEESE
MUSICAL INSPIRATION: Classic rock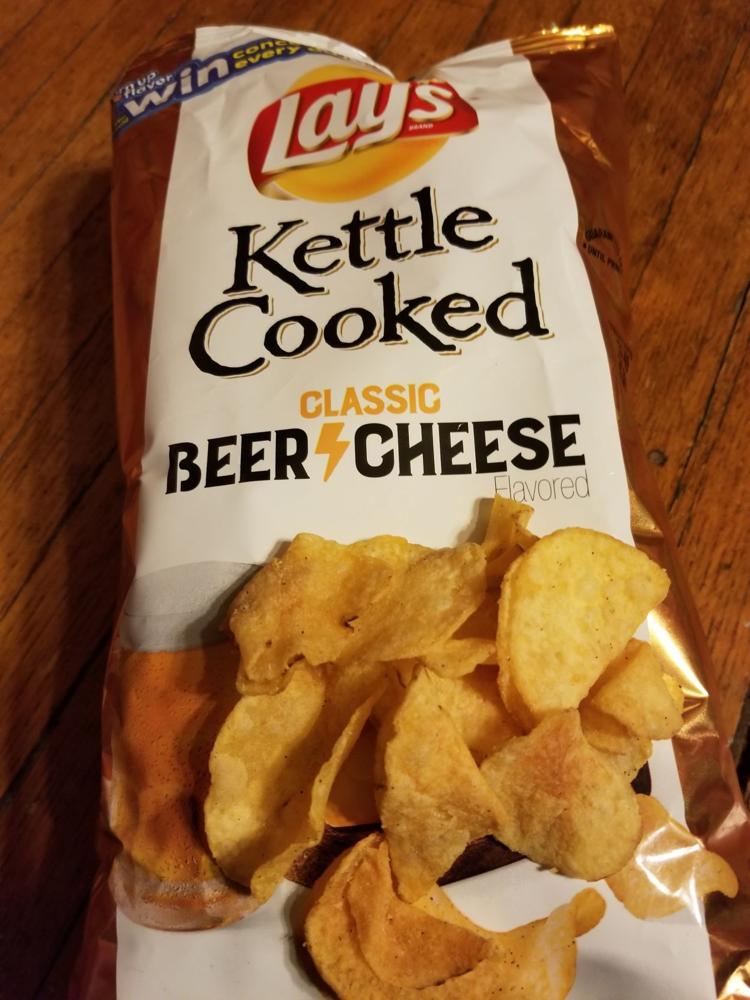 HOW DOES IT TASTE: I am perhaps predestined to enjoy this chip. After all, I like beer and I like cheese. So, why wouldn't I like beer cheese? Well, it turns out this chip is a hit. On first chomp, you get plenty of cheddar. Keep on snacking and you'll discover a bitter hoppiness of a nice working class beer. We're impressed!
MUSICAL EQUIVALENT: Old school John "Cougar" Mellencamp
SCORE: 4 (out of a possible 5)