Randy, the assistant trailer park supervisor from TV's "Trailer Park Boys," is best known for having 1) an apparent allergy when it comes to wearing shirts as well as 2) a never-ending appetite for cheeseburgers.
In anticipation of "Randy's Cheeseburger Picnic Tour" coming Saturday to The Marquee, 1225 Fourth St., we suggest that some of Sioux City's most epic burgers come...wait for it...sans cheese.
Slapping a sad slice of American on a puny patty shouldn't satisfy anyone with the palette of Randall "Randy" Bobandy. 
Certainly not when there are burgers that are topped with a mountain of bacon, globs of grape jelly as well as a half-pound of pulled pork that just waiting to clog the arteries of this particular Canadian carnivore.
However, before we get to Siouxland's most brazen burgers, here's a little history lesson.
MEET LIONEL, A CHEESY INNOVATOR
While many stake the claim of inventor of the All-American cheeseburger, It was likely 16-year-old Lionel Sternberger who accidentally drop a slab of cheese on a sizzling patty in 1926.
Since this inauspicious start -- at Pasadena, California's The Rite Spot, which was owned by Sternberger's dad -- a burger's BFF has come in the form of dairy.
But who needs cheese when more meat is an option?
MEAT PLUS MEAT PLUS SLAW PLUS ... DID WE MENTION MO' MEAT!?!
All right, some people may prefer the term "stout" or "full-figured" or, even, "big-boned." Leave it to the politically incorrect folks at Ickey Nickel Bar & Grill (4700 41st St.) for calling them like they see them.
The Fat Boy consists of a half-pound patty that gets its heft from breaded onion straws, Cole slaw barbecue sauce and a half-pound of delicious pulled pork. 
WHAT MAKES IT RANDY-WORTHY: We mean this in the nicest possible way but Randy's physique ain't svelte. While we would never call him a Fat Boy, it is hard to imagine the term would be offensive to Jim Lahey's longtime ... um, assistant?
A BURGER FOR THE 'SONS OF ANARCHY' CROWD
It isn't east finding a quality, non-chain restaurant, fast food burger. But what Billy Boy Drive-Thru (2328 Riverside Blvd.) has done to its specialty burger should be criminal ... literally!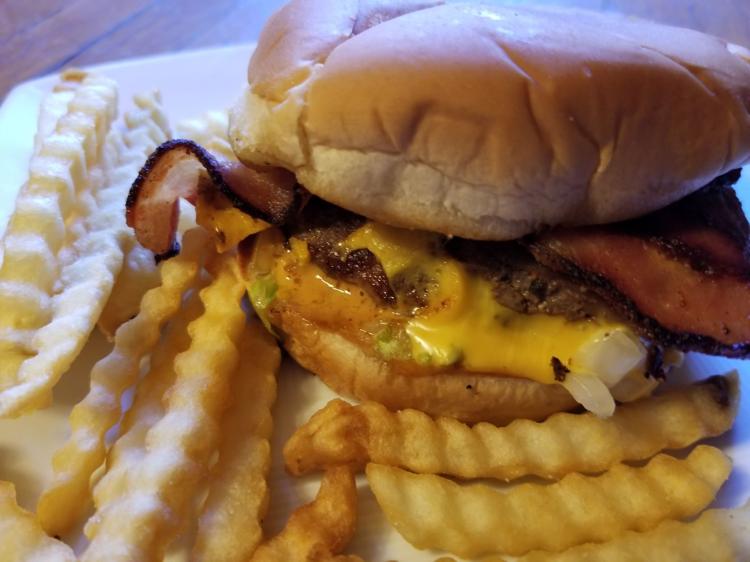 Billy Boy's Outlaw Burger contains two all-beef patties, slabs of bacon and a zesty sauce on a fluffy bun. To give the illusion of respectability, it also comes with a garden on veggies. But this burger is mostly about the meat.
WHAT MAKES IT RANDY-WORTHY:  Would Randy -- or any of the denizens from the Sunnyvale Trailer Park --  engage in something shady? Don't kid yourself, the entire series is a crime spree inside of a sitcom. Our man Randy would love to gobble up an Outlaw Burger.
A TOWERING BURGER WITH JELLY, JALAPENO AND DOUBLE THE CHEESE!
We admit it, calcium is a key component for both trailer park boys and trailer park girls. That's why were adding the Popper Topper from Soho American Kitchen & Bar (1024 Fourth St.). 
How can you resist an architecturally sound sandwich that consists of a flame-grilled burger topped with cream cheese, pepper jack cheese and some goopy grape jelly? Adding stature to the burger is the deep-fried jalapeno that serves as a beacon for beef-lovers!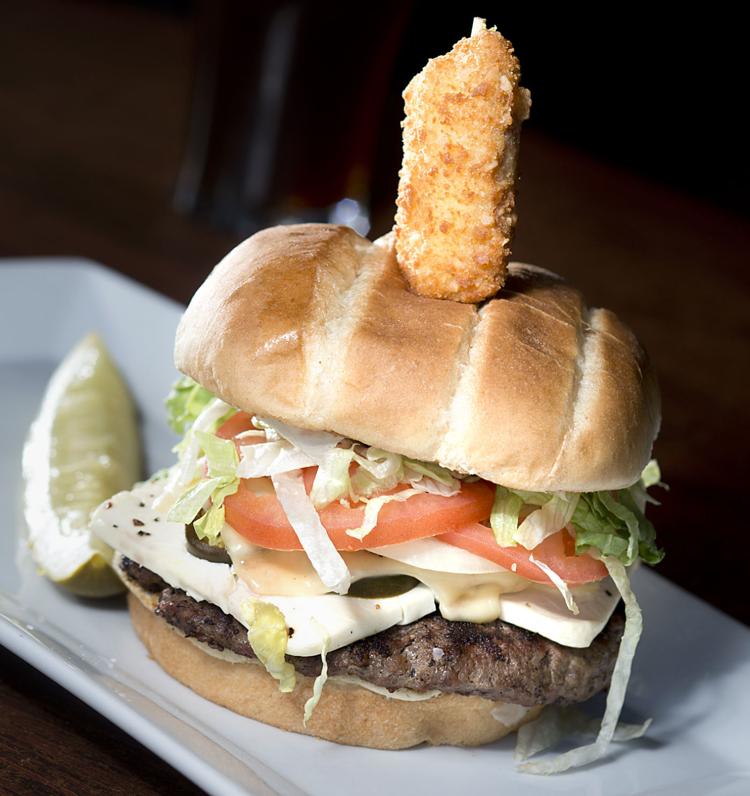 WHAT MAKES IT RANDY-WORTHY: While Soho fare may seem out of the league for our favorite bare-chested "Trailer Park Boy," Randy has higher aspirations. We think he'd totally dig the spicy, the salty and the sweet Popper Topper. Hopefully, he'll use a napkin. Grape jelly and tight white pants are not a good combination.