The intoxicating aroma of diples filled the kitchen of Holy Trinity Greek Orthodox Church.
"You know Greeks and desserts," Mary Baryo said as a team of "church ladies" rolled and fried thin sheets of dough before dipping them in walnuts and sugar. "We love making desserts and people love eating 'em."
To be honest, Baryo may be underselling the appeal of Grecian cuisine. After all, desserts are just part of the package when it comes to Mediterranean eats.
The 900 Sixth Street church's annual Greek Fest, held the last weekend of July, attracts famished Greek-wannabes from miles away.
Plus Holy Trinity's first-ever Gyro Fest and Bake Sale, which takes place from noon to 7 p.m. Saturday, is also likely to bring in Olympic-sized crowds.
That's good news for Christine McAvoy, a lifelong Holy Trinity parishioner, who characterized Gyro Fest as Greek Fest's "greatest hits."
"C'mon, we'll have gyro sandwiches, Greek salads, Greek fries, plenty of spanakopita (savory, spinach-filled pastries) and baklava for dessert," she said. "What can be better than that?"
McAvoy makes a very good point. 
So does the Rev. Luke Melackrinos, who said gyros -- a pita sandwich filled with rotisserie-cooked meat -- have become shorthand for Greek food.
"When the average non-Greek person pictures Greek food, (he or she) immediately thinks of gyros,"noted Melackrinos, Holy Trinity's pastor for nearly two years. "When a person can purchase a gyro at Arby's, you know it has now entered into the mainstream.
However, Arby's Americanized imitations lack the authenticity of Holy Trinity's Grecian delights.
"Every Greek household has a secret family recipe for gyros or spanakopita or pastichio (a layered pasta and beef dish, similar to Italian lasagna," Melackrinos said. "A beloved recipe was something that was passed down with each generation of Greek families."
That was the Melackrinos family, where pastichio ruled.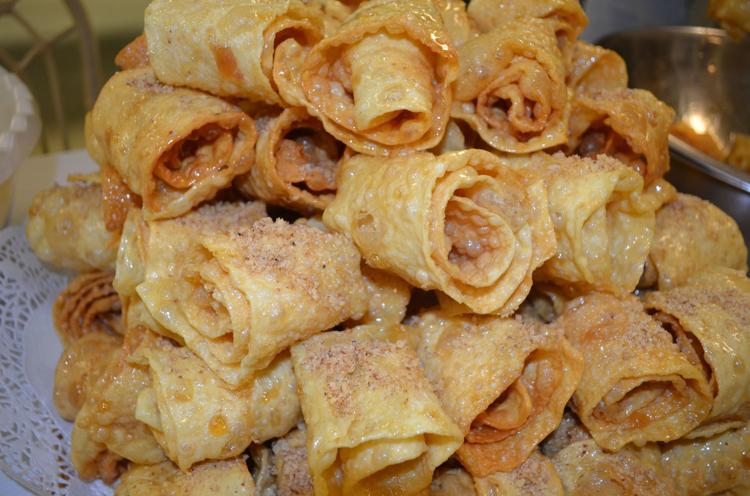 "My mom made the best pastichio," Melackrinos remembered. "It's a classic."
But don't tell that to the women, who make up Holy Trinity's all-volunteer kitchen staff.
"We have many generations of Greek home cooks in our kitchen," Baryo said. "They're the best Greek cooks in Siouxland."
Some of Holy Trinity's best chefs have many decades' worth of experience. 
Must be the health benefits of the Mediterranean diet, right? 
With an emphasis on veggies like zucchini and eggplant as well as a lot of olive oil, Greek food is as delicious as it is heart (and waistline) friendly.
Or it is if you don't come to Holy Trinity's kitchen when everybody's making nothing but stacks and stacks of diples.
"When you're eating healthy Greek foods, you can afford to indulge in a deep-fried dessert," McAvoy said, offering us permission to break our diet.
After all, what would Gyro Fest be without a gyro (or three)?