I am comfortable enough in my masculinity to admit that a teeny-tiny, itsy-bitsy dumpling brought tears to my eyes.
And, then, it left me with killer heartburn.
That's what happen when a person decides to take on a Samyang Hot Chicken Flavored Gyoza Challenge.
Based out of Seoul, South Korea, Samyang Foods first began acquiring a cult status when it began producing a "fire noodle" version of its popular, grocery store-style ramen soup in 2012.
The inexpensive brand, which boasts a monthly worldwide sales figure of six-to-seven million, became a viral sensation after curious foodies took to YouTube to taste-test the company's extra-spicy ramen.  
Originally only available with a Hot Chicken Flavor, Samyang quickly added seven new flavors to its fire noodles best-selling ramen line.
The company also added a line of fiery gyoza -- a variation on Chinese potsticker -- as well as a hot chicken flavored sausage for fiery food fanatics.
Peggy La, owner of Hong Kong Supermarket, said she regularly gets calls from customers wanting to purchasing Samyang products from her 511 West 7th St. store.
"There's a waiting list whenever we get a new shipment," she said. "They sell out right away."
La let it slip that Hong Kong Supermarket is the only Asian food store to receive a shipment of Samyang's Hot Chicken Curry Ramen as well as its chicken sausage and frozen gyoza.
"We've gotten calls from as faraway as the East Coast," La told me last week. "Would you like to us to set aside a few for you?"
Well, you don't help to twist me arm. I love spicy foods and I'm sure I could conquer anything that Samyang could throw my way.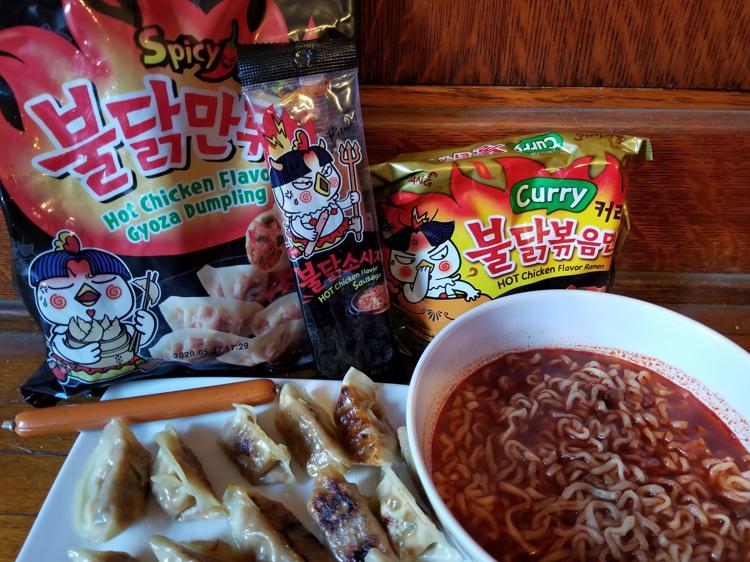 OK, that was my first mistake. Read on if you want to see me suffer from my misplaced confidence.
DON'T BE FOOLED BY THE FUNKY CHICKEN
Every product produced by Samyang Foods can be identified by its colorful packaging as well as its iconic mascot: a cartoon chicken nicknamed "Hochi."
In the packaging for the 2X Spicy Ramen, "Hochi" is presented as a fire-breathing who is brandishing a detonated bomb. 
You may remember that Western Iowa Tech Community College culinary students taste-tested the double-spicy food for a previous story. 
Apparently, Samyang is a manufacturer not known for its subtle packaging. Which leads us to make a blanket statement.
Just for future reference, if you see "Hochi" peering at you from a grocery store shelf, fricassee him because this is one dirty bird!
SAMYANG HOT CHICKEN FLAVORED SAUSAGE
WHAT'S HOCHI DOING ON THE PACKAGING: Holding a sausage in one hand and a trident in the other, Hochi is apparently the lead singer of some Wagnerian opera.
WHAT WE ATE: A garlicky and peppery hot dog-like sausage. While far from mild, this sausage isn't as profoundly spicy as other items in Samyang's line. We can see it being chopped up into a spicy bowl of Ramen or eaten only as an on-the-go snack. 
SPICE LEVEL: Three out of five
SAMYANG HOT CHICKEN CURRY RAMEN
WHAT'S HOCHI DOING ON THE PACKAGING: Emerging from a genie's lamp.
WHAT WE ATE: All of Samyang ramens are easy to make. You boil the dried noodles in a pot of hot water for about five minute before transferring it to a bowl. The curry ramen comes with 1) a sachet contained a potent red liquid flavor pack as well as 2) a sachet that contains additional flavoring. Once stirred into the soup, the red liquid coats the noodles while turning the clear broth into the color of a volcano. If you like extra spicy Indian Vindaloo Curry, you'll love this soup. To our palates, it adheres closer to classic Indian curry than it does that of a Thai curry.
SPICE LEVEL: Five out of five 
SAMYANG HOT CHICKEN FLAVORED GYOZA
WHAT'S HOCHI DOING ON THE PACKAGE: Wearing a truss full of pot stickers while holding a gyoza using chopsticks.
WHAT WE ATE: Made in a similar fashion as other frozen gyoza, we employ a flash-fry method of cooking them in an oiled pan in order to color their doughy wrapper before adding a tablespoon of water to steam 'em until cooked. This worked like charm since they cooked perfectly. While spicier than the sausages, the gyoza weren't nearly as hot as the ramen. Plus they were tastier. Did these pot stickers leave me with heartburn? Yes. But it left me with no regrets. They were delicious.
SPICE LEVEL: Four out of five