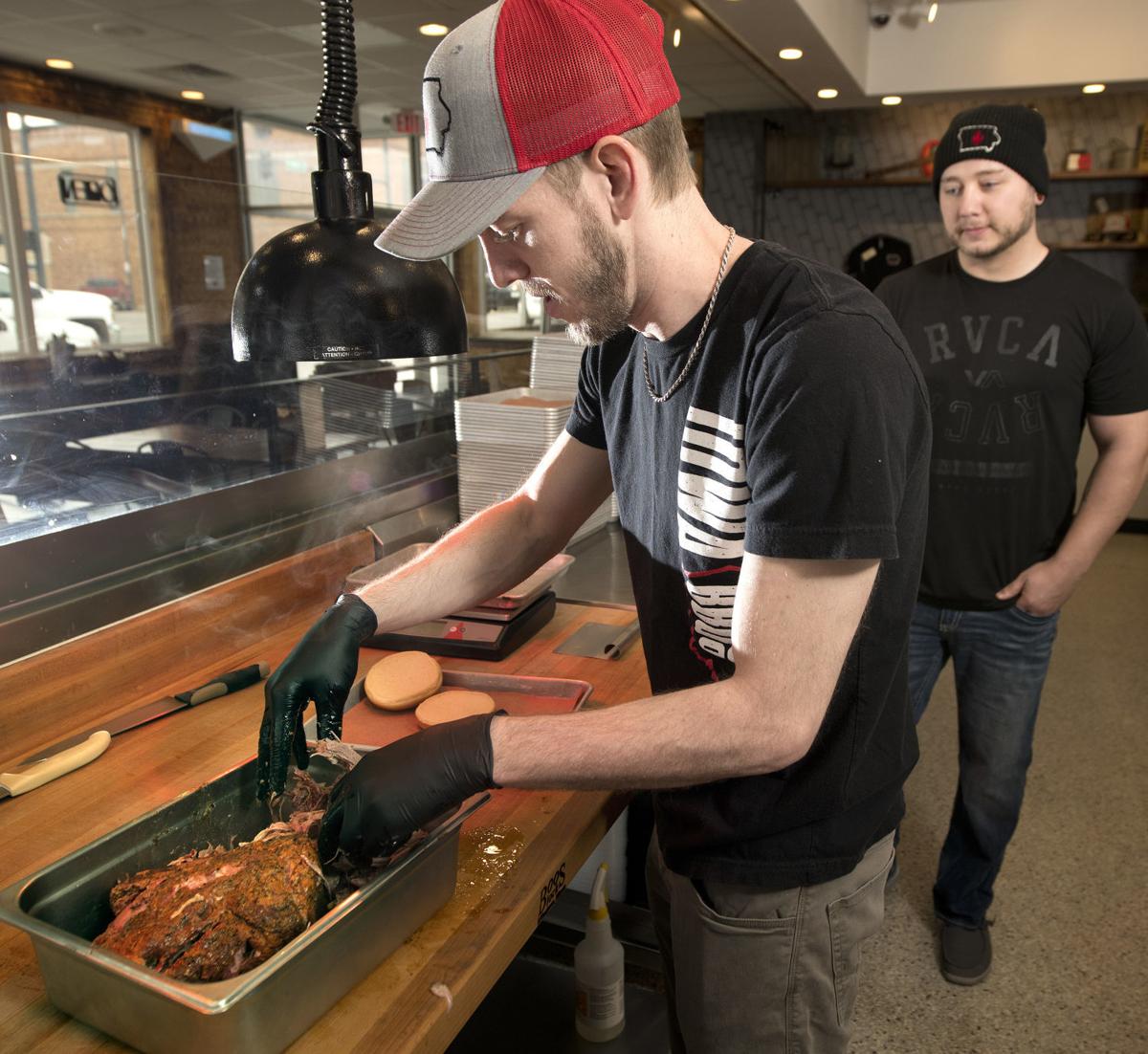 LE MARS, Iowa -- We love everything about March Madness.
You know, the competitive brackets, the breakout combatants and, of course, all that barbecue. 
Wait, you thought we were talking about the National Collegiate Athletic Association (NCAA) Basketball Tournament?
Nope, the Iowa Pork Producers Association (IPPA) Pulled Pork Madness contest can outsmoke out anything done those shorts-wearing b-ballers!
Between March 1-29, approximately 1,130 BBQ fanatics nominated pulled pork sandwiches from 80 different restaurants. IPPA consumer outreach director Kelsey Byrnes then selected the two top vote-getters in each of the eight districts -- based upon same square mileage --  to fill out the "Sweet 16" bracket.
Over the course of four weeks, approximately 2,200 online votes were cast, narrowing down the field from eight to four and, then, down to the final two.
Even though Ottumwa's Warehouse (owned by father and son Roger and Dusty Ware) took the top spot (plus a $250 check), Le Mars' Iowa Barbeque Company secured a very respectable second-place finish.
'QUE IN THE ICE CREAM CAPITAL OF THE WORLD
It was especially significant since the 100 Plymouth St. S.W. eatery has been in business for less than a year.
"It was a really cool honor," executive chef Keaton Kimble explained. "Being chosen to have the second-best pulled pork sandwich in the state is a huge thing for us."
A Le Mars native with nearly two decades of restaurant experience, Kimble was part of the kitchen staff at P's Pizza House before he relocated to Little Rock, Arkansas.   
It was when he was working in Arkansas that Kimble acquired an appreciation and knowledge of down-home cuisine.
"I discovered I had a passion for barbecue," he said. "It really hit home for me."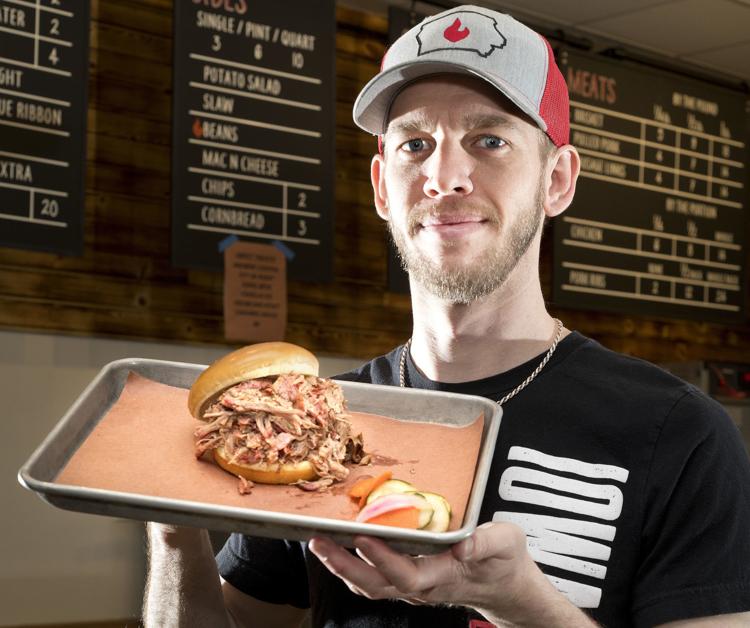 Before too long, Kimble's former boss, veteran restaurateur Joe Sitzmann,  reached out to him.
"Joe asked me to come back to Le Mars and become a partner in this barbecue place he was opening," Kimble said.
Open for business since July 2018, Iowa Barbeque Company quickly acquired a reputation for quality barbecue in the Plymouth County town.
Don't believe us? Follow your nose.
SMELLIEST JOINT IN TOWN ... AND, YES, THAT'S A COMPLIMENT!
On a breezy April afternoon, the intoxicating aroma of barbecue filled the downtown streets of Le Mars.
You have free articles remaining.
The succulent scent is emanating from the custom-built smoker operated entirely by the hand of pitmaster Shane Saxen, right outside Iowa Barbeque Company.
"The smoker attracts customers from all around," Kimble explained. "It's hard to resist good barbecue."
That's especially true for long-distance truckers who drive through Le Mars via Highway 75 and Highway 3.
"When you can get compliments from truckers, who are brought up on Texas barbecue or Carolina barbecue, then you know you're doing something right," Kimble said.
So, how would he explain Midwestern barbecue? In a sentence, the best of all worlds.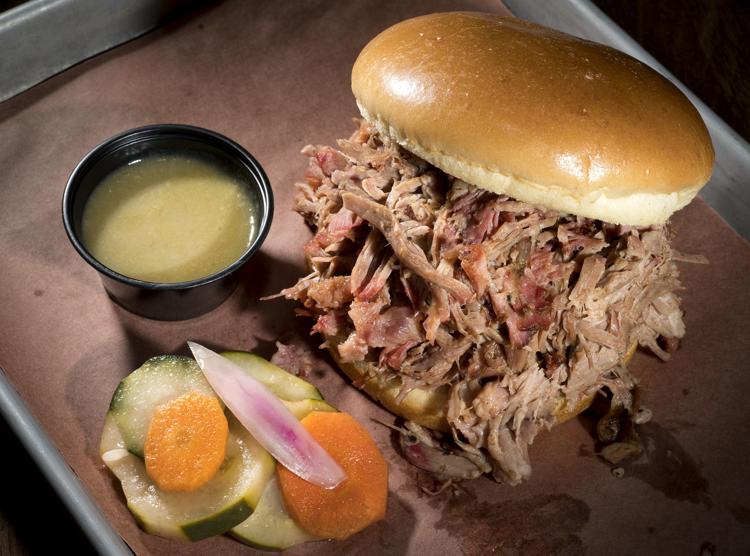 For instance, brisket is done in a classic Texas style while the ribs are more in the Kansas City mode.
"We're looking to bring in all of the best styles of barbecue while adding a few touches of our own," Kimble said.
SIMPLE MENU, COMPLEX FLAVORS
If you want an overly fussy menu, don't come to Iowa Barbeque Company.
When it comes to proteins, you have your choice of brisket, pulled pork, pork ribs, chicken and sausage links. Sides come in the form of potato salad, Cole slaw, beans, mac and cheese, chips, and cornbread. 
OK, what are leaving out? Maybe, some pickled veggies (which are also available in the jar), a few new dessert items and that's it. 
Plus when the meat's gone, they're closed for business. And, no, we ain't kidding.
"We're getting better but we'll never prepare more than we need," Kimble said. "That's how we keep the quality so high."
This is important for Kimble as well as for the Iowa Barbeque Company, whose slogan is "It's All About the Food."
As he prepares for the eatery's second year in business, Kimble already has some innovate plans up his sleeve.
"You can do a lot with smoked meats," he said. "It's more versatile than many people think."
And when you do it right, it can create madness.
"I thank my staff as well as our customers when it come to our pulled pork March Madness success," Kimble said. "They're the best." 
Copyright 2019 The Sioux City Journal. All rights reserved. This material may not be published, broadcast, rewritten or redistributed.