Let's say you've spent a busy day jousting, wenching and poking at some beastly bird-of-pray. 
Bet you've worked up one monstrously Medieval appetite, right?
If you're heading off to the 15th Gathering of the Kingdom of Riverssance Festival, Saturday and Sunday, at Riverside Park, be sure to hook up with Sandy Kolls (aka Lady Cooks A-Lot).
"I've been involved with (the Kingdom of Riverssance) practically from the very beginning," the former "school lunch lady" explained, "and I've been playing Lady Cooks A-Lot for many years."
Kolls and her husband Jim (aka Sir Helps A-Lot) take their Renaissance revelry serious, creating complicated backstories for themselves and other denizens, real or imagined, who entered into the couple's Spare-O's, a tent designed for the undesirables (aka, the non-Royals).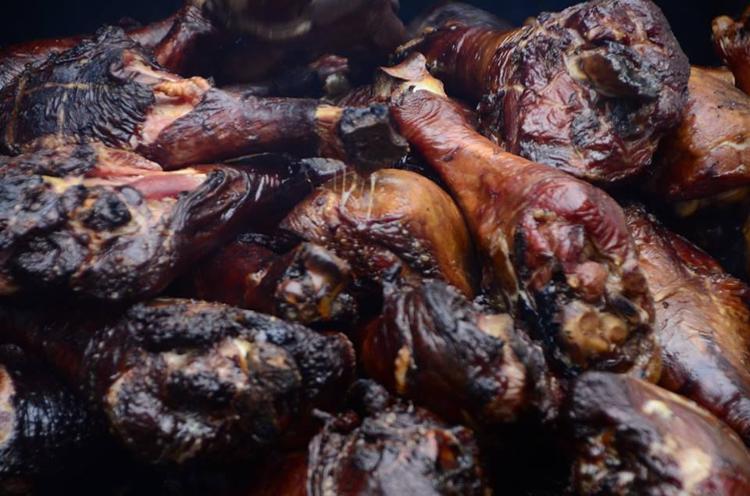 "Renaissance food can be as refined and sophisticated as the era itself," she said. "Meals were carefully prepared to please both the eye and the palette."
Well, that is if you're one of the elites.
For instance, a noshing knight would likely be feasting on a roast of sirloin while slurping down soups sweetened with sugars and sprinkled with such aromatic herbs as marjoram, sage, thyme and sweet basil.
And if not one of high-faluting hoi polloi? Then, you make due with scraps.
"Lady Cooks A-Lot and Sir Helps A-Lot are considered the royal class of the peasants," Kolls said. "They cook for the royals but they secretly cook for the lower classes."
"The peasants may not eating as well as Sir Galahad," she added. "However, they're not starving, either."
If Kolls sounds like an authority on Medieval munchies, she does have a certain pedigree.
"This year, I got one of those DNA kits," she said. "It turned out that my grandparents came from Surrey, England, and my ancestors were all from Great Britain."
Which may mean that one of Kolls' distance relatives may have been a Renaissance royal, a royal cook or someone lower on the societal ladder.
"It certainly was an interesting time," she said.
Plus early fall wouldn't be feel the same way if Kolls wasn't taking out her homemade Lady Cooks A-Lot costume out of the closet or digging out her recipes for grub and grog from her bookshelf.
"My family loves playing dress-up," she said. "Riverssance is a time to let loose and have fun."
Just don't get on Lady Cooks A-Lot's bad side. 
While she might be considered the Martha Stewart for the Middle Ages, Kolls is known for making delicious food and alcohol-packed desserts, her long -- and lethal -- wooden spoons never leaves her side.  
"The wooden spoon is perfect for stirring and for beaning mischievous rats," she said. "Maybe, even some mischievous people as well."
OK, we've been warned and Lady Cooks A-Lot doesn't seem like she's jousting about that.