I'm not Catholic, don't really observe Lent, nor do I enjoy seafood.
But I've always been curious about the tradition of abstaining from meat of a warm-blooded animal, every Friday between now and Easter.
You see, the approximately 40-day period between Ash Wednesday and Easter Sunday is meant to symbolize Jesus' 40-day fasting marathon in the desert as well as his endurance of temptation by the devil, himself. 
So, what does this have to do with munching on a McDonald's Filet-O-Fish? Let's just say that this beats starving in a sand pile with Lucifer close behind!
However, nobody said you had to limit your Friday fasting on a flavorless fish-wich. Instead, we have some suggestions that are more palatable than a deep-fried fish, slathered in tartar sauce and plastic cheese while stuffed inside a steamed bun.
While most chain fast food joints offer something seasonal for Lent observers, most stick close to conventions. Still, why would you want to go to trust a burger joint to make a decent fish sandwich?
If you want Lenten Eats that have withstood the test of time, many churches have a Friday Fish Fry. Not only are these operations manned by people who have decades of experience behind the fryer, most are actually fundraisers for their particular congregations.  
For those wishing fish dishes that are swimming down a different stream, we have a few Lenten suggestions.
But before we get into that, here's our sermon on religious eats.
IT AIN'T JUST MEAT WE'RE MISSING: During the Lenten period, Christians may also abstain from vices ranging from chocolate to alcohol to sex. Wonder why I don't observe Lent? Yeah, that would be the reason.
THERE MUST BE A LOOPHOLE, RIGHT? Leave it to the Big Easy to figure an easy out. The Tuesday before Ash Wednesday is called "Fat Tuesday" for a very good reason. That's when you're allowed to eat too much, drink too much and have sex too much. Might as well go out with a bang!  
WHAT'S THE DEALIO WITH FISH, ANYWAY? Actually in accordance to Catholic tradition, meat from any warm-blooded animal should be a no-no through the entire Lenten season. Obviously, that's been relaxed to a less strict "You Can't Eat Meat on Friday" philosophy. Why is fish acceptable? They are cold-blooded, of course.
SHOCKINGLY, BEAVER IS ALSO ACCEPTABLE LENTEN FARE: There are some parts of Northern Europe in which beaver tail is OK during a meat-eschewing period. Huh? Obviously, beavers are mammals but you see 'em swimming alongside fish. So do beaver equal fish? Apparently in Europe, yes, and so do muskrat. Now, we're totally grossed out!
IF YOU SURVIVE THE FAST, YOU GET ICE CREAM AND CANDY: Be sure to circle April 18 on your calendar. Why? That's Holy Thursday when Germans celebrate "Green Thursday" and plenty o' green foods are consumed. Eh, that's fine, we guess. But in Sweden, kids dress up as witches and you're supposed to give 'em candy. Sort of like Halloween for Wiccans. In Oaxaca, Mexico, the final Friday of Lent is spent drinking delicious aguas frescas and eating ice cream in honor of a good Samaritan lady who gave Jesus water on his way to Galilee. Thank you, good Samaritan lady!
WEEKENDER RECOMMENDATION OF FEASTING DURING A FAST 
Tired of a tired piece of whitefish tossed into a bun. Why not try something from south of the border? Taco El Guero (525 Pearl St.) is our fave place for fish tacos. Made with fried tilapia, tomatoes, onions and a whole lot of cilantro, it is served on a corn tortilla. Tartar sauce? Hell no. Douse these bad boy tacos with some salsa and say a prayer. Why? Because you may have to give up these tacos for next year's Lent, Yeah, they're that good!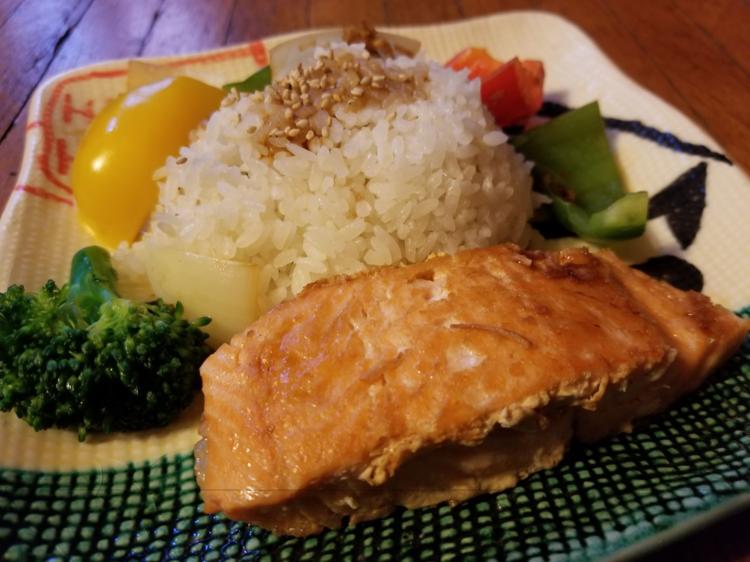 Hmm, south-of-the-border Lent? OK, as long as a you're in the mood for travel, let's go to the other side of the planet? One of the tastiest fish dishes is the Teriyaki Baked Salmon available at Sushi Bamboo (1420 Hamilton Blvd). Described on the menu as being a favorite of the owner's son, it consists of a perfectly baked piece of salmon, accompanied by jasmine steamed white rice. Just ask for extra Teriyaki sauce for ultimate soakability. Yum!