When guzzling down your morning cup of Joe, does the grog taste a) nutty; b) chocolate-y or c) fruity to you?
If your palette was buzzy enough to detect the complexities of coffee, chances are you had the beans needed for "Experience Coffee," a two-week May Term class that was offered by Lauri Sells, an assistant professor at Morningside College's Nylen School of Nursing.
"Coffee is a big part of the lives of many people," she explained. "This course will let students learn about the history of coffee and the socio-economic impact it has around the world."
Specifically, Sells' class will discover the route coffee takes from the farmer who grows the beans to the manufacturers who distribute the stuff that makes your mornings manageable.
This was an aspect of the class that intrigued Mariah Irmiter. However, the Morningside nursing senior also wanted to master the perfect cup of coffee.
"Well, first it involved the temperature of the water, the quality of the roasted bean as well as the person who is doing the brewing," she said.
OK, you lost us there, sister. Isn't there an easier way to get sleep-deprived butts into gear?
Perhaps not too surprisingly, Sells' class seldom met in a classroom. Instead, students learned about different types of beans, roasting techniques and brewing methods from some of Sioux City's most esteemed baristas.  
Among the caffeinated hot spots visited by Sells' crew were local coffeehouses like Stone Bru and Caturra as well as national chains like Starbucks. On this particular day, the kids gathered at Hardline Coffee Co., a 611 Fifth St. shop that is owned by Nisa Salmen, who is herself a Morningside College grad.
"I wanted students to keep a log of all of the coffees they sampled," Sells said, suggesting that the kids focus on mouthfeel and aroma. 
Alright, we'll play along. How does coffee feel in our mouth? Um ... hot! What does it smell like? Hmm, we're going out on a limb with this. But it smells just like coffee!
Are we doing it right? According to elementary education senior Hanna Momsen, we're doing it completely wrong.
"(Sells) gave us a list of descriptive words that would point us in the right direction," she said. "This helps out a lot."
While Momsen prefers lattes and cappuccinos, social and behavioral major Seth Maitlen prefers his cup free of frou-frou stuff.
You have free articles remaining.
"Nope, I like black coffee and that's it," Maitlen said.
His classmate, Maverick Sukstorf, also chose black coffee today. However, the business senior did it mainly for testing purposes.
"If I'm reviewing coffees impartially, I need them to be black," he said. "If you start adding other stuff, that's all you taste: other stuff."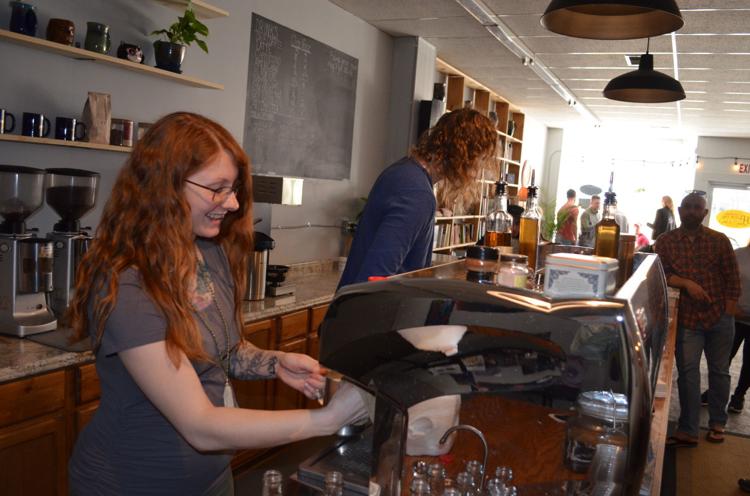 Huh, seems pretty smart to us. But, honestly, isn't all coffee roughly the same?
Absolutely not, said Sukstorf and Maitlen practically in tandem.
"Now, I don't like coffee," classmate Jose Deanda, a business senior, admitted. "Even I could tell the difference between the good stuff and the bad."
Right on, smart guys! Dazzle us with your hot takes!
For instance, business senior Ethan Fahrenholtz said coffee from national chains differs immensely. That's especially apparent when you taste test places, back-to-back.
"We went to the Lakeport Commons Starbucks and then the Starbucks located inside of Target," Fahrenholtz said. "We all preferred Target's Starbucks over the stand-alone Starbucks."
Wow, we weren't expecting that. Then again, Jayci Hinker was just surprised at how many coffee spots were actually located in Sioux City.
"Now, that was the real eye opener," the nursing junior said. "I had no idea there were so many places to get coffee in Sioux City."
So, does Hinker's coffee-of-choice contain earthy qualities along with notes of grapefruit and asparagus while finishing with elements of volcanic ash?
She said no, shaking her head.
"Everything's tasted good," Hinker said. "We haven't had a bad one in the bunch." 
Copyright 2019 The Sioux City Journal. All rights reserved. This material may not be published, broadcast, rewritten or redistributed.