Janet Torres added ground beef, lettuce, salsa and jalapeno peppers on top of a heaping plate of fries.
Then, she added the piece de resistance: a squirt or two of oozy, gooey orange cheese.
"You can never have too much cheese," Torres said, displaying a finished plate of nacho fries. "Now, that's getting your money's worth."
A bookkeeper by day, Torres is now also the mastermind behind Fries on the Fly, a food truck specializing in kicked-up fries, nachos and choripapas (white queso and Mexican chorizo served over fries (or papas).
"I've always like the food stands you'd find at county fairs and owning a food truck is the next best thing," she said. "Food trucks are about fun food and great customer service."
Fries on the Fly is one of more than a dozen local and regional trucks that is serving up a variety of food choices ranging from barbecue, Mexican, sweet treats, sandwiches, hot dogs and lunch bowls from 11 a.m. to 1:30 p.m., every Friday until Aug. 23 during the fourth year of Food Truck Fridays. 
"We have a roster of about two dozen trucks (ranging from Food Truck Fridays vets to first-year newcomers like Fries on the Fly)," said longtime volunteer Sam Burrish. "That's more than any other year."
The food truck scene has grown substantially since organizers brought the food truck concept to downtown Sioux City in 2016.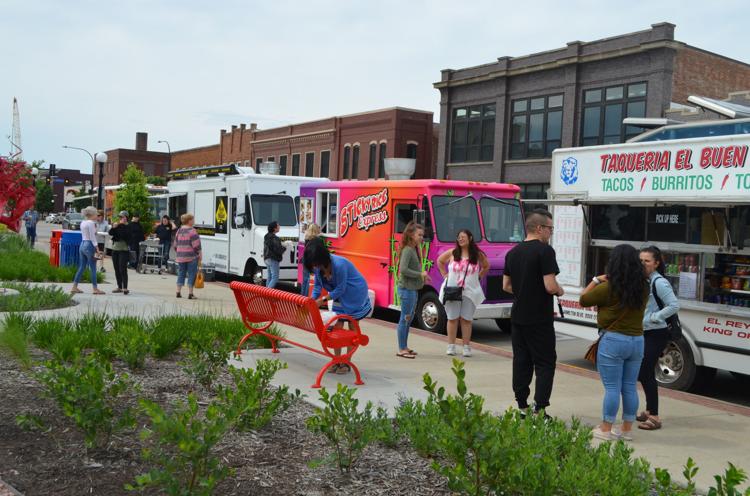 "We get requests all the time from businesses wanting trucks for employee appreciation events or to cater private parties," Burrish said. "We share that with our group of vendors."
Indeed, many vendors are buying new trucks or adding second trucks to keep up with demand. 
"Many trucks are active on evenings and weekends," Burrish said. 
This is true for Fries on the Fly, which Torres takes to the Sioux City Farmers Market in addition to nearby festivals.
You have free articles remaining.
"We're willing to go wherever there is business," she said. 
The same can be said for Taqueria El Buen Gusto, who has been in business for the past seven years.
"We're at (the Immanuel Lutheran Church parking lot at 315 Hamilton Blvd.), Monday through Saturday, as well as Allied Solutions LLC (870 Cottonwood Lane, North Sioux City) during lunch on Tuesday and Thursday," Daniel Topete Leon explained. "We are also at Food Truck Fridays for the first time this year."
Dressed casually in a hoodie, Leon doesn't look like your typical budding capitalist. He's actually a West High School senior who is working as the social media director and event procurer for the food truck business started by his dad, Mario Topete.
Although the side of Taqueria El Buen Gusto proclaims Mario Topete as being "The King of the Burrito," the food truck also serves plenty of tacos, tortas, quesadilla and chilaquiles, a traditional Mexican dish made with tortilla triangles, meats and crumbled queso fresco.
If that sounds like upscale food truck fare, you're not too far off.
The days of the primitive pushcart selling boring hot dogs are over. Most week's Food Truck Fridays diners can choose from a variety of cuisines from trucks which offer imaginative fare.  
Which makes sense since food trucks are becoming big business. Now considered a $2 billion-plus business, the food truck industry has seen its overall revenue grow 300 percent over the last three years, according to FoodTruckNation.us.
That's fine by Burrish, but he also enjoys seeing more people in downtown Sioux City on a summertime Friday afternoon.
"Food Truck Fridays is a quality-of-life project that promotes food culture, entrepreneurship and the downtown district." 
Plus it gives folks a chance to discover french fries in very different ways, Torres said.
"Personally, I love our Buffalo Chicken Fries, which contains boneless Buffalo wings, cheese sauce, jalapenos and sour cream," she said. "It's messy but it is so good!"