SERGEANT BLUFF -- The late Anthony Bourdain once described the traditional Filipino dish of sisig as "everything that I love about food."
Made up of all of the best parts of a pig's head -- y'know, snout and cheeks but, mostly, ears -- sisig is chopped-up meat that is spiced up with chili and a multitude of other regional seasonings. 
Yup, you read that right: Pig ear tacos!
"We call it pulled pork tacos around here," owner Divina Ericksen said inside of her quaint, 300 First St. eatery. "That's easier for American appetites."
A person can't fault Ericksen, a Manila-born former food industry executive, for marketing her products for the widest audience.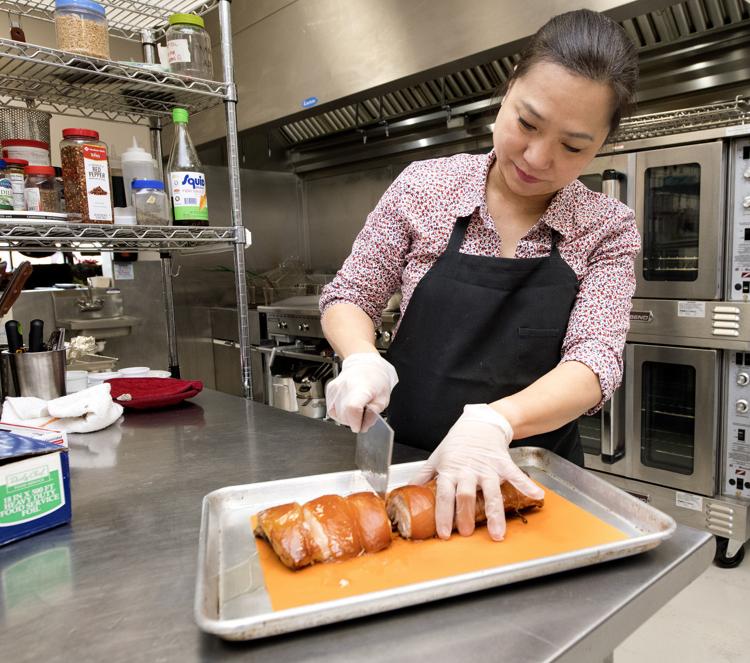 For instance, lengua equals tongue, tripas equals intestines and cabeza equals head.
If you're thinking that a restaurant specializing in the cuisine of the Philippines might seem an odd place to pick up a taco, well, then you don't know Filipino food. 
Located in southeast Asia between the South China Seas and the Pacific Ocean, the Philippines has food which combines traditional Asian ingredients as well as many that are associated with Spanish cuisine.
This is because the Philippines was under Spanish rule from the 16th century until before the start of the 20th century.
Which makes authentic Filipino cuisine both compelling and more than a bit kooky.
Mateo's menu contains everything from a very Cantonese steamed whole-fish fillet to a very Spanish-sounding Kaldereta beef stew to an Americanized Chop Suey to Lechon Pork Belly, which straddles the fence between being beloved in both Spanish and Filipino cultures.
You have free articles remaining.
The Spanish word that refers to a roasted suckling pig, lechon is considered the national dish of the Philippines.
At Mateo's, Lechon Pork Belly consists of slowly roasted, skin-on pork that is served with mixed veggies, savory sauce and your choice of rice. 
"A lot of customers order a garlicky rice because it has more flavor," Ericksen said. "I prefer my Lechon with white rice because I want to taste the pork."
Makes sense. Also be advised that Filipino foods often combine elements of sweet (tamis), sour (asim), salty (alat) and spicy (anghang). 
Indeed, one of the most popular soups on Mateo's menu is Sinigang na baka, which literally means "sour beef."
Blended with cabbage, green beans, okra, tomatoes, egg plant and bok choy, this beef-y soup gets its unique and refreshing sour taste from tamarind, which is an underappreciated seasoning for us Westerners.
Think the concept of the all-day breakfast is a relatively new phenomenon? It's been pretty standard food fare in the Philippines for centuries.
Mateo's Pancit Malabon is a noodle dish that is mixed with seasoned ground pork, blended with cabbage, celery and slices of boiled eggs. Sounds good? The restaurant's Tapsilog -- grilled, marinated steak that is served with rice, shredded carrots, a papaya relish and an over-easy egg -- is enough to fill your tummies morning, noon or night.
Walking into Mateo Fil-Am Kitchen and Catering on a recent weekday, we were charmed by the eccentric menu which included everything from Japanese Curry, Korean Barbecue and some of the best Far East tacos you'll ever find in a strip mall in Sergeant Bluff.
While we were there, we also placed an order for Pork Belly Lechon.
The pork was amazingly soft and flavorful, with the right amount of heat and a sauce that was truly addictive.
As for the tacos? Heavenly. 
Gotta admit it, Anthony Bourdain was right on the money when it came to sisig.
So, the next time you have a hankering for a Filipino taco, ask for some sisig in memory of Bourdain.  
After all, there's no such thing as too many pig's ears.