It doesn't happen very often but I sometimes get "SpongeBob SquarePants" flashbacks while walking down the snack aisle at Hong Kong Food Market. 
Like many people, my memories of such Bikini Bottoms inhabitants as Gary, Plankton and Mr. Krabs are happy remnants of my past.
However, I've also been known to grab a snack from the 510 West Seventh St. store, chowing down on what can only be described as chip-ified versions of SpongeBob's favorite deep-sea homies.
Despite my abiding affection for the Nickelodeon animated series, I am also an unabashed fan of extra-spicy shrimp crackers. So, proceed with caution when you're around me, Eugene V. Krabs!
Indeed, Hong Kong Food Market is a treasure trove for snack food fiends wanting chips that go beyond the humdrum Frito/Cheeto/Dorito wheel when it comes to creativity.
Have a hankering for a chip made from a sweet potato instead of some bland spud? Chances are Peggy and her crew have a chip for you. Ever wanted a corn chip that taste like corn on a cob as opposed to an overly processed Frito? Well, pop on over to the west side for an assortment of international snacks.
This week, Weekender taste testers nibbled on three different, out-of-the-ordinary chips, including one made with fresh-caught prawn.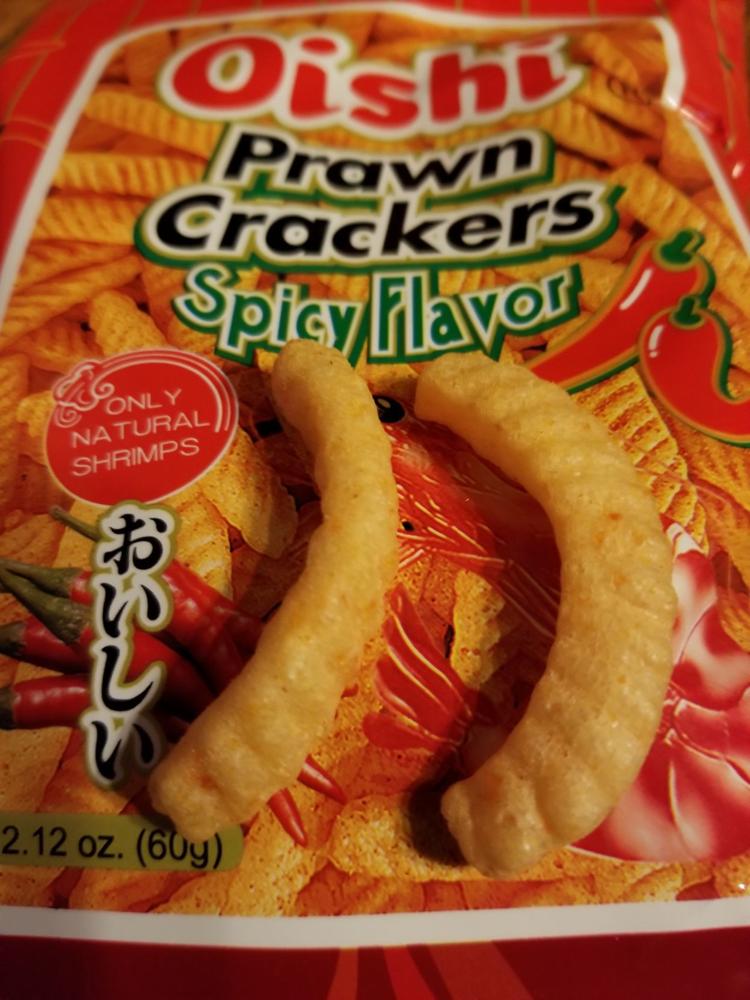 OISHI SPICY FLAVOR PRAWN CRACKERS
WHAT ARE THEY: A product of the Philippines, these French fry-shaped chips are made with "live shrimps (that) are harvested and frozen to lock in freshness until the day" they are made into chips, according to the package.
TRUTH IN ADVERTISING: We think so. In addition to using real shrimp, scad fish (another name for mackerel) is added to the chips.
WORRISOME SIGNS: The packaging also recommended these chips be stored in a cool place, away from direct sunlight or high temps. So, we quickly moved the prawn crackers off our kitchen counter, next to our oven. 
WHAT DID IT TASTE LIKE: Well, before we get to taste, these little buggers stunk up the place. Just like shrimp, we suppose. Plus it tasted like the spicy shrimp you'd get in a sushi joint. We were impressed.
THUMBS UP OR THUMBS DOWN: For a spicy, salty change of pace, these weren't too bad.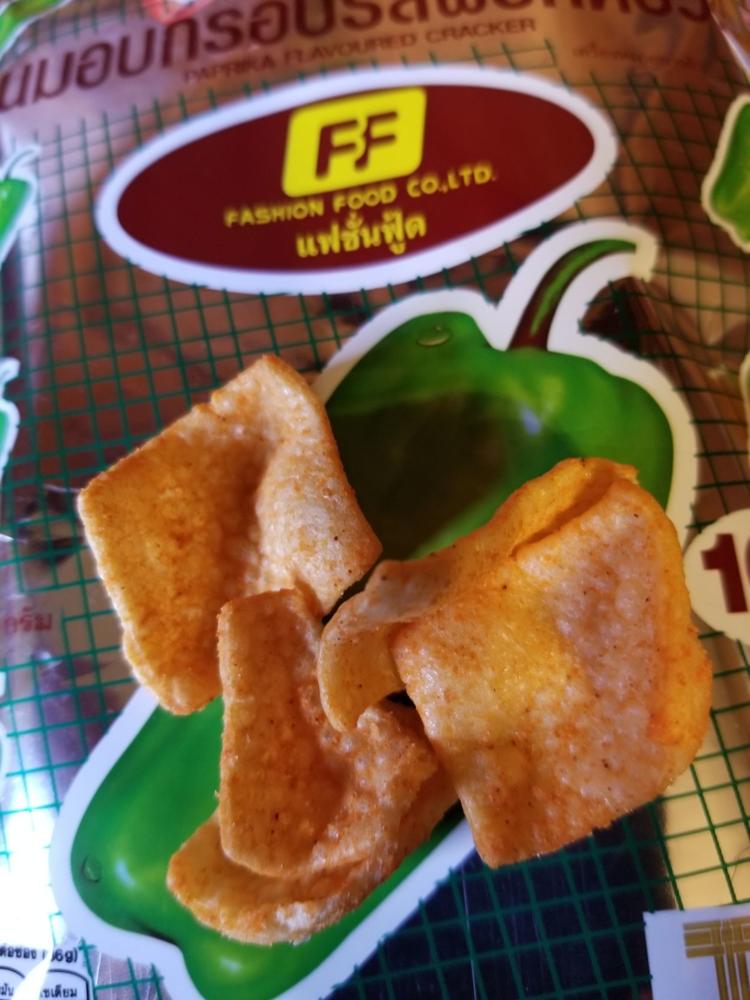 FASHION FOOD CO. PAPRIKA FLAVOURED CRACKERS
WHAT ARE THEY: Actually, we don't know really know the name of these chips beyond the 18-letter Thai word label on the shiny silver packaging. We were simply intrigued by any product made by the oddly named (for a snack manufacturer) Fashion Food Company.
TRUTH IN ADVERTISING: Not by a long shot. The packaging is dominated by images of delicious-looking jalapeno peppers. But no jalapeno was used in this snack.
WORRISOME SIGNS: Though it may be lacking in jalapeno. these chips didn't skimp on paprika, which has always been a somewhat controversial spice. Perhaps best known as a ingredient used in Hungarian cuisine, a little paprika goes a very long way.
WHAT DID IT TASTE LIKE: People who desire a really crisp, crunchy chip probably won't like this. This is a relatively soft chip with a mild, inoffensive taste. We think it is suitable on its own or as a chip you can also dip.
THUMBS UP OR THUMBS DOWN: While a bit lacking in total taste, these chippies may prove to be more versatile than snacks with a more overpowering flavor profile.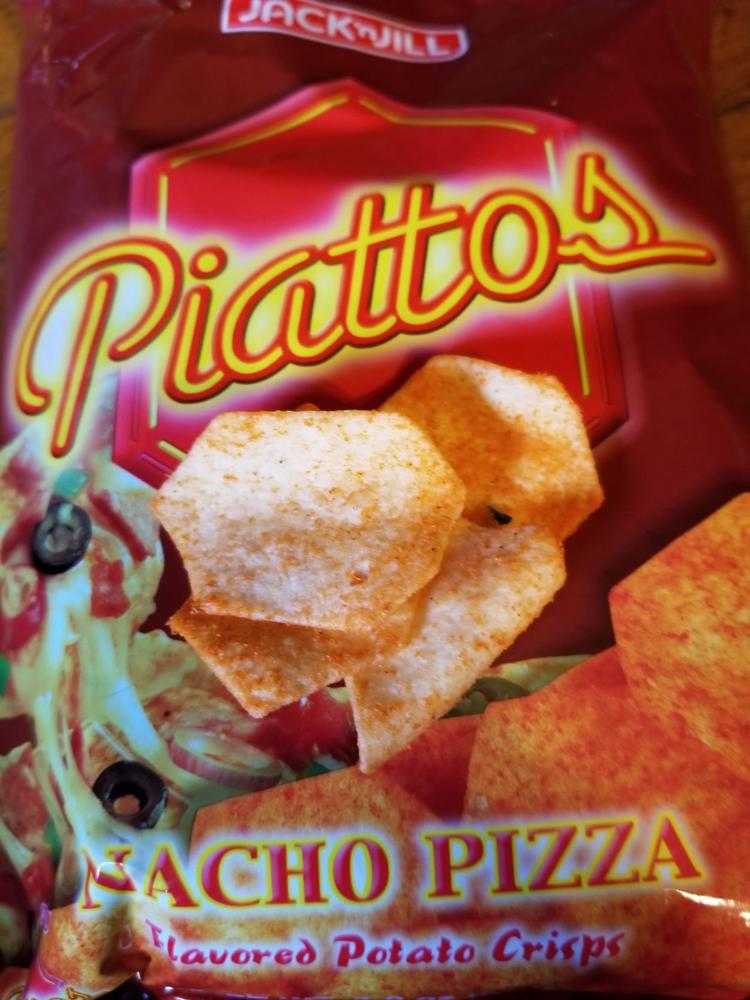 JACK 'N JILL PIATTOS NACHO PIZZA FLAVORED POTATO CRISPS
WHAT ARE THEY: Piattos is simple a word that signifies a Filipino potato chip -- or, in this case, a crisp. Plus combining Mexican and Italian in a south Asian snack seems weirdly ambitious.
WORRISOME SIGNS: What the hell does a nacho pizza taste like, anyway?  
WHAT DID IT TASTE LIKE: It tasted pretty as a matter of fact. The taste of a tangy tomato sauce intermingling with rich nacho cheese gave this chip an unusually indulgent flavor.