After his wife, Kacey Musgraves, swept the 2019 Grammy Awards, singer-songwriter Ruston Kelly has many reasons to be proud, but with his own tour going on he has more than just the illustrious career of his wife to focus on.
Kelly is currently the supporting act for the Brothers Osborne tour and will eventually be joining the tour of Patty Griffin to finish out the spring. You can catch his show here in Sioux City at 7 p.m. on March 7 at the Orpheum Theatre, 528 Pierce St.
Although things are on the up-and-up for this glowing beacon of musical talent, life hasn't always been in the spotlight for this son of a paper mill man. When he was a child, his family moved around a lot.
"We moved quite a bit to different paper mills every couple of years," said Kelly. "We lived in the south, lived up north a bit; we lived in Belgium for a second…which made me wonder if the paper mill was a cover for the CIA…I'm not sure.
"I also learned how to play guitar when I was 15. I started writing songs because I was lonely, and I guess I'm still doing that. The songwriting came immediately. Once I learned my first chord on the guitar I started writing songs. The guitar was a vehicle for writing songs for me."
Every songwriter has a different way of going about writing songs. What is Kelly's process?
"It's pretty stream-of-consciousness," said the singer-songwriter. "Most of the time I feel like your subconscious can reveal a lot more about a scenario than your conscious mind can. I leave the conscious element of it to editing. I want the art to be fluid, then listen to it to see what is being said and then I edit the song. I don't really labor over songs that much; if it's going to come out, it's going to come out."
Kelly released his debut album, 'Dying Star,' to rave reviews in Sept. of 2018 and has since been touring. How was the album created, and what does the new album mean to Kelly?
"My process transfers to the studio, so it was very quick, surefooted and deeply personal," said Kelly. "There was not much time to second guessing. Also, with the subject matter being very deeply personal to myself – that's all I was able to write. Writing had always been there to help me understand my place in the world in general. I can either find a sense of refuge in a difficult scenario or find a place of solace if my mind was going a bit crazy; to find a place that was self-empowering…to put that down on a record was special because it was the first thing I had ever said to the world."
The only area of Kelly's artistry he doesn't fully create himself is his videos.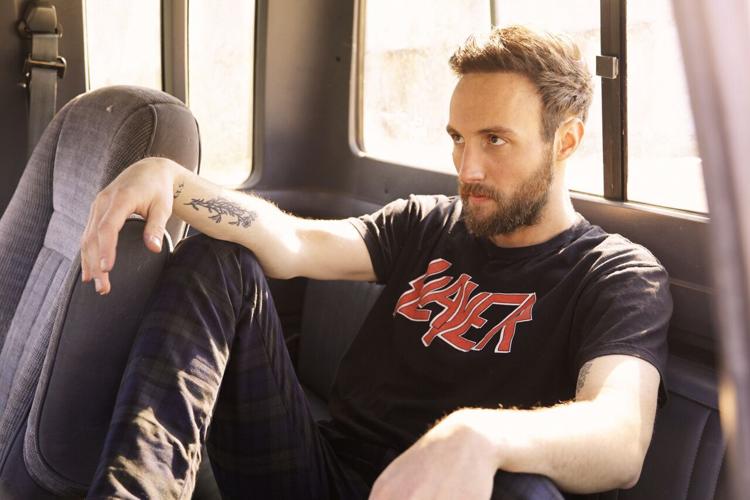 "I let someone else take the creative control with the videos," said Kelly. "Stephen Kinigopoulos and Alexa King take all my photographs and direct all my videos. They are the first people I allowed myself to hand creative control to and trust; I'm really glad I did because they came up with some good ideas."
Kelly has a handful of music videos on the internet. One of these videos specifically caught the Weekender staff's eyes. In 'Son of a Highway Daughter,' Kelly shows masterful skill while figure skating with a partner. How did Kelly learn these moves?
"I started (figure skating) when I was eight," said Kelly. "I moved away from home when I was 14 to train with a husband-wife Olympic coaching team. I started winning competitions, going to nationals…all of that. It really taught me the discipline in having a work ethic that I still apply to my current work. Cheating (infidelity) happened between my coaches and I was caught between the two…that's really where the songwriting started."
Now that he is able to play songs off his brand new album all over the country, what does Kelly think of touring?
"I love performing every night," said the musician. "I've been touring for over 10 years, but that was all while opening for other people or playing to empty crowds. There was also the fact I was dealing with substance abuse the majority of that time; it wasn't conducive to growth. I don't think I was ready to experience what it meant to have people singing your own words back to you like they do now. Ironically, I had to get clean and make a record about getting clean before people really started paying attention to what I was doing."
When bands or touring acts go on the road together, there needs to be a balance in personalities, and we believe in that respect the tour is a success.
"It's been great, man," said Kelly. "I've know those guys (Brothers Osborne) for a long time. We are professional buddies on the road. They have worked really hard to be where they are at and they have a lot of humility about them."
As for new music, can we expect anything from Kelly in the near future?
"I would say in maybe less than a year," said Kelly. "Or maybe a year…we'll see; who knows. I already have the songs written."
What is Kelly's endgame in music?
"Sell as many tickets as possible and do that for the rest of my life," said Kelly. "And make records and sell records. I want to have fans similar to how it was when I would go see my favorite bands. I want to be the person conducting that experience. That is who I am, that is what I was meant to do…I've known it since I was a kid."