Come for the laughs, the songs, the Christmas spirit and, of course, Garie Lewis, for the third annual A Very Garie Christmas at Vangarde Arts.
To us at The Weekender, nothing screams "holiday time" more than Lewis doing a comedic variety show; but what does this season mean to him?
"For me, this time of year is all about giving," he said. "I grew up with Christmas; it was kind of a big deal in our house. Like everybody else, we put the tree up every year and went to church every year. My grandfather was a Presbyterian minister, so yeah, I was in church on Christmas Eve. To me it was the season of giving, but as a kid we'd get presents. We'd look through the Sears catalogue and circle what we wanted. The whole message I got from it was that this was a time to give, do unto others and help out."
A Very Garie Christmas started two years ago at Vangarde Arts when the venue was located on Jackson St. It was originally a benefit geared toward getting Lewis back into driving after not being able to drive.
"Two years ago in November I started the process of getting my own car put back together and on the road," said the comic. "A friend was helping me out and, through the process, he realized that somebody had put cement powder in my gas tank. I'm a comedian and I needed money. I decided to do a show, and with the suggestion of a couple of friends, we turned it into a full-blown fundraiser to get me back on the road. A friend even donated a guitar to raffle off…a brand-new guitar. I was so touched by all the people who came out to help me. I then decided to do it again the next year and raise funds for people who really need the money.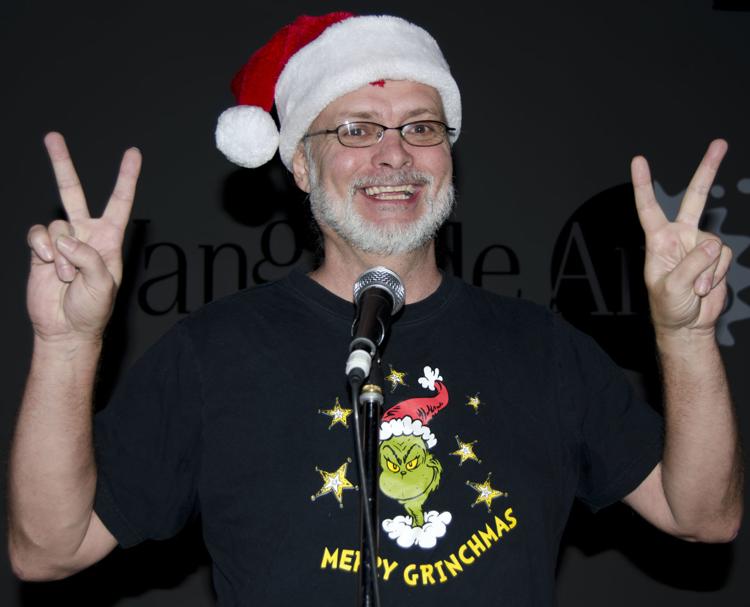 "I'd always been into Christmas specials, so I thought we should do an annual Christmas variety show," said Lewis. "Everybody comes together to tell a Christmas story or sing a Christmas song; somebody will bring the nog and we'll donate the proceeds to the Warming Shelter and the Soup Kitchen."
The event the following year (last year) was held at Skyline Casino because Vangarde Arts was in between locations at the time. As promised, the money raised went to the Siouxland Soup Kitchen and the Warming Shelter to help those less fortunate. The money raised at this year's upcoming event will go to the same causes.
"Last year I got to present $1,000 to the Warming Shelter and Soup Kitchen," said Lewis. "This year I want to do the same or more."
Giving to these causes is truly a noble gesture, but why does Lewis choose to give to these specific organizations?
"It's the way I was taught; it's the way I was raised," said Lewis. "In the true spirit of Christmas, my little Grinch heart grows three sizes…every Christmas."
This year the event will be held at Vangarde Arts on the 400 block of Pierce Street.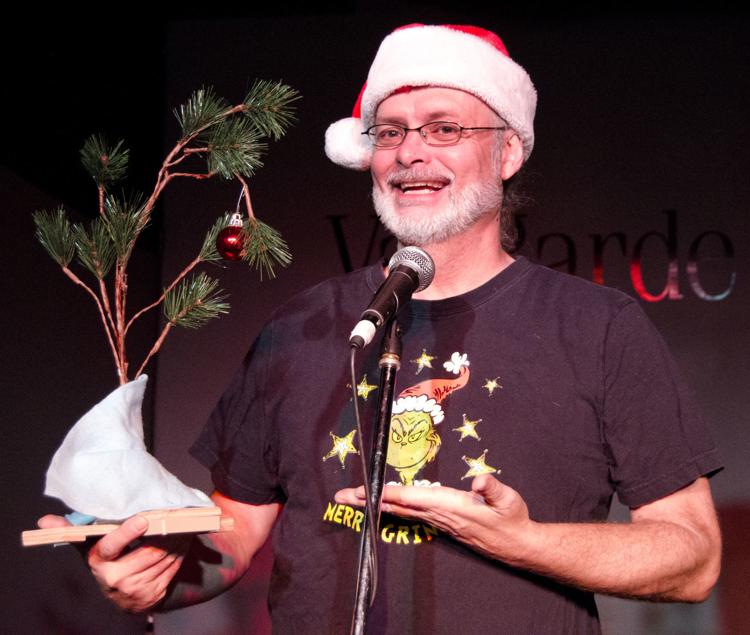 "Last year a group did a rendition of 'Bob, the Goofy Reindeer,' but there were a lot of people talking at Skyline during the performance, so the piece didn't get a fair shake," said the local comedian. "I'm going to have the group reprise it this year to give it another chance. I'll also be hosting, goofing around and doing some comedy sets. We will probably open with John Glaza reading 'The Night Before Christmas.' Other musicians and performers will include Kathy Sandage, Ben Grillet, Rick Borg, Walter Peterson, Bob Larson, Nathan Hults, Luke Johnson, Susan Leonard, Phyl Claeys and more."
In addition to the entertainment and fundraising, there will be munchies to snack on and the special liquid libation: Tom and Jerrys (a special batter mixed with brandy or bourbon).
Everybody has a favorite Christmas song or jingle, but what is Lewis'? And why does Lewis enjoy performing on stage?
"I like 'You're a Mean One, Mr. Grinch,'" said Lewis. "I also like 'Winter Warlock' and John Prine's 'Christmas in Prison.'
"Performing is a rush, it's something that I just kind of have to do whether it's doing stand-up, singing music, doing plays or interviewing for newspapers…it's in me, I guess."