If you're interested in Siouxland history, you probably know photographer and broadcast news media pioneer George Lindblade.
Lindblade was born to Vern and Rose Lindblade in December 1937. It is a miracle he made it past childhood, as he was born with some of his internal organs on the outside of his body. He survived due to the success of the surgery that put his organs inside, where they were supposed to be. This caused him to miss out on most purely physical activities children enjoy, so to be more socially active, he picked up his mother's camera and with it, a passion for photography.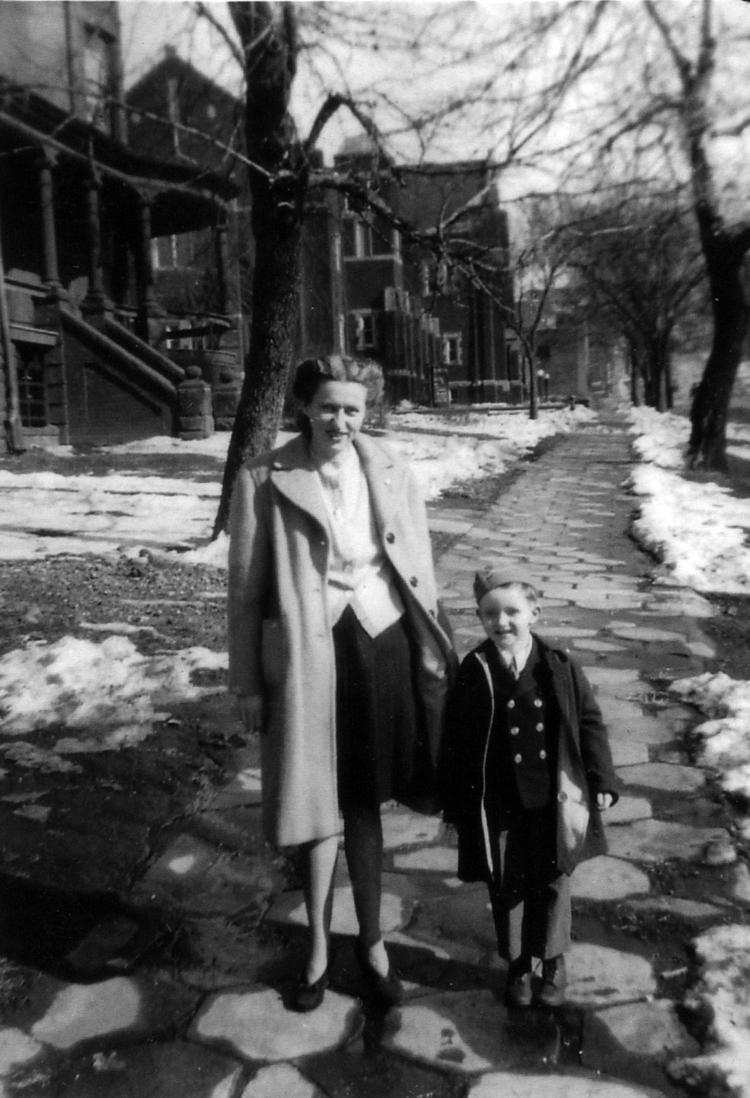 "I had a mother that liked to take pictures," said Lindblade. "She wasn't a professional photographer, but she enjoyed it as a hobby. I guess that's probably what got me interested in it. I was not able, because of health problems, to participate in many sports or anything as a kid, so somewhere along the line a bulb lit in my head telling me that if I wanted to have socialization in my life, I'd have to have something I would be able to co-mingle with.
"I'd take pictures of anything and everything, and at a young age I started chasing fire trucks, which lead me to chasing fire trucks all over the world."
As a child, Lindblade had a fascination with fire trucks and ambulances. He liked being involved in the action of these emergency services and even worked in ambulances as a teenager (even delivered a few babies during his service). This was in part due to his grandfather, George "Cap" Fallon.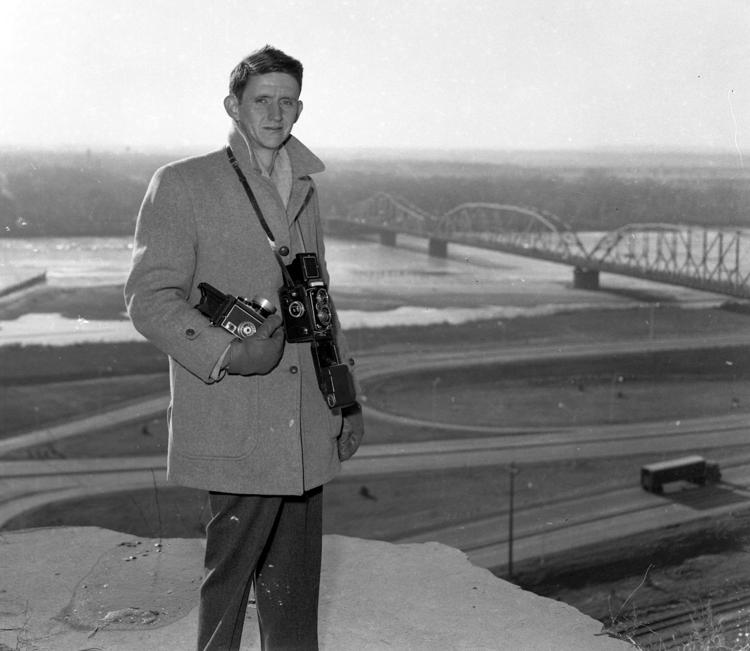 "My mother worked in a factory here in town, and my father had taken off from the day I was born, so my grandparents essentially had a big role in in my raising, and my grandfather was a police captain," said the photographer. "Also, police cars and fire trucks are always a sign of excitement. They say 50 percent of people are happy when the emergency vehicles arrive, and 50 percent are not. Any time you run into a police or fire situation, it seems like it is theater because everyone is doing their part, and you're there (as a photographer) to record it.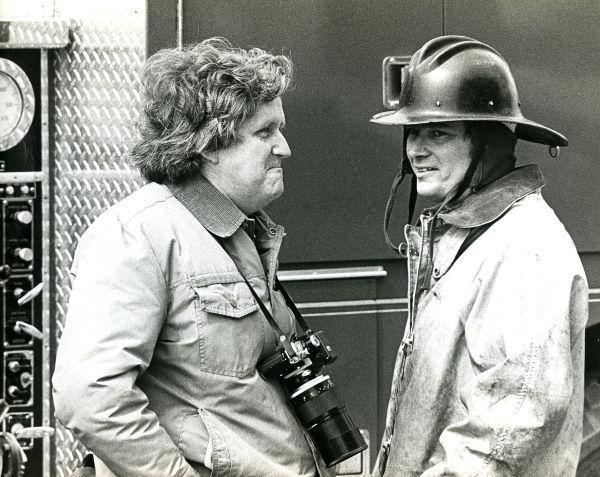 "It is always fun because no two incidents are ever the same, which is what makes photography exciting. I've been in the Watts riots, prison riots, public executions in China, so many things. I always tell people to remember you're only the bug on the wall, not part of it, so whatever the situation, don't take it home with you and you won't be staying awake at night. It's your job to be there and record it and keep it for posterity."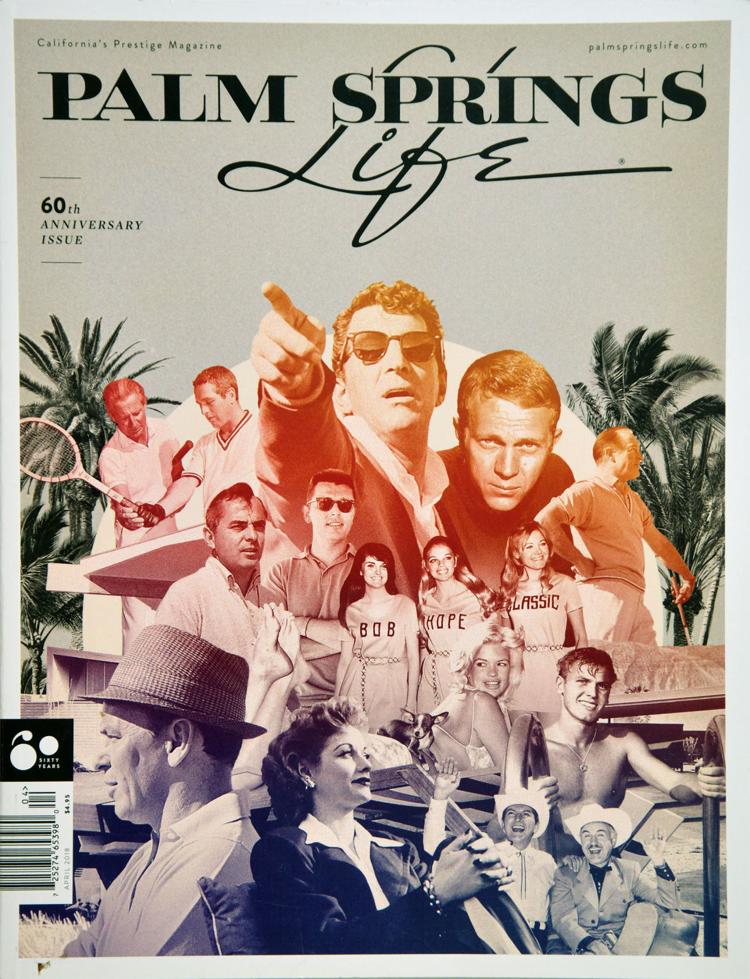 While some people may find certain images dull or boring, Lindblade would beg to differ. The same photo someone may find uninteresting, another person may find fascinating.
"I don't really care how technically good any picture is, as long as it is preserved," said the photographer. "Any image (of an event) is better than no image."
In 1954, Lindblade became a broadcaster, working at essentially all of the stations in Sioux City during various times through the 1950s and '60s. He even got to work with a young, soon-to-be broadcast superstar, Tom Brokaw.
"Brokaw came to KTIV and was a booth announcer," said Lindblade. "One night while Brokaw, Don Stone and I were watching the 'Huntley-Brinkley Report,' Brokaw said he wanted to anchor the national news. Stone told Brokaw that he didn't belong in broadcasting because he had a speech impediment. Brokaw asked me if he had a speech impediment, and I told him he talked funny because he was from South Dakota. He was just heart-broken. The following week I left and moved to California."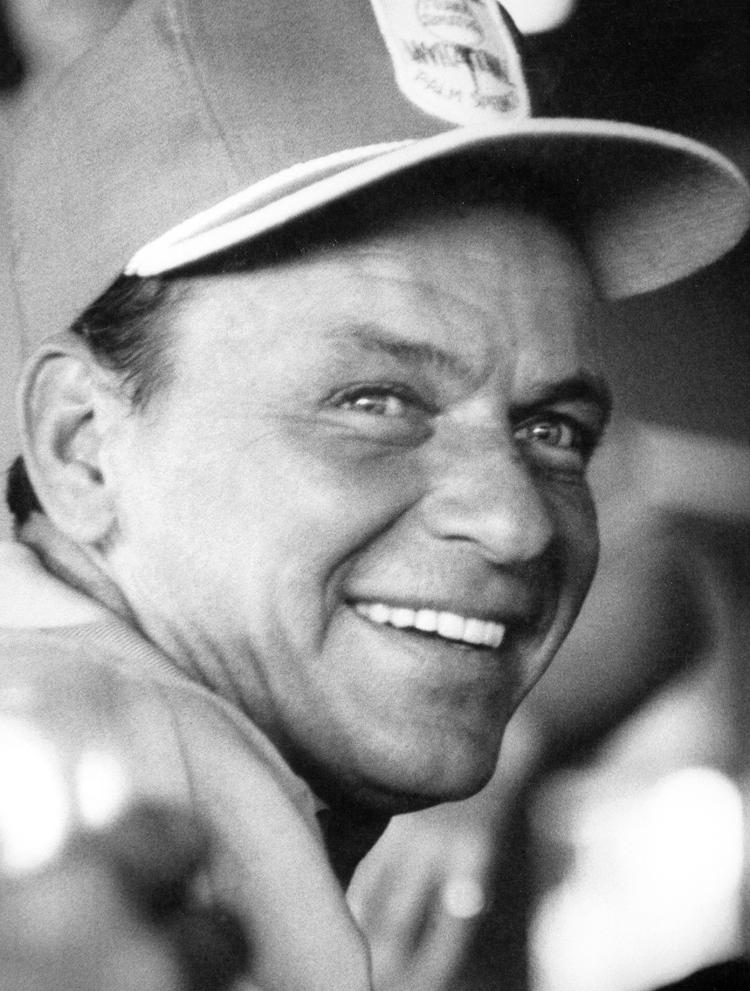 Through the path of his career, Lindblade has had the opportunity to photograph many noteworthy celebrity clients and friends.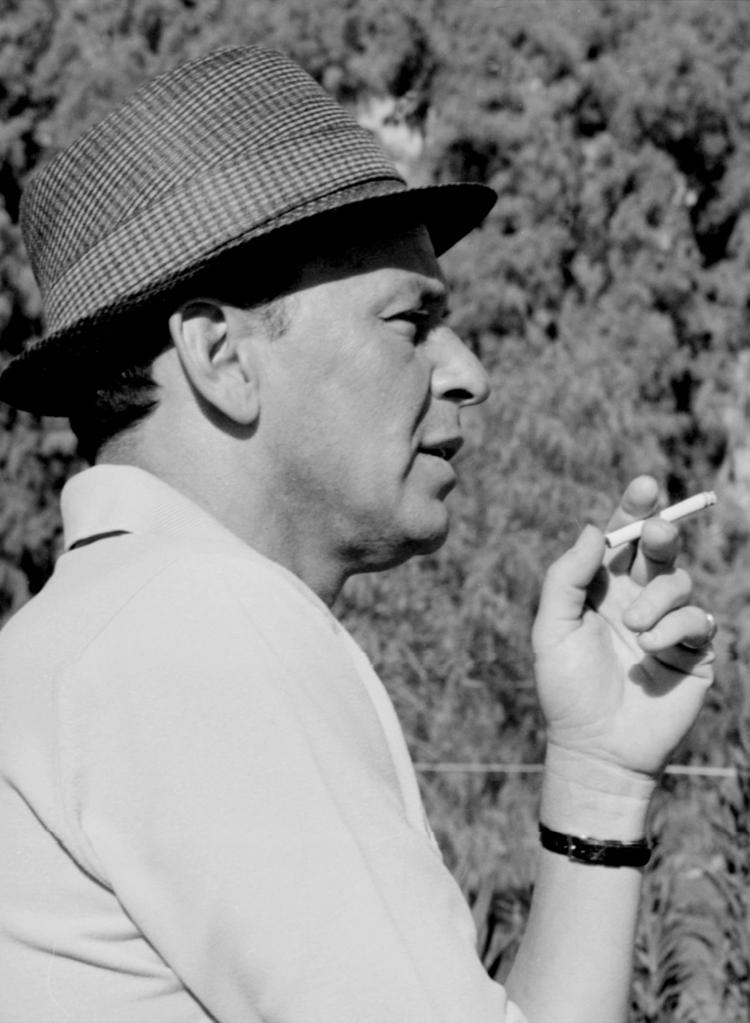 "Celebrity photography started as a total accident," said the octogenarian. "I was living in Palm Springs, California, and I was doing general photography. I happened to go to Canyon Country Club one afternoon to shoot photos. It had nothing to do with celebrities or anything, but a lot of them were there. They were always there. I didn't pay any attention to them. It is a general rule in Palm Springs that everybody is somebody, but you don't invade their privacy. I was shooting at the golf course and went inside the club house on the first floor. I rode the elevator to the second floor and when the door opened, Frank Sinatra was standing there. He was talking to two gals, and he looked at me and said, 'Kid, will you take our picture?' I said, 'Yeah.' I was so nervous with him standing there, I dropped the roll of film. He came over and tapped me on the shoulder and said, 'When you get that thing loaded, I'll be in the bar, so come and get me.' So I did. I got the thing loaded and we took some pictures and started talking.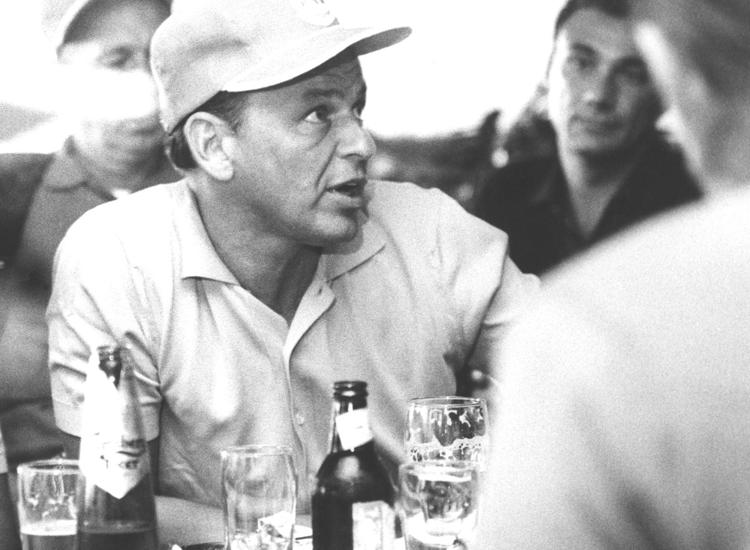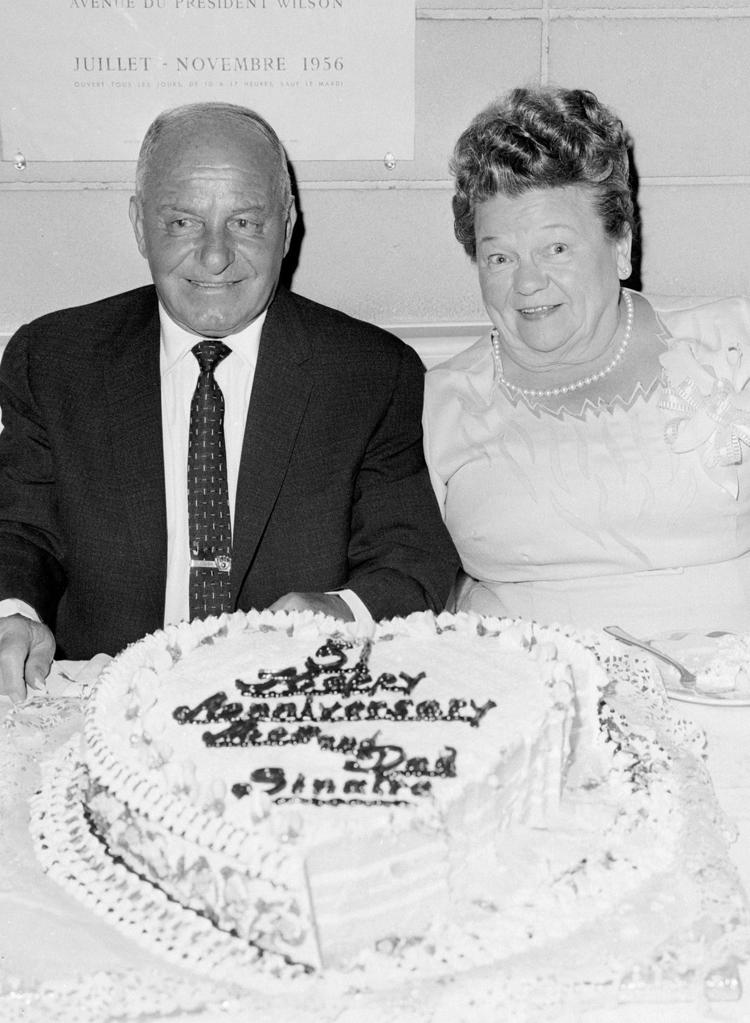 "The next day he stopped in to my camera shop in Cathedral City and asked for my phone number. He started calling me and stopping into my place more regularly and we got to be friends. Then I started getting calls from other celebrities saying Frank told them I was discreet and wouldn't sell the pictures to The Globe or any publication. One thing lead to another, and, like I've told everybody, you have to be in the right place at the right time. If you're not where the action is happening, you're not going to get anywhere, and that happened to be in the glory years of the Rat Pack. I happened to be there, and they liked me. After that I got calls from Red Skelton, who became a personal friend, and the Marx Brothers, so that's how I stepped into that part of my career."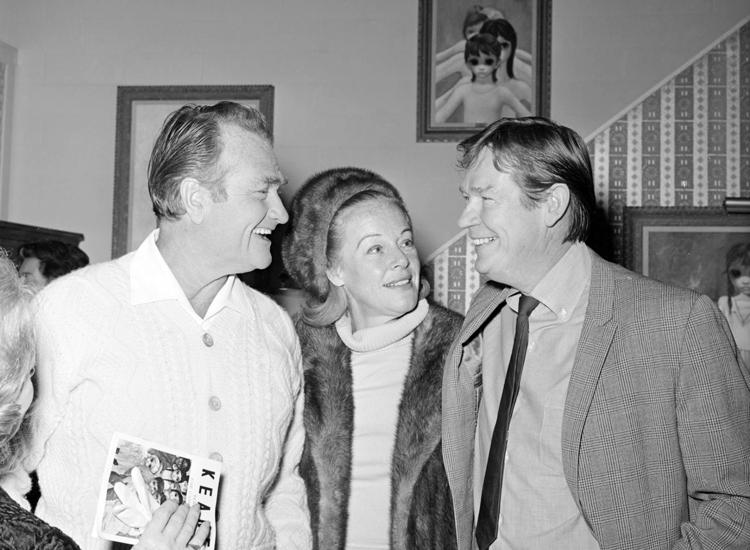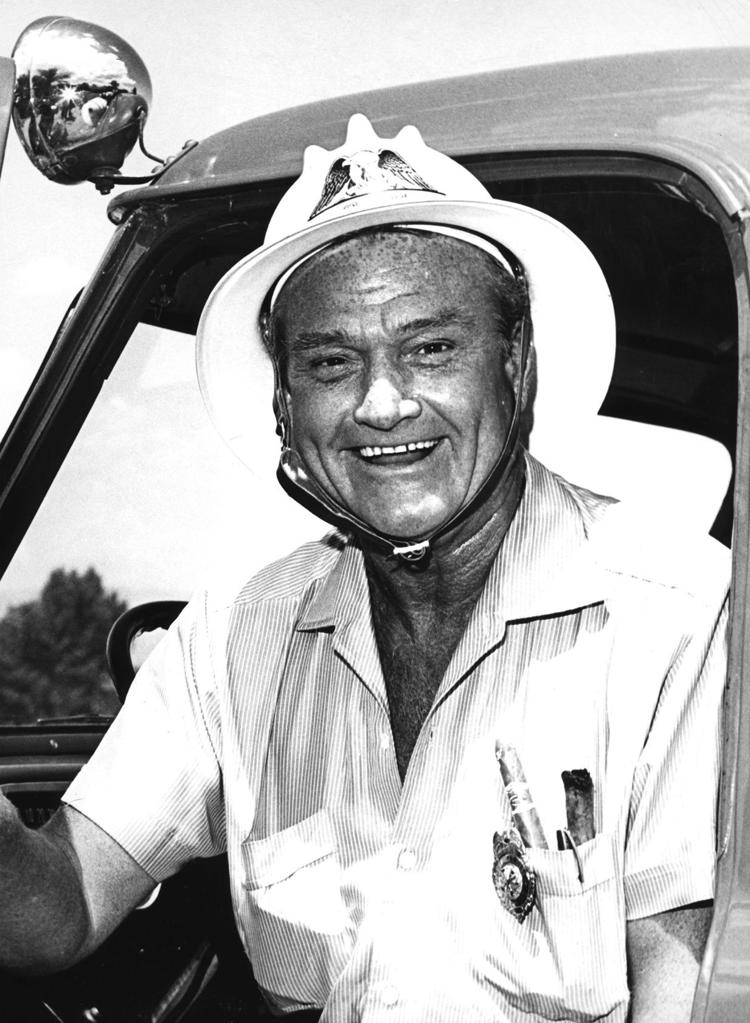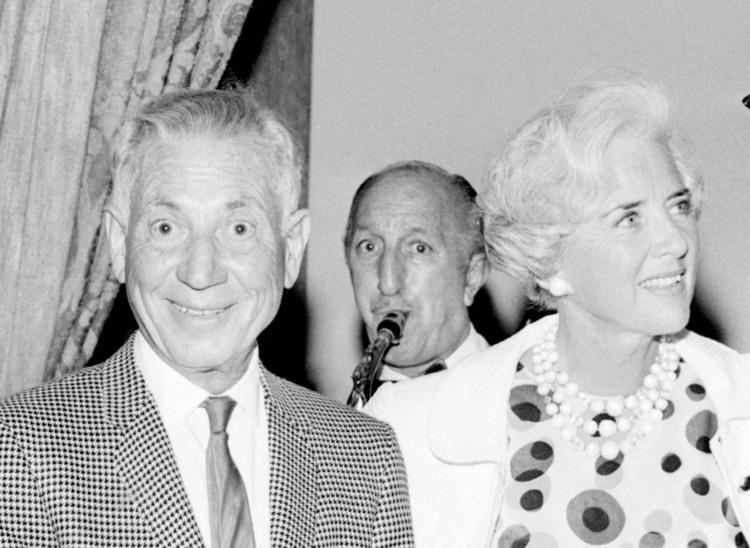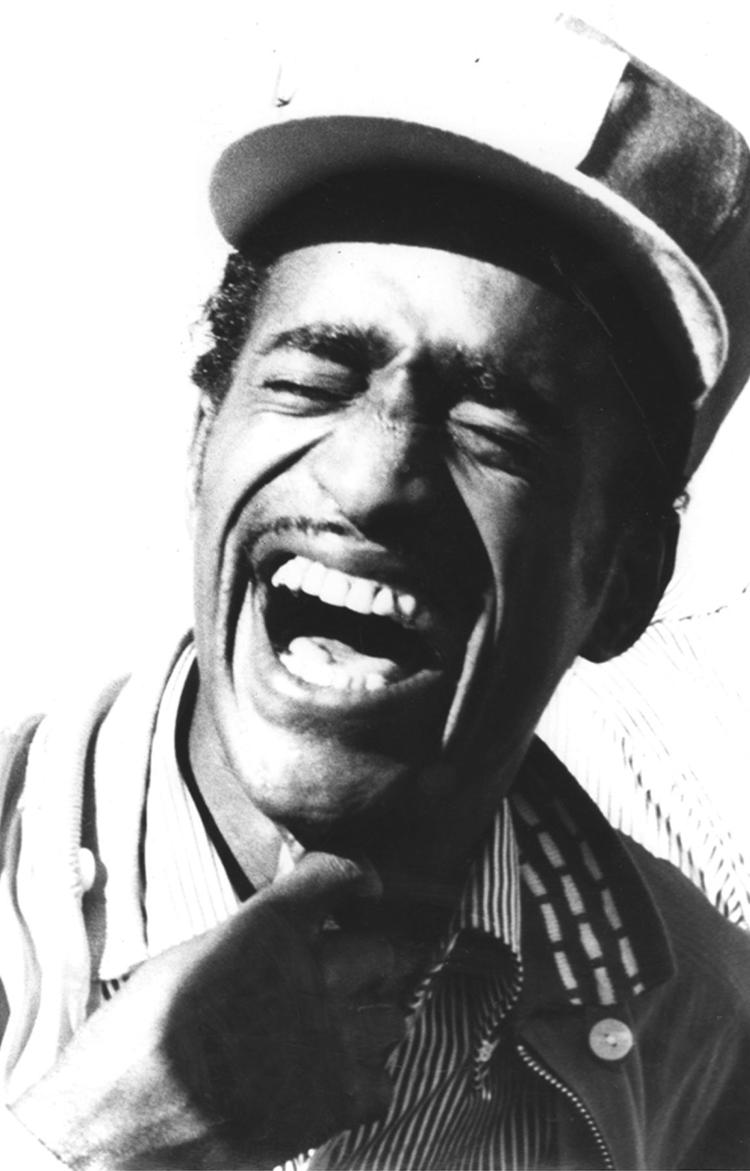 Lindblade eventually moved back to Sioux City and met the woman who would later become his wife and business partner, Lou Ann, at the Casa Del Rey Mexican restaurant.
"I was running Casa Del Rey, which was at 13th and Douglas and George had worked at Channel 9 and was a regular customer," said Lou Ann Lindblade. "After he started his photography business we got together and decided it was time for me to leave the restaurant and join his company. We ended up buying out his two partners and started working together. That happened in '89, about six years after we had been together."
"I kind of learned everything with a gun pointed at my head," she said, laughing. "Now you're going to learn how to edit video, now you'll learn how to lay out brochures! But it's worked out pretty well."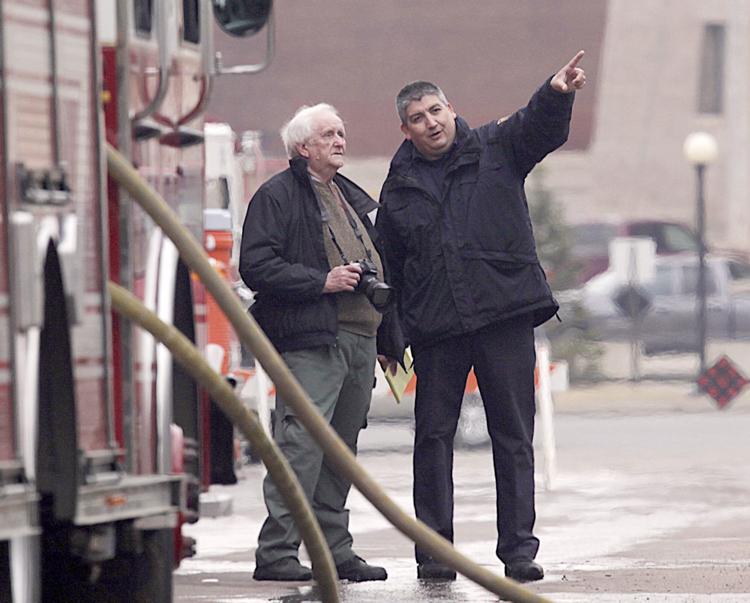 A more recent venture for the Lindblades has been their focus on photo mix-ups from past to present. They use many photographs of Sioux City history, as well as current photographs, showing what locations used to look like compared with how they look today by inserting a modern photograph in a classic photo from years past.
"A lot of people used to ask, 'What used to be here?'" said George Lindblade. "They'd be talking about Pierce Street or other areas of town. I got to thinking people would like to see a flashback of what it was, so what we did is we started taking scenes from old photographs I took, or from the museum and find the situation and figure out the time of day it was taken. I would then go to the location during the same time of day so the shadows matched up and take a photo and insert it into the old photograph so people would have a frame of reference."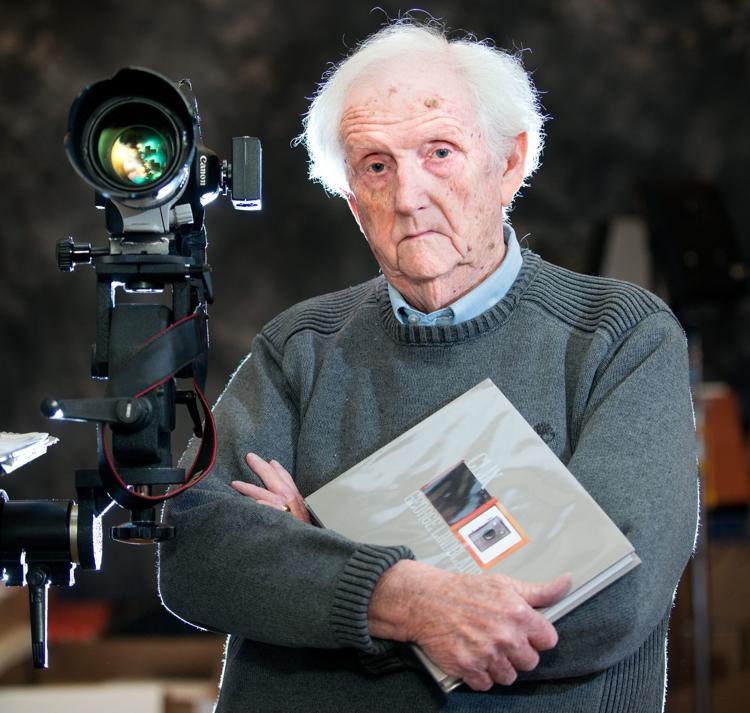 The Lindblades post most of these historic and modern photos on George's Facebook pages. They have had good response from interested locals and former Sioux City residents.
"During the lost summer of 2011 when the flooding happened, a client asked us to photograph aerials of his home in Dakota Dunes after he moved out," said Lou Ann Lindblade. "He wanted us to shoot on a regular basis to see what the water was doing around his house. So many people wanted to see the flood pictures that we decided to start George's (Facebook) page. Then it became a fun way to share some of the historical pictures that George has taken over the years."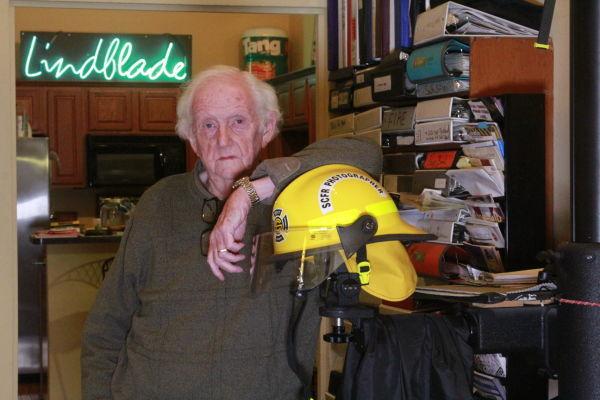 Becoming a photographer is not the same as it used to be now that everyone basically has a professional quality camera included in cell phones, something that was unheard of when Lindblade started shooting, so he has a tip for anyone trying to break into a career in photography.
"I have very sound advice," said George Lindblade. "Go over to eastern Iowa and attend Palmer University to become a chiropractor. Chiropractors have a good life, they make a good living, they don't work nights or weekends. On weekends or after work, go out to take pictures, and enjoy it. Show them to your mother and your grandmother. Continue with your chiropractic practice. When you get tired or bored of it and have saved your money, then you go out and become a photographer."
Photojournalism is still alive, he said, but the jobs aren't there because newspapers and magazines are folding or they're merging and they only need one photographer instead of six. "You can just snap a photo with your cell phone, and they say it's good enough. The bar for excellence has dropped completely."