When there's something strange in your neighborhood, who you gonna call?
Previously called the Siouxland Paranormal Research Society, Paranormal 911 is a new group led by Premier network performance tech, Dave La Fleur. After some time off of researching paranormal activities around Siouxland, La Fleur has decided to get a team back together to help Sioux Cityans with all their ghostly needs.
Currently, the team consists of La Fleur, his sister Rosie La Fleur and cousin Amy Sunclades. People interested in joining the team will be vetted to see if they will fit with the program.
Before going on house calls, the team makes sure the patrons calling are serious with their needs and don't have any issues that may conflict with the investigation.
"People get a hold of us on our website or on Facebook," said La Fleur. "They let us know what is going on. If they meet the criteria for doing an investigation, we will talk with them and go into their house to see what the environment is like. We want to make sure that the callers are mentally sound and not doing any drugs or drinking alcohol, because that could influence a lot of things."
The team uses various instruments to detect sounds and electromagnetic activities going on during its investigations.
"We use digital voice recorders that we set up in multiple locations at the investigations so they can record continuously," said La Fleur. "We also carry one with us that we can start and stop as we move from place to place. We use video cameras with night vision and electromagnetic field detectors (EMFs) to see changes in electromagnetic fields. I go in as a skeptic when people tell me they are seeing apparitions and are having headaches. EMF can influence that. A lot of times, it is caused by faulty electricity. If people have high sensitivity to that, it can give them hallucinations, headaches and rashes.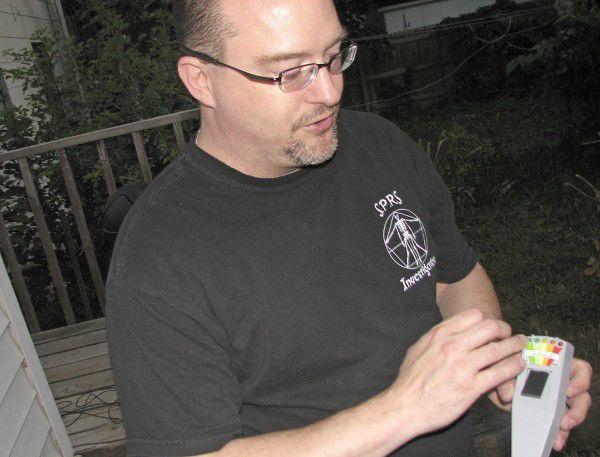 "We had a client whose kids were seeing things and whose German shepherd was having seizures. During the investigation we noticed that by turning on a light switch, the EMF would spike. We tracked the problem  to a dimmer switch in the living room. After they fixed that problem, the dog stopped having seizures and the kids stopped seeing things. I think that saved the dog's life."
Investigations don't always go that way. Sometimes there are spooky occurrences that cannot be busted by a faulty light or electrical problem.
"We got a call from a couple in Sioux City whose kids said they were seeing a 'ghost grandma,'" said La Fleur. "It turned out the house they lived in was tied to a cold-case of an elderly woman with early onset dementia who had gone missing. During the investigation there were four of us in the house. We were downstairs and heard footsteps on the floor above us even though no one else was in the house."
La Fleur called a Sioux Falls medium, even though he's skeptical about mediums.
"The medium had the impression that the elderly lady had either been pushed or had fallen down the stairs and that somebody had taken her out of the house. While we were downstairs, we could hear walking and running upstairs and the distinct sound of a dog walking across linoleum, even though no dog currently lived in the house."
After the medium left, "we contacted the couple who lived in the house and they said they no longer heard any strange noises and their children stopped seeing 'ghost grandma.'"
Another investigation occurred at a house on the west side of Sioux City where a family was murdered in the early 2000s.
"We did catch kid's voices in the house," La Fleur said. "We set up digital recorders and EMF readers upstairs in the beginning of the investigation. Before we started going up the stairs, we announced ourselves to whatever spirits might be in the house and told them we intended no harm. We also told the entities that we wanted them to set off our equipment upstairs if they were truly there."
As soon as they started walking up the stairs, the equipment started beeping.
"We stopped and asked if it would do it again, which it did. We went upstairs and it got quiet. We grabbed the voice recorder, which was recording up there the whole time. On the recording, we clearly heard a little girl's voice saying, 'Don't be scared, don't be scared.' It was clear as day."
The paranormal activity in that house stopped after the person who murdered the family committed suicide in prison.
The ultimate goal of Paranormal 911 is to educate and help people suffering through ghostly problems.
"Our main focus is to educate and help people who can't turn to anyone else to get help for fear of being ridiculed or made fun of," said La Fleur. "We like to help people get to the bottom of issues, whatever might be going on. We don't charge anything for our services, but we do accept donations to help get new equipment."
The newly formed group should be up for business by the end of October or the middle of November.