For almost every painting she creates, Glenda Drennen makes sure to add a subtle touch of dry, whimsical wit.
"I think my paintings – many of them, not all – have a little nudge of humor that might make people smile," she said. "The way the lady is holding her cat, for instance…"
Drennen pointed to her painting of "Tea For One" hanging next to two similar works in an exhibit at the Sioux City Art Center. It portrays a woman sitting in a chair drinking tea (pinky finger out, of course) and clutching a brown cat under her arm; the feline holds onto the tea drinker's forearm for dear life as its bottom and hind legs dangle helplessly, appearing more like a fashion accessory that a household pet.

Many of her current works on display at the Sioux City Art Center include that element of comical warmth. Sometimes it's the focus of the painting, like in the work "Walking Schnitzel," which depicts a woman's legs entangled by the leash of a small dog. Other times it is but a tiny detail, like in Drennen's painting of "Bench Warmers," in which one of the three older women sitting on bench quietly and almost inconspicuously slips off her loafer.
"And there are other things that make people smile because it reminds them of things that are familiar in their own life or in their past," said Drennen. "There is a bit of whimsy in them."
Originally from South Dakota, Drennen currently resides in Sioux City and maintains her artistic endeavors while also teaching painting classes at the Sioux City Art Center every so often. Primarily focused on creating original watercolors and water media paintings, Drennen said she has 40-plus years' experience honing her craft, which has earned her a signature membership in the Iowa Watercolor Society and Watercolor USA, Springfield, Missouri.
Watercolor, she said, used to be a sketching medium before the real work was done with oil-based paints. Artists might still cling to that process today, but not Drennen. "You learn it by feel," she said, "and by thousands and thousands of brush strokes."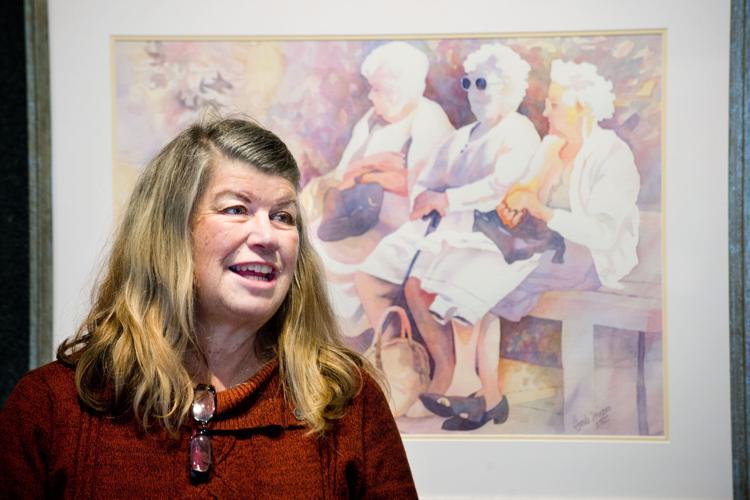 But Drennen uses more than just watercolors to create her works. Oftentimes she utilizes textured "tools" like bubble wrap, lace, vinyl tablecloth and wire mesh to achieve a unique look. To get an idea of how much Drennen has to work with, the artist claimed she probably has just as many textures as she does paint. "I have a lot of both," she said with a laugh.
She will also copy the early process of textures and colors onto her computer and then draw possible subjects of her painting.
"I often come up with multiple designs for the same papered start," said Drennen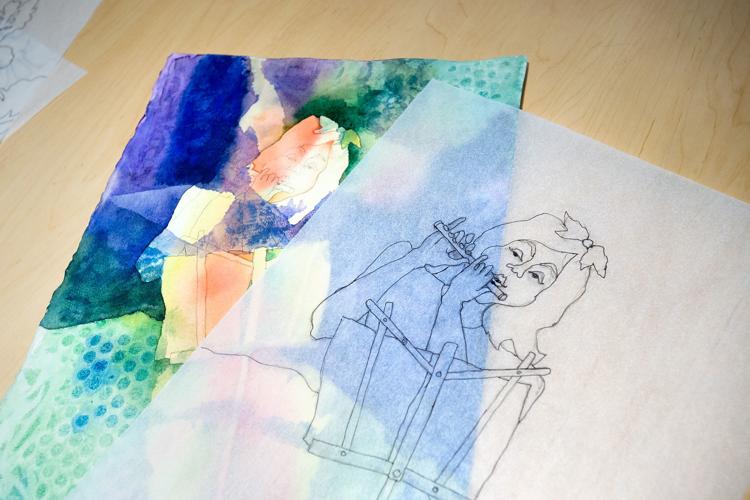 An early mesh of shapes and colors could become a vase full of flowers or a girl reading sheet music and playing piccolo. The possibilities are endless. Whatever final design Drennen ultimately chooses depends on a few factors.
"It may be one is more interesting visually," she said. "It might have a little twist of humor, which I love to put in. Maybe it has better use of texture and allows more of the textures to show. It tweaks my imagination. Usually there's something about one that I think is interesting -- more interesting than others."
The blending of paint and water allows Drennen to experiment freely with colors. "I have a huge, thick notebook with slide pockets in it and I make little, tiny squares and a perfect circle – I'm meticulous and I want each one to look alike – and then I paint a graded wash of that pigment," she said. "Then I look up to technical aspects of that so I don't have to guess the lightfastness. I write all of that on there, the pigment and the brand – everything about it."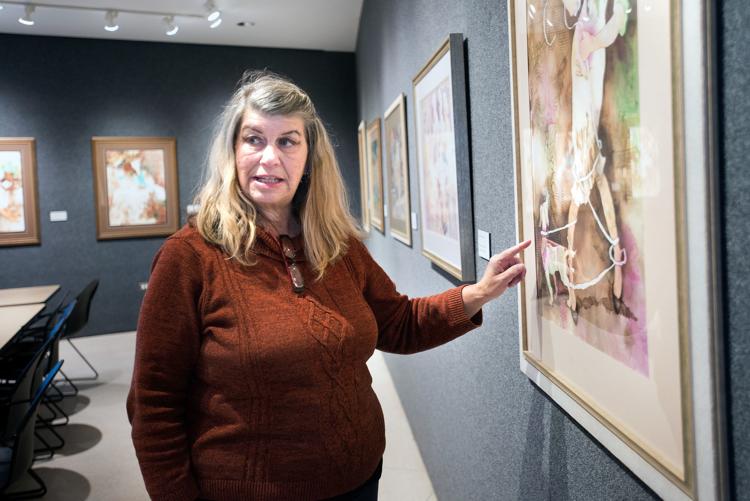 Where did this thorough organizing come from? Drennen credits her background as a teacher. Knowing the intricacies of pigments comes in handy when teaching her art classes. "I like to know what I'm telling my students, so I'd like to know that for my own paintings."
Having also been a student herself at various workshops – which is where Drennen learned to use textures in her paintings – she knows the importance of a reference point. The technical side of Drennen's paintings and method, however, don't get in the way of her overall creativity.
The textures and human elements evident in her work give her paintings a great level of dimension. Drennen doesn't want to paint an image that can be captured in a photograph. She is more interested in the interpretation. Although works like "Bench Warmers" and "Lawn Chair Chums" may be based on real-life occurrences Drennen had experienced, there's a lingering sense of global familiarity embedded deep within the paper.
"I would prefer to just imagine what it is that I'm drawing and I purposefully make it unbalanced or a little misshapen," she said. "It's fun for me to create them. I don't know if I have a message, but I do hope that people enjoy the humor, the expert use of color, the various use of pigments and imagination."