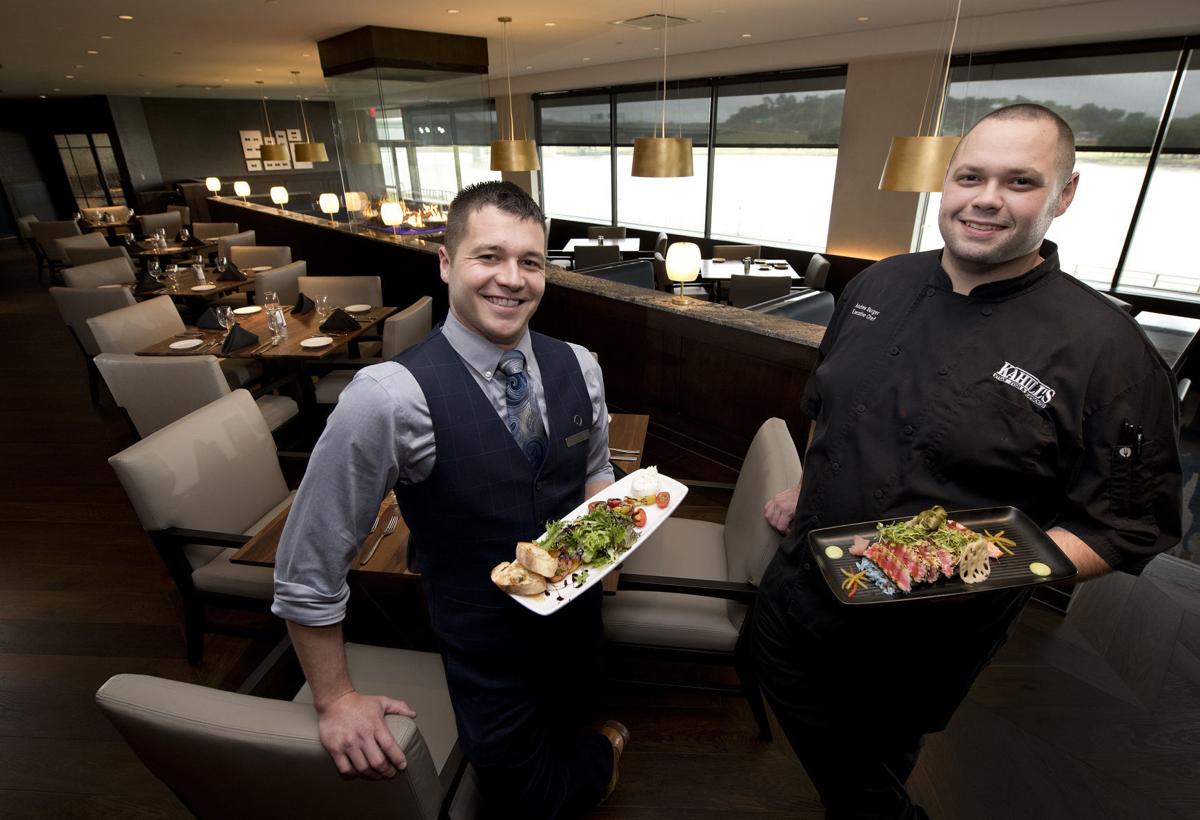 SOUTH SIOUX CITY -- When his restaurant was undergoing extensive cosmetic renovation, Kahill's Chophouse executive chef Andrew Burger decided to try on a different toque.
The gourmet chef became a bit of a gourmand.
"I had time on my hands," Burger explained. "So, I decided to check out a few of the new places."
You see, Kahill's was closed for 12 weeks during this period. The redo began after the former Marina Inn became a franchisee of the Marriott chain of upscale hotels in 2017.
Located on the second floor of the renamed Delta Hotels by Marriott South Sioux City Riverfront, Kahill's -- a longtime destination restaurant for residents and an upscale amenity for travelers -- was ready for an update.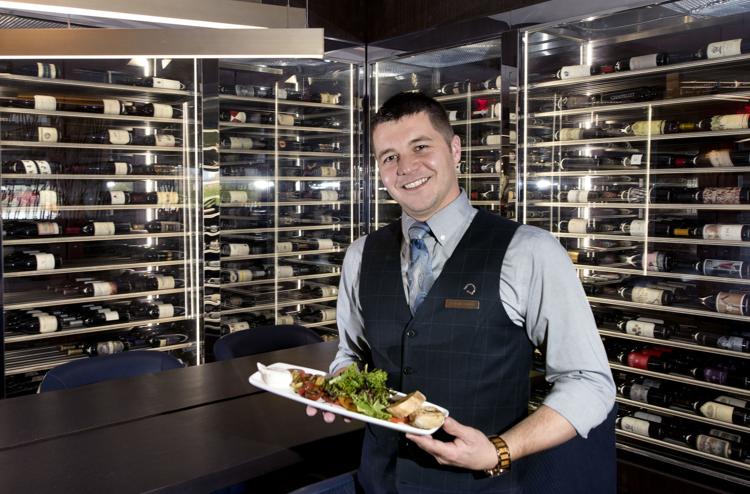 CHANGING THE AESTHETICS OF A CLASSIC SIOUXLAND RESTAURANT
However, the property did provide some challenges for designers, according to Kahill's food and beverage director Chad Schoenfelder.
"The designers were somewhat limited because we're in an older building and the basic footprint of the restaurant couldn't be changed," he said. "But everything that could be changed has been changed."
This included the restaurant's color scheme, which is now wood, white and blue.
"The white and the blue give out a relaxed elegance while the wood accents bring out warmth," Schoenfelder explained.
In addition banquette seating and soft, club-style sofas provides intimacy while see-through fireplaces add to the overall airiness.
"That's the one thing which impresses everyone." Schoenfelder said of the dining room, which reopened in late September. "Everywhere you look, there is an open sight line. Somehow, it is open and intimate at the same time."
Burger said he's just as enthusiastic about the redesign as Schoenfelder. But the menu is also getting a reboot, right?
STICKING WITH A WINNING FORMULA
Checking out a few restaurants, Burger acknowledged that Sioux City's food scene has expanded.
"(For instance), you see more craft food around," he said. "Now, I like the craft food scene just as well as anyone but that isn't the type of cuisine people expect from Kahill's."
What people expect from Kahill's are its sumptuous steaks, porterhouse pork chops and straight-out-of-the-sea lobster tail.
Just hungry for an app? Then check the restaurant's Salt & Vinegar Calamari or its Cajun Beef Poutine or the Black and Blue Nachos.
Want something even lighter? How about a salad? At a chophouse!?!  
Yeah, it sounds crazy to us but Burger likes it.
SALAD AT A CHOPHOUSE? CRAZY BUT DELICIOUS!
Kahill's Caprese Salad is made with Barrata cheese and heirloom tomatoes, walnut pesto and a balsamic vinaigrette.
"Food should look as good as it tastes," Burger said.
Having said that, um, is that really blue rice on Burger's next dish?
IT'S OK TO EAT BLUE RICE ... BELIEVE US!
Kahill's Seared Ahi Tuna is made with sushi-grade tuna, veggies, a teriyaki and wasabi glaze, along with basmati rice that has a sky-blue tint.
"Andrew uses a liqueur that is colored blue to make the rice pop off the plate," Schoenfelder said. "It's eye-catching."
And so is everything at Kahill's.
"We wanted the redesign to reflect the character of the restaurant," Schoenfelder said. "Judging by the reaction we've gotten from guests, we're still the Kahill's that they love. We've just had an elegant makeover." 
Be the first to know
Get local news delivered to your inbox!