Just in time for the release of Lil' Red and the Medicated Moose Band's new album, "Stories," Bryan and Tiffany Jurries shared with The Weekender their story of love, music and how the band evolved into what it is today.
The "Stories" CD release party is slated to start at 8 p.m. Jan. 26 at Vangarde Arts, 416 Pierce St.
Listening to the album pre-interview we noticed there are so many different styles of music from song to song that it is hard to put a genre label on the band. There are elements of Americana such as blues and folk with a sound that evokes a bit of childhood nostalgia. Some songs incorporate shuffle and boogie-woogie. Some songs are innocent, yet some have hints of promiscuity. There are also elements of '50s and '60s doo-wop and a touch of country. The title track even has sounds of circus or sideshow music. With all of that being said, the album is very diverse.
"She (Tiffany) is the same age as my sister and they went to East High School," said Bryan. "I'm older…the old man…but she was really good friends with my sister. She went to college and when that fell through she moved into the house where I was living. She stayed in the room right next to mine. We got to know each other and we always had a connection to music even though neither of us knew how to play. I had a '95 Oldsmobile with a tape cassette deck and we'd have songs that we'd sing together."
"I remember hearing him sing and play in his bedroom since mine was right next to it," said Tiffany. "That's where we got to know each other."
"I had pursued her for three or four years and we were really good friends for a long time before I actually talked her into dating me," said Brian. "It just took a long time to break her down, basically."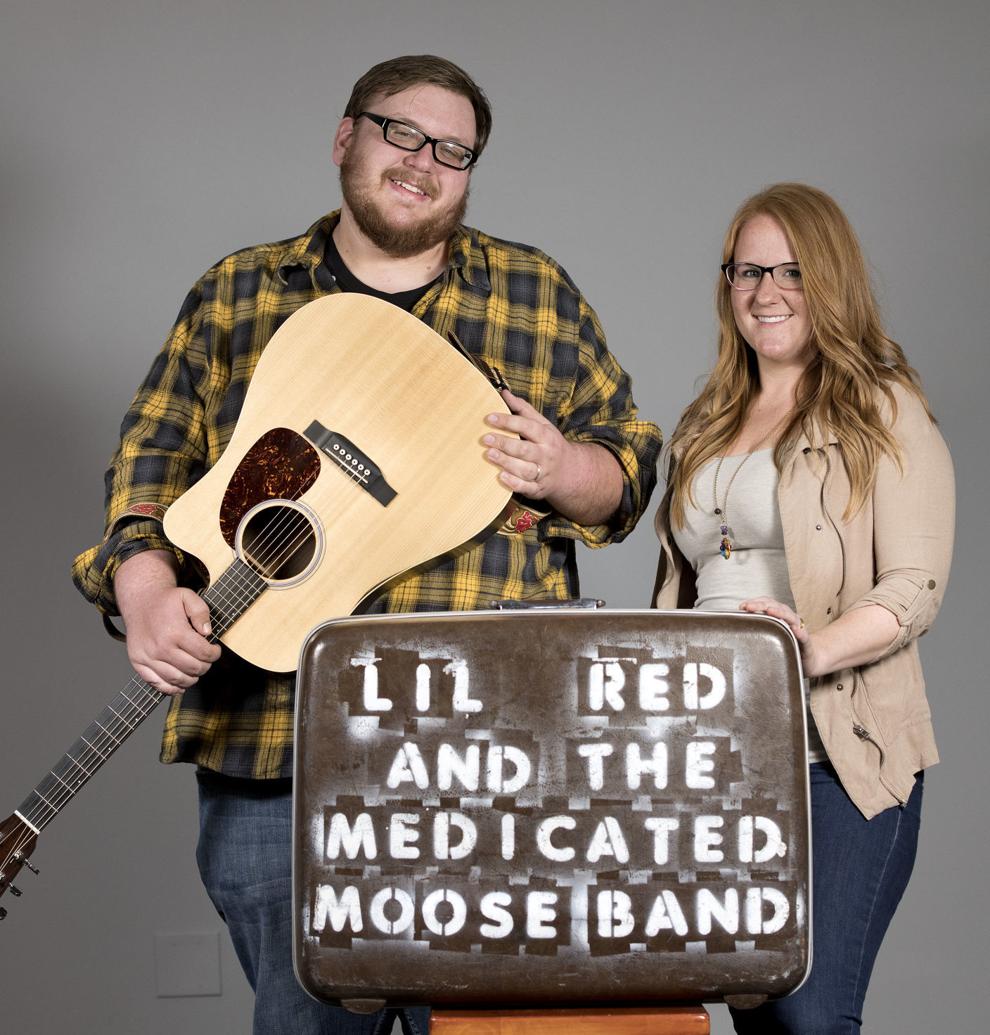 In 2014, the couple hit the road to Nashville to get hitched and have been married ever since.
Music then started to become a priority for the Jurries. Bryan joined Premium Draft and, eventually, Tiffany joined the Emily Johnson Band, where she lost the fear of performing on stage.
"I had stage fright so bad," said Tiffany. "I couldn't even do karaoke. The Emily Johnson Band asked me to do background vocals after Emily heard me sing when I drunkenly jumped on stage with her band. That's where I gained stage presence and harmonies."
The first time the couple got on stage together was during open mic night at The Chesterfield after their one year anniversary.
"That's where we met Matt Van Meter (percussionist)," said Bryan. "He offered to be in the band, so that's how it started. We had to keep writing and keep going."
How did the band come up with the name? Since Tiffany is a red-head the first part is obvious, but what about the Medicated Moose?
"With the Medicated Moose, we basically used a band name generator," said Bryan. "I wanted it to be Lil' Red and the something, so we put Lil' Red in the generator and 'Medicated Bear' came up. She didn't like 'Bear,' so we decided upon 'Moose'. It really didn't have a meaning at all; it was just a catchy name. We've evolved the meaning into this: everybody needs medication of some kind, everybody has a good and bad medication; ours is music."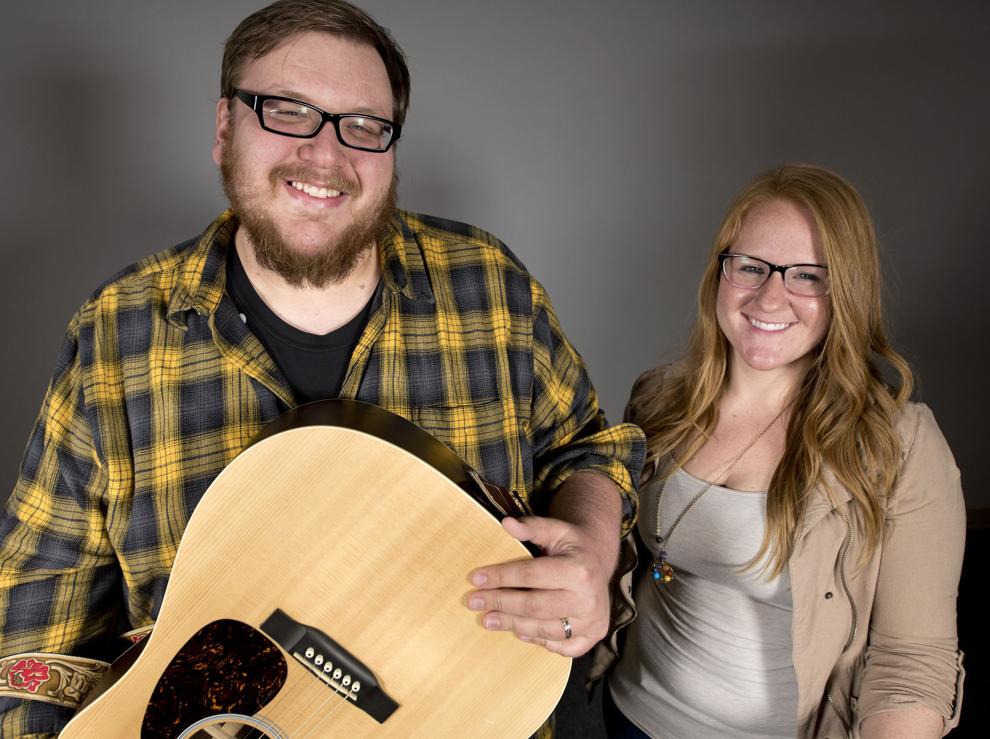 Although the band started with three members, it has grown to include keys and bass for its bigger shows.
"If we knew that people enjoyed us as a three-piece, I know it's going to be good with a five-piece," said Bryan. "We basically surrounded ourselves with music teachers. It doesn't matter how good we are; they make us sound really good."
"Drew (Paulsen) and Noah (Towns) add so much on stand-up bass and the Hammond organ," said Tiffany. "And when we do bigger shows like Saturday in the Park, we have them. They learn so quickly. We can just practice with them a few times and they have it down. With the new album, we gave them a little bit of direction on what we heard in our minds, but they just took it away! Noah thought of all the Hammond parts. He's amazing."
"Stories" has taken a long time to get from the first idea to actually being recorded and manufactured. Some elements are from ideas the couple have been working on for more than 10 years, and there is a reason behind the simple name of the album.
"We wanted to do a full-lngth album," said Bryan. "One of the songs is called 'Stories.' The album looks like a children's story book. This is the story of us. Each (song) has a story we can tell. This is where we thought of it, this is why we wrote it."
"It's kind of the chapter in our life we are dealing with currently," said Tiffany. "We aren't the kind of writers that just make up something, it's always something that we are connected to. 'Daddy' is something I'm currently dealing with that I've been avoiding for many years. This was a good way to process the feelings."
"Maybe we can help somebody else who is going through some of the same things," said Bryan. "Feeling depression, dealing with bad things having to do with parents…things like that."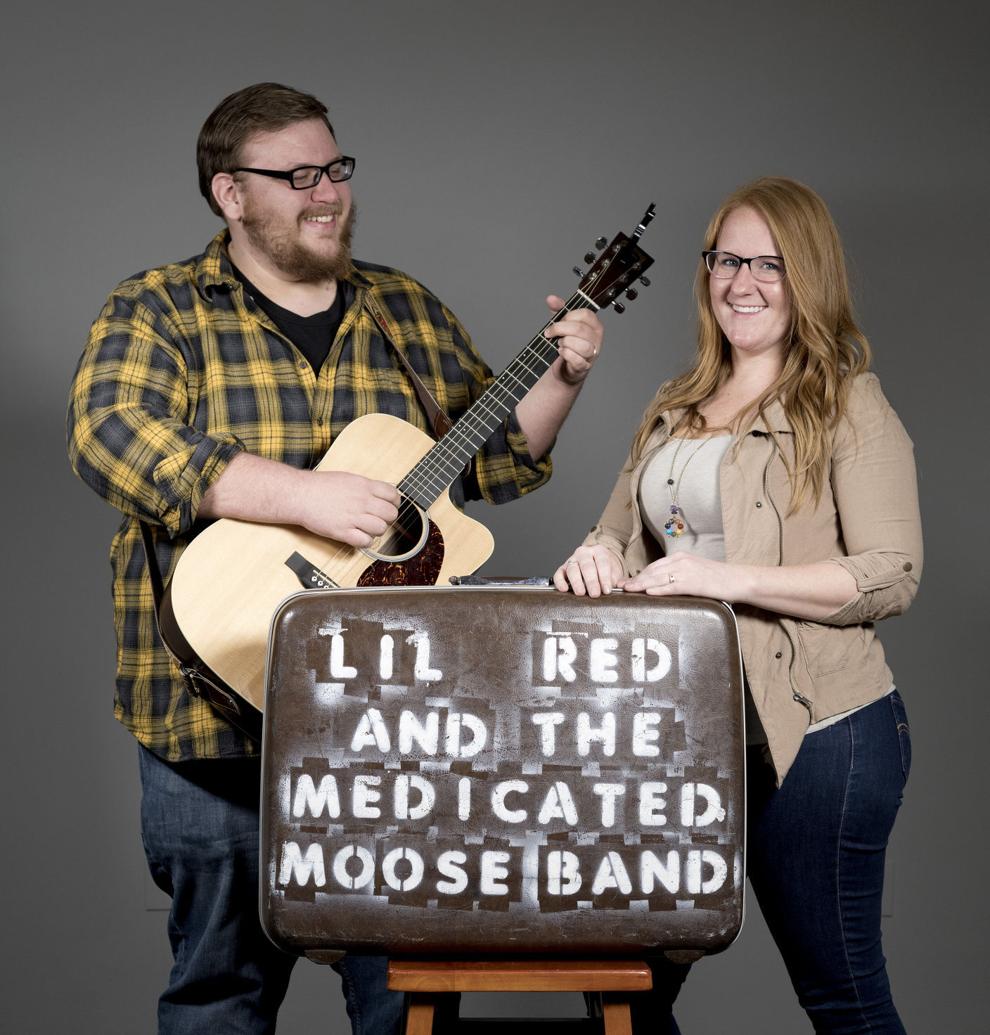 Spots are limited for the CD release party for "Stories" at Vangarde Arts. Lil' Red and the Medicated Moose band will be playing live after supporting acts Johnny V and Adam Girard.
"We are super excited to have it at Vangarde," said Bryan. "It's one of our favorite places to play in town. There are a lot of great places to play, but this place has an intimacy so we can sit there and tell a story about the songs. It's a pretty magical place when it comes to original music. We wanted to keep it small and intimate so people can listen to the songs instead of just chugging their favorite beer."