Before artist Mark Kochen's paintbrush touches canvas, he must first stabilize his body for more precise strokes. Oftentimes he's seated in a chair with his face a few inches away from his work space. He rests his elbows on his legs, braces his hand and sometimes touches his pinky finger to the canvas. This is how Kochen is able to include so much detail into his paintings.
However, those details go beyond the depictions of crowded and colorful industrial buildings and the endless flocks of sheep that frequently appear in the Sioux City artist's paintings. So much of the imagery in Kochen's work is directly related to his interests in pop culture and artifacts from his childhood like boomboxes and floor television sets. There are even links between paintings, common motifs and themes and characters illustrated in Kochen's distinct style.
"Everything is connected to the last piece and each last piece is connected to the one before," he said. "I have a direction where I'm heading. And as I finish something, I consider strengths -- what I like best about this piece, what drove me crazy. Sometimes I'll purposefully go in a different direction or sometimes I'll take an element [...] and I'll turn that into a theme for the next piece and build and design off of that."
This helps Kochen maintain a cohesive body of work and a clarity of vision; something he has successfully worked towards for the past nine years or so. In fact, he can pinpoint exactly when his work evolved to the paintings he's making now. He was scheduled to premiere his work at an art gallery at Morningside College. Kochen buckled down and told himself, "I'm going to make all new work for this." Nine paintings later...
"My work shifted dramatically," he said. "It was this exciting discovery going on. One of the first foot steps into this world was an eight-foot wide painting, almost five-feet tall of a pastoral green field with a blue sky with an almost uncountable number of little sheep. It was just an experiment! But that led into another thing and another thing."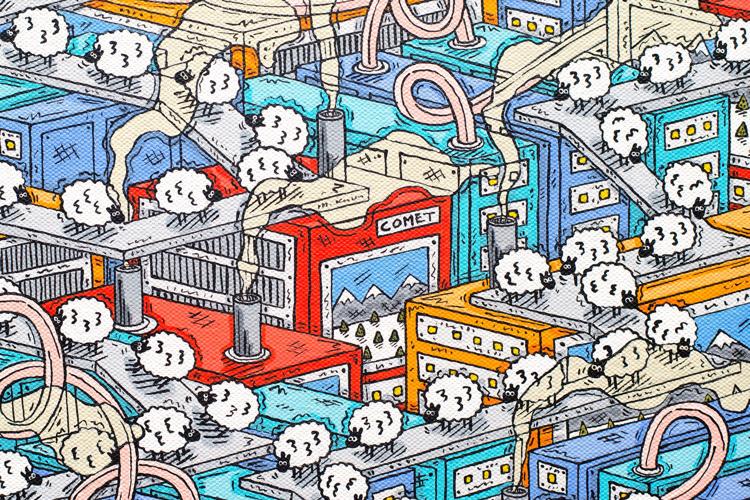 Those tiny sheep are very common subjects in Kochen's work. To him, they signify the roots of his stylistic shift. The artist said if his paintings were living organisms, the sheep would be the blood.
"They keep this thing moving," Kochen, 37, said of his illustrated herds. "I laugh about it all the time. It's like a lightning strike. It hits somewhere random and it changes things forever and suddenly you're that guy that's painting sheep. [...] You pick it up and you run with it. You do it a thousand times and suddenly it's yours and now you own it."
Of course, sheep aren't the only "characters" Kochen frequently featured in his paintings. Many of which have their own backstories.
"Everybody has names and they all have roles," said Kochen. "They're more like cast members. They're icons. They're archetypes. They're these things that I can employ in certain scenarios or in certain ways and they all have personalities. It's wild."
Like the Blade Brandishing Bunnies that appear holding some sort of bladed weapon given to them by a woman on a farm who has trained the bunnies to be caretakers.
Or how about the fuzzy blue monster who has been seen standing atop industrial cities in Kochen's machine paintings and lurking behind The Bandshell in Saturday in the Park posters. He's known as Wuz, one of the last characters added into this fantastical world Kochen has created through his paintings.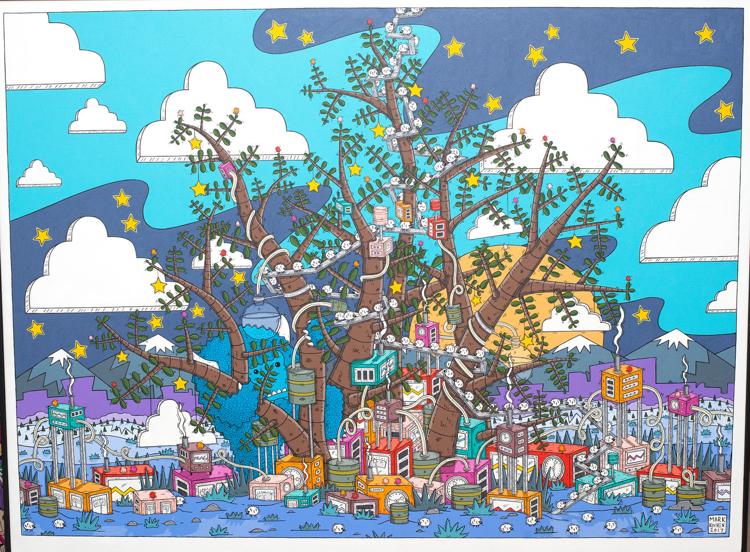 "He is a creature of rumor and mythological wonder," explained Kochen. "He fills this mysterious void that was in the world. The creatures all tell themselves stories about Wuz."
In some stories he's as big as the mountains and sleeps in the clouds. In other tales he's smaller and preys upon birds. In relation to the real world, Kochen compares the role of Wuz to something along the lines of bigfoot. 
"He fills that role that everyone whispers about," he said. "But I can tell you he is real."
Kochen said the purpose isn't the stories in his work. "The story is something that kind of dances around in my head," he said. "The art is supposed to be standalone, unique individual pieces that reference back to a guiding world."
Plus, the stories within the paintings are often shrouded in mystery to everybody else. When people ask Kochen directly, depending on the day or the question they ask, they might hear a different piece of the ever-evolving story. 
"I had an exhibit [in Okoboji] and everybody was wandering around looking at the paintings, and I could tell they were kind of confused," Kochen said. "We gathered at the end of this little reception time and they started asking questions."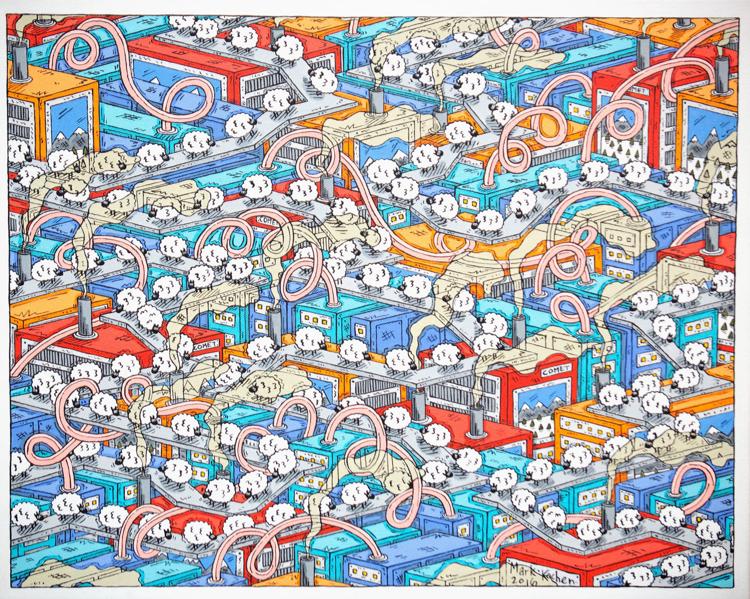 Kochen explained to them the first bit of backstory. Oh! I get it now! 
"As I was driving home, thinking about the experience, I was like, 'I should really try to put this down on paper,'" he recalled. "People were really responding to this. It's basically just background information; the things I tell myself for entertainment value."
To my surprise, Kochen did not have a name for this make believe world he'd created through acrylics, an aluminum ruler and a mechanical pencil. In much the same way a writer writes what he or she knows and a musician plays what he or she knows; Kochen paints what he knows. And his world (which Kochen said is not too different from our own) reflects that.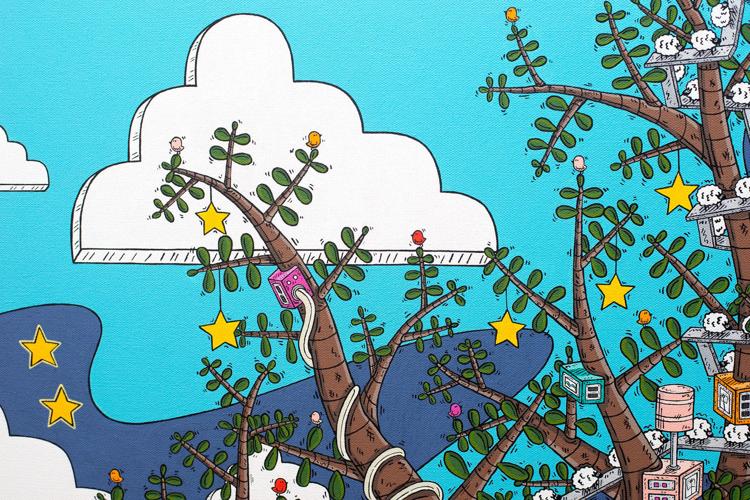 "It's a surreal twist on this world," said Kochen. "It's on a slightly different track. Honestly, we live in a crazy world [...] So why wouldn't I make my own world?"
A world where sheep run rampant across the land and blade-brandishing bunnies cut the wires off machines; a place where entire buildings appear more like TV sets drawn in your favorite Saturday morning cartoon; a land where there are hundreds of little tweety birds sitting on hundreds of chairs just because; a realm in which a blue monster named Wuz can wander and a man named Seventy can wear a red and white jumpsuit.
All of which was created in the mind of a Siouxland artist while he rested his elbows on his legs, braced his brush hand and sometimes touched his pinky finger to the canvas before applying a single layer of paint to create the next installment of his awesome universe.