After graduating from Briar Cliff University, Algona, Iowa native, Melanie Mergen moved to New York City to pursue a graduate degree in writing at Columbia University and to work on new music, recently releasing a new album, "Metamorphosis."
"My experience at Briar Cliff was really important to get me where I am," said Mergen. "When I got to Briar Cliff, I wasn't sure what subject I'd major in. I knew I'd be studying music because it was something I enjoyed doing and I was getting a scholarship in that area. I also wanted to study something else and took a writing class. I fell in love with it and decided to become an English major after that. If I had been at another college, I don't think I would have even studied English…I wouldn't have applied to be where I am today, and I'd be doing something completely different, which is crazy to think about."
But what made Mergen choose Columbia University in New York City?
"I'd been applying to several grad schools around the country," said the musician. "Columbia was the school I applied to for fun. I didn't think anything was going to happen with it. When I got the call saying I was accepted, I was surprised. I looked into the program and the faculty and found it was in line with what I wanted to do with my writing."
While her newfound interests include creative writing, her original love is creating and performing music.
"I became really interested in music in elementary school music classes," said Mergen. "I remember I was so fascinated by the music teacher's ability to play the piano. It looked like magic. I started playing piano in second grade and, after a couple years, I started writing my own songs…I'd never write them down, I'd just play them for fun. I joined band in fifth grade and played the clarinet, which didn't end up being my favorite instrument, but it helped round out my playing. Around seventh or eighth grade I started playing the ukulele and began listening to singer/songwriters. Then I got a guitar, started taking music more seriously and decided I wanted to sing, perform and write my own songs."
Mergen's music is in the indie/folk genre. It is inspired by some of her favorite artists (Never Shout Never, Scott Matthews and Rachel Sermanni) and fueled by her emotions.
"Themes that show up a lot in my songs are grief, loss and longing, desires for connections and the success of making those connections between people…and also love," said Mergen.
Her new album, "Metamorphosis," is rife with those themes.
"I released my last album, 'As Fall Froze Over,' in 2016 after working on the songs for five years," said Mergen. "Once I released that, I had all sorts of new ideas for songs again. 2016 was also a really difficult point in my life, so I was able to write through all the anxieties I was dealing with…grief, dread, pain, uncertainty…so the music made going through that more bearable. Another important theme in a lot of these songs is the uncertain future of our environment. I was trying to arrange these songs in a narrative arc, dealing with all of these anxieties and ultimately ending somewhere that was persistently optimistic."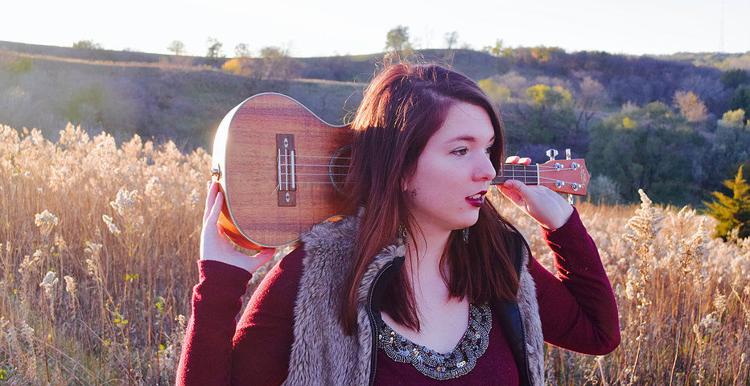 Mergen's favorite song off the new album is "Fathersong," and touches upon the loss of her father who she never had the opportunity to know.
"My dad passed away a few months before I was born," said Mergen. "'Fathersong' deals with my experience throughout childhood…thinking of him and exploring my family's farm…daydreaming what he might have been like and having some sort of spiritual connection with him."
Mergen will be touring the Midwest in the spring of 2019 after she finishes her program at Columbia.
What is Mergen's ultimate goal with her career in music?
"Making a profit on things would one day be nice," said Mergen. "I'm completely content with writing and playing music, sharing it with people and spreading good vibes. That's good enough for me.
"Metamorphosis" has 14 original songs and two moving covers ("O Del Mio Dolce Ardor" and "Shenandoah") and is available on all streaming music services.