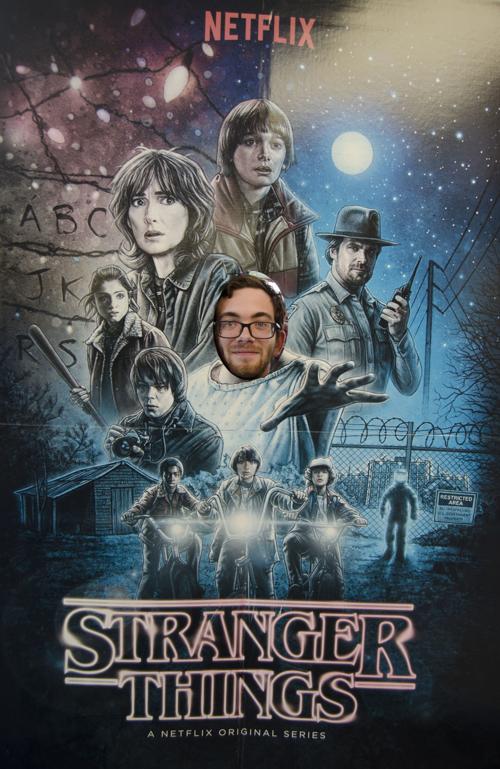 Over the past three years Netflix's "Stranger Things" has become a global phenomenon, and one lucky Sioux City native landed a walk-on role in the third episode of season three.
Growing up in his parents store, ACME Comics & Collectibles, Sean McGarry gained a huge appreciation for entertainment of all sorts. From reading comic books to watching movies and going to comic conventions all over the country, the Georgia State University film student gravitated towards a career in film making.
"It was definitely interesting growing up at ACME," said McGarry. "I didn't have any interest in the books, themselves, until I was about 6 or 7. I started by reading Marvel's 'Civil War,' but I generally read more DC than Marvel. 
"When I was 8, we brought in Peter Mayhew (Chewbacca from "Star Wars") to do a signing. We then started bringing other people in for signings. We started to travel the country and go to comic conventions and I got to meet people that worked on other aspects of movies...some of the makeup artists, whatnot. I got interested in making movies when I was in middle school and I was watching the 'Avengers' movies."
Before getting into the script writing and directing aspects, McGarry wanted to go into digital effects.
"I wanted to learn how to do digital effects, like making the Hulk, but I'm not exactly the best artist," he said. "Then I went to (Bishop) Heelan and they had a video design and production class there. Partway through my first semester, I was working on a production another person was leading. That was about the time I decided that I wanted to write and direct. Since then I've written a lot of scripts...I know that because I have made about 30 films. Of those movies I made at Heelan, the first successful one was 'Infection.' Then I had three other movies I made while at Heelan that went on to win awards. Two of which were the same competition that 'Infection' won at. In Georgia I made less films because I spent more time on them."
"Infection" earned McGarry multiple awards at different film festivals.
"It won Best Regional Horror Film at the Wildcat Film Festival at Wayne State College," he said. "It then won Best Student Film, Best Young Director and Best Young Actress for Sophia Kitto at the Global Film Festival Awards, which ended up getting 'Infection' on IMDB.
"I learned a few lessons, such as giving the makeup double the time you think you need, otherwise it holds the filming up."
You have free articles remaining.
So, how did he end up with a walk-on role on the highly popular Netflix show?
"That was actually just luck," said McGarry. "I followed a whole bunch of the pages for different casting companies in Atlanta that hire extras. I found out about them through a different job I had at Six Flags. I was talking with another employee who did a lot of extra work. He had been a stand-in in 'Captain America: Civil War.' He told me about all the sites he used to get the jobs.
"One of these pages put out a call for extras on a Friday when I didn't have classes. It said it was for 'Stranger Things.' I thought I might as well try, but didn't think I would make it because I figured there would be a ton of people trying to get cast. I ended up getting it and I couldn't tell anyone when I got it."
McGarry's experience on this set was very different from any of the productions he had previously worked on due to the scale of this Netflix production.
"When I got there, there were two different things they had me do," said the film student. "I spent a lot of time sitting at this one table, pretending I was eating food. I figured I'd get spotted there. I had almost forgotten about the walking scene that I did. I haven't spotted myself at the table yet, but I have seen myself doing the walking.
"I was blown away by the scale of it. Up until then all the productions I had worked on had been student productions, so I worked with very small casts and crews. 'Stranger Things' is one of the biggest productions I've gotten to work on to date."
McGarry is currently working on a production of his own. He is trying to get out of his comfort zone by combining genres. It will be a slasher film combined with found footage.
"I want to go on to write and direct," he said. "As long as I can keep working on productions, I'll be happy with pretty much any scale as long as it pays the bills. I would also want to work with Warner Bros. at some point if they do another 'Batman' production."
McGarry plans to stay in the Atlanta area when he is done with school, and hopes to continue working on his own productions, as well as others.
See if you can spot him a half-hour into the third episode of season three of "Stranger Things" in the mall scene.