At the crack of dawn almost every morning, artists Paul Chelstad and Mark Kochen pack up their brushes, their paints and any other tools they might need, and head on over to a weather-beaten mural overlooking a small section of Gordon Drive.
On a brisk and windy Thursday morning, Kochen made the mistake of wearing a t-shirt and shorts, attire he had worn earlier in the month when he and Chelstad first began restoring and revising the nearly 13-year-old Rocklin Manufacturing Co. building mural.
However, at that time, temperatures had reached as high as 94 degrees, giving Kochen quite the sunburn. The early Thursday morning wind might have soothed those still-warm patches of blistered skin, but it made standing on a ladder and painting small sections of the mural all the more difficult. Not to mention the stiff breezes knocking over plastic cups filled a quarter of the way with paint.
But neither strong winds nor intense heat will stop these two artists from fixing the aged mural, which depicts three separate paintings of Rocklin Manufacturing Co. workers on the job. The images were recreated from photographs given to Kochen and Chelstad, who were both commissioned by the industrial electronic equipment manufacturer 13 years ago.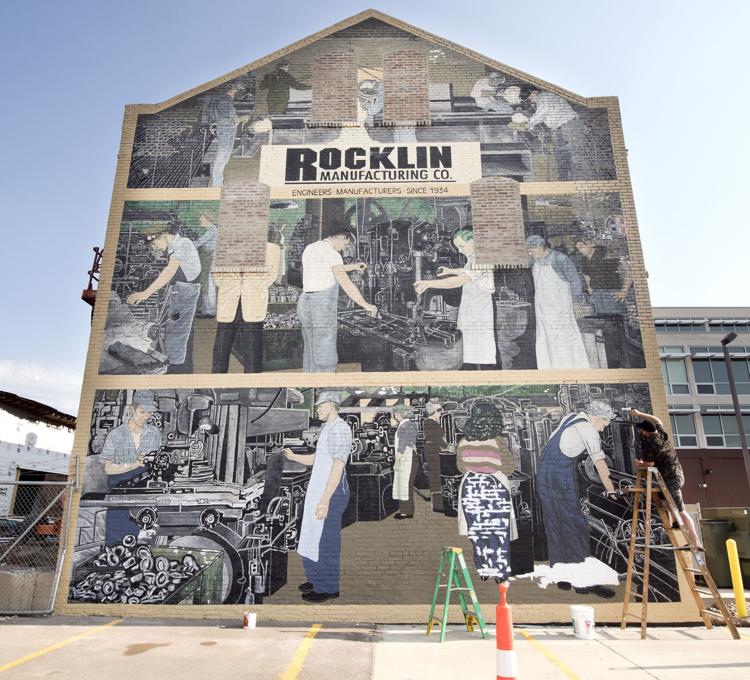 Despite some of the faded colors and exposed brick areas, Kochen says the mural has held up rather well. After 13 years of "full blast sun all day and Iowa winters," the mural was clearly in need of repairs. Chelstad and Kochen have spent days filling in holes and painting base coasts. Problems arise after touching up old areas with new paint.
"Once you've repaired one thing, the rest of it looks worse," Kochen said. "So you're like: 'Oh I'll just do some touch ups!' And then it just snowballs into: 'Well, it looks like we're painting the whole thing again!' The white isn't white. The black isn't black."
And the brown certainly isn't brown. In fact, what should be brown has actually turned green, leading to two women and a man sprouting locks reminiscent of Oompa Loompas. Chelstad and Kochen mixed a combination of pigments to create the color, but after years of abuse from harsh sunlight, the brown had faded into green. "The sun cooked all the brown off," said Kochen. "That's just remnants of a different color. Isn't that weird how the paint does that?"
As a detail-oriented artist, Kochen finds revisiting the mural to be quite a challenge. When drawing his distinct machine paintings, the artist likes to paint as close to the canvas as possible to really flesh out those itty bitty particulars. The Rocklin Manufacturing Co. mural is very different.
Kochen instructs me to stand a few inches from the brick canvas. "Like, what is this?" he says, pointing to a section of the mural. Up close, all I see is indistinguishable patches of colors – blacks and silvers and whites. I couldn't tell him what it was that I saw. "The whole thing is like a magic eye painting. The further back you go the more sense it makes. Once you're back to the sidewalk or across the street you're like: 'Oh! Those are big workers! And those are machines!'"
When you're eight inches in front of the brick like Chelstad and Kochen, it looks like nothing. However, these two experienced artists have both worked on large-scale murals in the past. They collaborated on a mural for St. Luke's (which has since been taken down) and water tower paintings at Grandview Park, among others. Chelstad has also worked on the Francis Canteen Mural on Historic Fourth Street, in addition to the many works he created in New York and other locations across the United States.
Revisiting the Rocklin Manufacturing Co. mural has been a challenge for both artists. Chelstad said he's happy to get a chance to refurbish the project.
"And I hope we get to do it again in another 13 years," he said with a laugh.