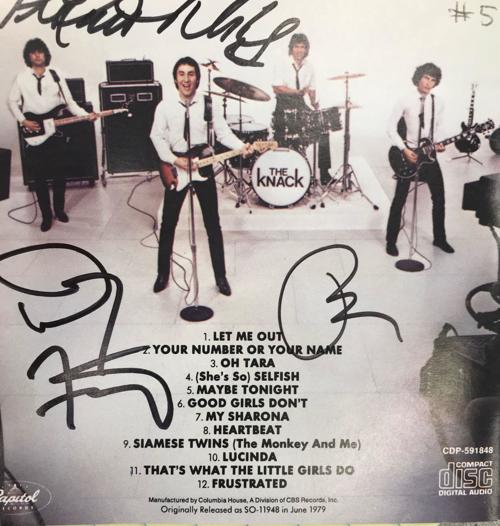 About this time 40 years ago in June, the first single from the The Knack was released and began its march to the top of the charts, as "My Sharona" became the hit song of the summer and best-seller of the year.
When it was released in 1979, the stuttering song spent seven weeks at No. 1, filling the niche that covered both power pop and New Wave. "My Sharona" was a breath of fresh air in the disco age. Today, it is a classic rock staple.
Looking back, it was a song played to death by me and a group of friends for more than a year. It was everywhere -- heard that summer out of passing vans and on the radio at pools. About two years later, a brother and his classmates lip-synced the song for a Kingsley-Pierson (Iowa) High School talent show, and a group of girls rushed up to the stage, no kidding.
Over the years, I owned "My Sharona" as a 45 single, a vinyl LP, on 8-track, cassette, compact disc and digitally on iTunes. I believe that's the only song I've owned on all the music formats present over my lifetime.
Sonically, the song is a marvel, as drums propulsively kick it off.
"My Sharona" gets into a tight groove with bassist Prescott Niles, and guitars come in with a rock syncopation that's far from the norm. There's the catchy "my....my.... my....my....my, whoo!" chorus. It all coheres into a distinctive whole, and the guitar solo (even longer in the five-minute album version) by Berton Averre soars, and is truly a disappointment when it ends.
In a 2003 Journal interview prior to a Le Mars, Iowa, concert, lead singer Doug Fieger said, "We were fresh and new...We took a lot of (expletive) because we could really play."
I bungled into a friend's May "Smithsonian" magazine copy, with an article that researched the top songs of the year since 1959. I tore out the page, and the theme is, "It's not your imagination. They really don't write songs the way they used to."
You have free articles remaining.
The Smithsonian article cites how Spotify streaming data shows "Billboard hits have trended louder and more energetic (that is, faster and noisier) since 1960." For example, on the Smithsonian scale, "My Sharona" had an "energy" rating of 70 percent. Really, that seems low.
The lyrics are more problematic than the music, which describes Fieger's regard, or lust, for Sharona Alperin, a girl he knew who four decades later doesn't mind being in a famous song, she said earlier this year. There was a sexist slant in other Knack songs, which churned up criticism, such as the "50 Worst Rock and Roll Songs of All-Time" book including two Knack songs: "Baby Talks Dirty" and "Good Girls Don't" (which had the refrain "...but I do").
Another strand of controversy came when Capitol Records execs dared to invoke The Beatles in their Knack publicity. (Both groups had Capitol contracts.) The cover art for "Get The Knack" showed the foursome in a pose reminiscent of the first Beatles disc, and in concerts they dressed in crisp white and black like the early Fab Four, albeit with skinny black ties of the New Wave era.
A backlash ensued, with "Knuke The Knack" t-shirts.
I choose to overlook that stuff, and remember the greatness of "My Sharona." Another person who loved The Knack was Kurt Cobain, who in spiral journals routinely penned "Get The Knack" when compiling fave albums of his youth.
I'll never forget an afternoon moment in my first year at the Journal. I walked back to the fax machine (yes, fax machine) and noticed a release from Le Mars officials taking a step up for annual Ice Cream Days festivities, by hiring a notable band for the celebration. Knowing such fare was out of my beat with politics coverage, I summoned up courage and asked Bruce Miller if I could stray into music for one special interview.
Shortly thereafter, I was speaking by phone with Fieger for the concert preview. For a Beatles, Knack and Nirvana fan (they all have songs containing the best elements of power pop), it was intriguing to run questions by Fieger on career highs and lows.
He wasn't insulted, saying, "Some people are invested in this idea that we were not cool, so that somebody so cool (Cobain) would believe we were cool" had to be tongue-in-cheek.
Not so, said Fieger: "(Cobain) was a huge fan. He thought we were the real deal."