Grace Claeys sees music as a form of outreach.
Claeys, an instructor at the Sioux City Conservatory of Music, also leads worship at River's Edge, where her father Bill Claeys is the head pastor.
"I've always had this feeling of outreach," she said. "When I was growing up, I was a youth leader and worship leader. I've always wanted to help people learn music and teach music, so this job definitely helps me use that ability that I grew up doing."
"That's a lot of my goal right there, and my passion," she added.
Claeys started in music at age 9 with piano, which gave her the basic music theory skills. By 12, she learned more about guitar, bass and ukulele, soon breaking off into more music.
Claeys teaches 25 to 30 students at the Conservatory, staying busy between another job with her family's cleaning business in the mornings, then making it to the Conservatory in the afternoon and evening to teach. She also works on her solo music project, Her Grace, in her spare time.
She has taught at the Conservatory for nearly four years. She also hosts both a worship and vocal club there, which can vary in size from two to 15 students, she said.
"I teach just about everything: piano, guitar, ukulele, I've taught bass before, drums, percussion and vocals," she said. The only lessons Grace doesn't teach at the Conservatory are cello, horns and woodwinds, it would seem. "Anything to keep me as busy as possible."
She stays active in the local music scene, with her solo act Her Grace; she's formerly a member of Port Nocturnal; and she formed a band with her brother at age 18, which they called Oneirus. They would play Friday nights at the Promenade together.
Claeys has spent more than a decade perfecting her knowledge of music, and said she wants to continue to work on Her Grace and teach at the Conservatory.
"Now I'm coming to this point where I've been with some of my students for several years now," she said. "They have grown a lot, so they have done a lot of shows with me. That's really where my heart is, is with my students."
One student, Autumn Carda, an incoming freshman at North High School, has taken a year of voice lessons with Claeys and said their relationship has been "amazing."
"I learn better here (at the Conservatory) than at school, because they're challenging me more here," Carda said. "Here, I can just be here to perform and I can learn songs here."
Carda said she wants to push more into her music and eventually become a singer, performing in front of bigger audiences.
The Sioux City Conservatory of Music does seem to be a hub for local music scenesters looking to give their musical gifts to aspiring musicians.
Adam Chilton is a percussion instructor at both the Conservatory and North High School. He's part of a band called Mount Suzuki, and previously drummed for Saul until he left the band in May of 2017 to pursue percussion as more of a "hobbyist," he said.
He teaches six students at the Conservatory, and said he starts at North next week with a percussion camp.
Chilton was first influenced by music in the first grade, he said, through his father's old records. He was heavily influenced by Brian Wilson of the Beach Boys.
"I always gravitated more toward the drums. I thought they were fascinating, the pulse, the fact you can feel them," Chilton said. "It's been about 25 years for drum set, and 27 years for percussion. I'm still soaking in as much as I can from different musicians, different styles."
Dennis Hart, an instructor at the Conservatory, has taught woodwinds, piano and sometimes cello for more than a year. Hart said teaching music is a way to offer something positive to children, and even adult students who want lessons.
"If you love music, teaching it is just a way to be in it," Hart said. "You learn as much from your students as they do from you. I can't think of a single negative thing that students pick up from music. It's all positive."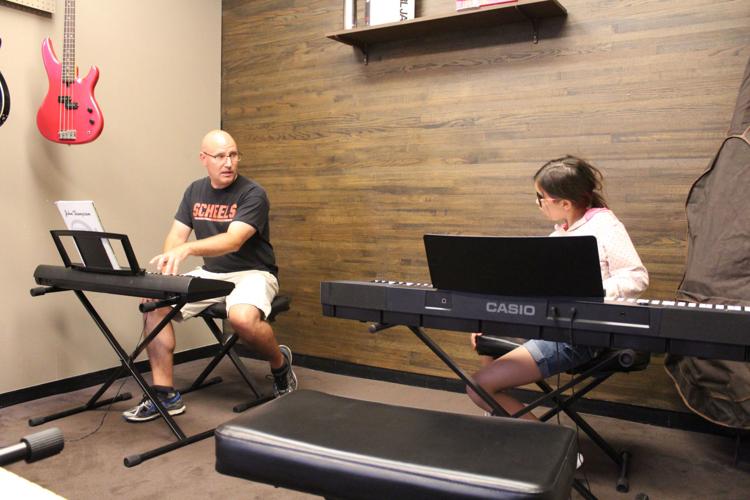 Alejandra Gonzalez, a fourth-grader at Irving Elementary, has taken nearly a year of piano lessons from Hart. Gonzalez said her favorite song to play is Beethoven's "Fur Elise."
"I want to learn to play a lot of instruments like guitar, drums and a lot more," Gonzalez said of her goals with music. She likes coming to the Conservatory because "I get to play music."