While many of Sioux City summer concerts and events got canceled, the Municipal Band will still have their 2020 summer concert season.
The first performance of the summer is at 7:30 p.m. Sunday in Grandview Park.
Conductor Michael Prichard said this is the group's 101st season. Usually, there are eight Sunday concerts over the summer months.
Prichard said that the Municipal Band plays a variety of genres -- pop, classic rock, classical, marches, and show tunes. Prichard said that they would also do a sing-along with the audience.
Prichard said they want to play music that people will recognize and latch onto.
"Because it's an outdoor concert during the summer, we try to keep things casual," Prichard said.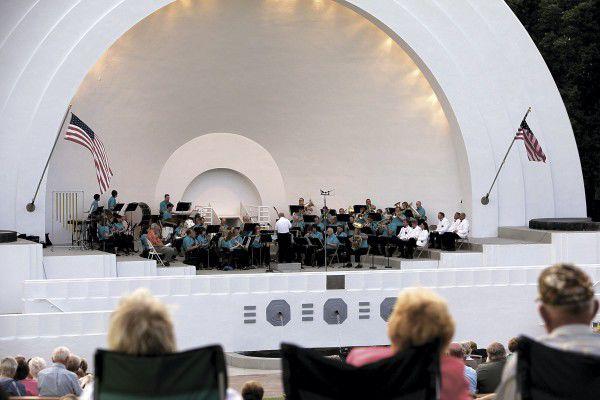 "Our first concert would have normally been on June 7," Prichard said, "But with COVID-19, we canceled the first two concerts."
The final six, however, will be a bit different than they have been. Instead of a full orchestra, Prichard said that they would have a smaller group to perform.
"We wanted to maintain a connection with the Siouxland community," Prichard said.
Prichard said he's not sure what to expect for attendance this year. However, he knows that people are getting antsy and want to get out.
Prichard said that they looked into every possible safety concern when it comes to the things that could spread the virus, like the spit from horn players. Prichard said the possibility of the virus spreading from instruments was one of the concerns they touched on. He also said they also looked into any issues they would have with social distancing and how they can do smaller groups to fit into the guidelines.
Prichard said they'll make sure everyone is far enough apart and safe with their benched seating.
"We're asking the audience to stay socially distanced," Prichard said
Prichard said they choose to have a smaller band this year to help be more conscious of the safety of the audience and band.
Prichard said band members must check their temperatures regularly. He said that if a band member or anyone in their household is showing signs of the virus, then they must stay home. Band members also have to remain home if they or anyone else in their household is awaiting test results for COVID.
Prichard said that he gave the band members a choice to play this year or not. He said that he wanted his musicians to feel safe and comfortable with performing.
As for the audience, Prichard said that so far, people's reactions to the band performing have been positive.  
"We had some feedback on our Facebook page, and people are excited to see the band," Prichard said.
Band President and piccolo player Stacie Pepin said that even though the band is smaller this year, she is glad that she and the band can play for the community again. She's grateful that they're doing it in a way that safe for everyone.
"We are so excited to get to play some concerts, I know we're going to look and sound different," Holly Haddad, a clarinet player and band principal, said.
Haddad said organizers are keeping her and the other band members safe by distancing the band and rehearsing outside.
Prichard is hoping that later this summer, it would be possible to perform using the full band.
Be the first to know
Get local news delivered to your inbox!