CLEVELAND, Ohio -- Back in March, I wrote a primer on how to plan a trip to the Rock & Roll Hall of Fame in Cleveland.
It turns out that on a vacation traveling east this month, after some angst on how best to spend the afternoon, I pulled off the interstate and took in the exquisite and exhibit-packed hall downtown by Lake Erie.
A Journal colleague in early 2018 returned from a stop there.
"I spent two hours there and didn't really scratch the surface. You could legitimately spend an entire day there and not see everything," Jeff Budlong said.
I only had two and a half hours, and now believe a good four to five hours is the right amount. I walked in the main level and went to the first thing I saw to the right, which was a huge merchandise area, even before buying the $26 one-day ticket. Realizing that I'd obsessively spent 15 minutes looking at merchandise, I needed to get to the real stuff.
Seeing all the exhibits resulted in a flood of texts to several music-loving friends. I am not a big texting person, but was immediately struck with the notion that I had to technologically share the experience with people who also relished music, such as rock, soul, pop and alternative.
(I was later flummoxed to see I had taken more pictures at the rock hall than at Niagara Falls, New York.)
The first was on the huge number of merchandise magnets showing covers of Beatles albums.
"Right, like I am supposed to choose?" I texted about the Fab Four options.
"Why do you have to choose one?" Karris responded.
Also in the merchandise area, I took a photo of some of the six artists inducted in 2018 into the Rock & Roll Hall of Fame, going with Dire Straits, Nina Simone, The Cars and The Moody Blues, while purposely leaving out Bon Jovi.
I sent the photo, along with the wording, "2018 inductees. I cut Bon Jovi out of picture." I got one proper response, with "lol."
I saw a huge wall photo of Rush, the Canadian prog rock band, and sent a picture to friend Corey. His replies were, "Boooom," followed by "Probably have an entire wing for Led Zeppelin and Govt Mule."
Some time later, I referenced back to one of those bands, texting, "Some guy is WEARING a Govt Mule shirt. Poor deluded soul."
Downstairs, there was a great, extended exhibit that explained the evolution of rock, from black artists with R&B and onto Elvis and so on chronologically.
Within that wing, I made an observation: "A couple just looked at a huge and somewhat distorted pic of Dave Grohl slamming, and asked who it was. I just had a guard forcibly remove them."
Scott replied, "Do that with anyone suggesting Duran Duran should be added to the hall, please."
Karris weighed in: "I forgot how much hating you'd get to do there. You'd just be in heaven."
Granted she knows me, and that was soon followed by more snark: "I just jackhammered the small section for Big Brother and The Holding Company/Janis, most overrated ever."
I will sanitize this to protect identities, but Scott texted a tale of a friend who would go to the drug store in the Upper Midwest town they were raised and bend Kiss vinyl albums in their jackets until they broke.
Then the mother lode appeared, as along two opposite sides of a wing were the biggest displays to any artist, with The Beatles on one side, The Rolling Stones on the other.
"Holy wow, I just turned a corner to see Beatles section," and I shared how truly emotional I got.
"They have a wall interactive where do about 10 minutes explaining each of 10 Beatles albums. They just went from 'Rubber Soul' to 'Revolver,' 'Sergeant Pepper' next. I hit the jackpot."
"I'd probably sit and see them all," Mark responded.
Slightly later, I found a Jimi Hendrix collection, which included some guitars and full colorful outfits from late 1960s. That was part of one specialty exhibit, The Summer of Love Turns 50, which opened in June 2017, and had the purple velvet jacket of Hendrix.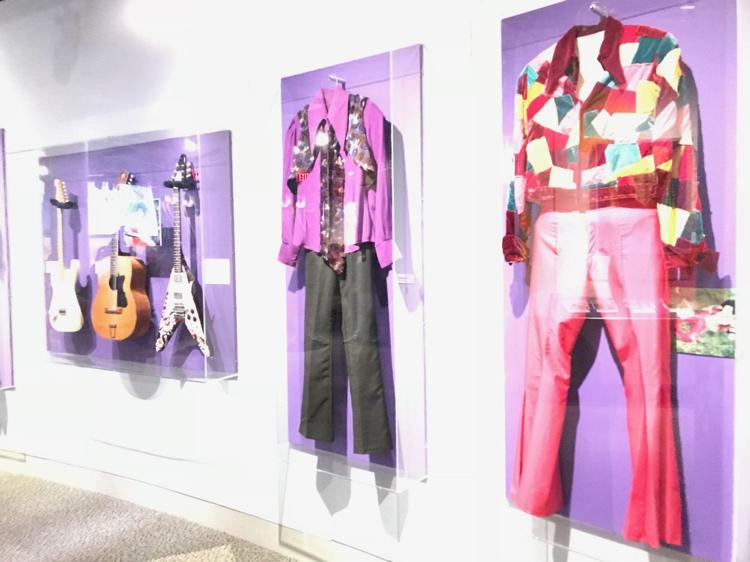 I texted a photo of that to my main Hendrix friend, Derrick, who responded, "That's awesome. Bring them home for me."
Upstairs, a photo and text was sent to show the diversity of items in the hall: "Pepa of Salt n' Pepa jacket"
And another griping text from me: "They let some Lumineers and Drive-By Truckers crap in here."
Near the end of the visit, there was a wing with pieces of all the 2018 inductees. I sent a photo of a framed quote from 1980 by Elliot Easton, of The Cars, for his approach to playing guitar.
Some of Easton's summary included, "There was this punk rock ethic that if you had too much technique, you didn't have any street cred. It was hipper and somewhat cooler to thumb three chords out of tune. While I don't necessarily share that view -- though I do love simplicity and I love a primitive kind of playing -- it's about what's behind it."
Two friends who play in a band responded very positively to Easton's sentiment. One of them is apparently required to use the word "cool" at least every third text, and used it again. Which works for me, especially on that day.