Simone Aulling Whitlock hopes to do her part for women's empowerment with the Sioux City Pretty Festival 2K19.
The Sioux City Pretty Festival 2K19 is a festival and concert celebrating the women in this community. It will go from 2 p.m. to 2 a.m. on April 6 at Club Riviera, 714 Fourth St.
What does the festival organizer think is important about feeling empowered?
"It means feeling your sense of self and identity and having power in who you are and who you want to be," said Whitlock. "Also it is about feeling pride in every aspect of yourself, even the weird stuff. If you have a foot fetish, take pride in having that foot fetish…don't talk to me about it, but feel pride in it. It's about giving strength to yourself and others, as well."
Whitlock is in the process of starting a nonprofit organization called Sioux City Pretty, and this will be its first event.
"I am dedicated to having shows and events, whether they are poetry, comedy, music or arts in general," said Whitlock. "I want to dedicate this to women, people of color and people in the LGBTQ community so they can have a safe, inclusive space where everyone feels comfortable and everyone feels like they are part of the community and can participate. It seems like it's mostly white guys that are doing events around town with, like, only one girl playing bass in the band. I want this to be all-inclusive."
The entertainment at this event includes bands with women, flow artists, yoga and artisans.
"We are starting out with beer yoga with Macy Vollmer," said the organizer. "You do some yoga and have some beer to ease your way into it. Then we have poetry readings by Angelica Mercado and Ally Karsyn. There will be musical performances by Ukalady (Grace Jessen), Hillary Joanne, Dee + The Sunny Saps (from New York), Free Trueman, Fall of Kings, Brainwreck, Solo Safe (from Omaha), Her Grace (Grace Claeys), Wash (from Wisconsin), Enny Owl (graduated from Briar Cliff and lives in Los Angeles) and the DJ Kittana (Carl Sparkz). There will also be drag performances by Gaby Valentino, Alessandra Jacobs, Carmen Zamora and Vanessa Divine. All of Elecric Flowtus will be hanging out all day doing their flow thing."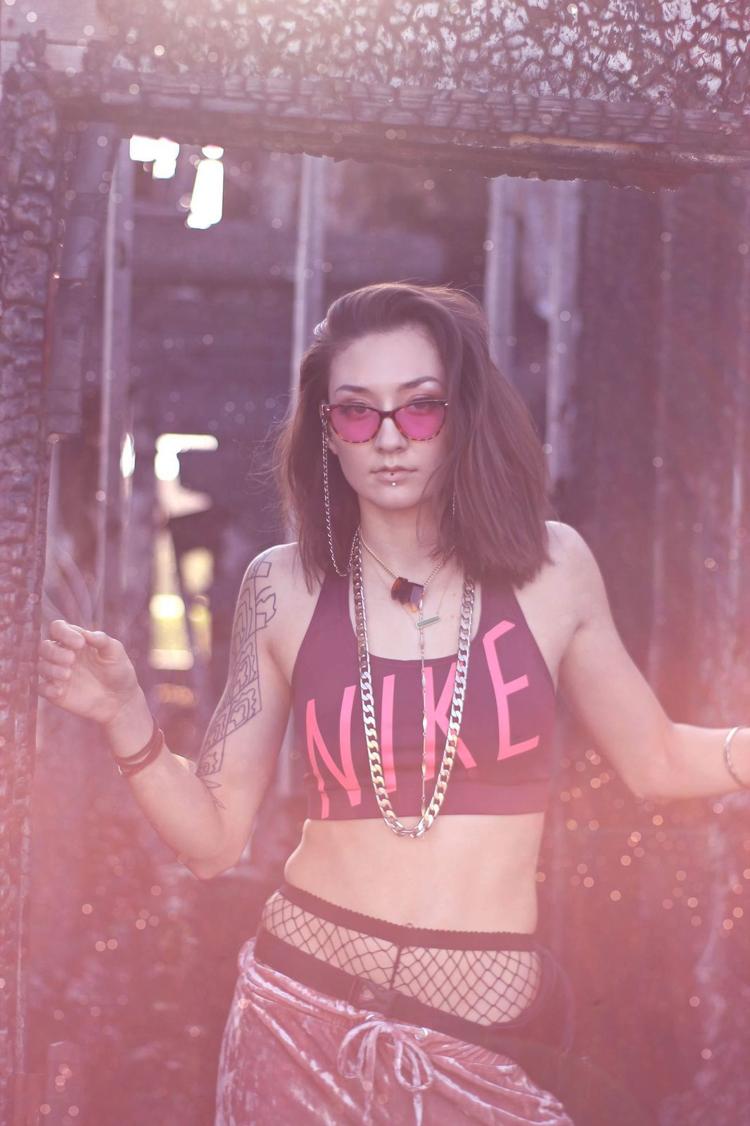 There will even be raffles to win pieces of locally made art by YMR Art, Brutal Doodles and Kitty Kitty Bang Bang.
Why is it important to have women-centric or women-focused events?
"I think it's always important, especially with the current state of politics in our country," Whitlock said. "I know there are people that don't want to be feminists…there are even women who demean being a woman. I understand the more conservative household ideals of having a woman taking care of the home…I don't think that's wrong, but I do think you need to give women power. I want to bring people together for an inclusive, fun and safe time. I want to make Sioux City a place people want to go to instead of running away to bigger cities."
After waiting for someone else to start an event like this, Whitlock decided to get involved.
"I don't really have a set reason why I did this other than I kept waiting for someone  to do something," she said.
For someone just breaking into organizing festivals, Whitlock went straight for the high dive. Even most of the funds tied to creating this festival came out of her own pocket.
"It is really difficult, actually," said Whitlock. "I had issues getting a venue because the first one I booked called me back well after I booked with them and they told me they were double-booked for that day, so I had to rush to find a different venue."
All of the donations from this event will be going to charitable organizations.
The organizations that will benefit from this festival will be the Siouxland Pride Alliance, The Siouxland Women's and Children's Shelter and Planned Parenthood, she said. "I'm still donating to Planned Parenthood because I think it is very important. It sucks that we lost ours, but that's part of why I think donations should go to the organization."
Why did Whitlock decide to name the event Sioux City Pretty?
"When I was in high school I was openly out of the closet," said Whitlock. "Some guy told me I was 'Sioux City pretty,' so not actually pretty…just pretty for Sioux City. That's just rude. I was trying to think of a name for this, and I decided to take that saying back and make it a good thing."
With a $20 presale ticket ($25 day of), you get a T-shirt, a glow-in-the-dark silicon wristband and twofers all day. General admission without the extra goods will be $10.