Originally released Off-Broadway more than two decades ago, "The Vagina Monologues" received both praise and controversy for its frank and brutally honest views on female experiences. Topics and themes that Mary Madsen believes are still very important and relevant today.
"Nothing is outdated in any way, shape or form," said Madsen, who is one of five women cast in Lamb Arts Regional Theatre's production of "The Vagina Monologues."
Like the title suggests, the show uses an unconventional method of theater storytelling. Instead of acting out a particular scene between characters, the five actresses take turns reading individual speeches and anecdotes inspired by the information gathered by the play's creator, Eve Ensler.
"The Vagina Monologues" was created after Ensler conducted interviews with 200 women and discussed their views on sexuality, partnership and violence against women. Madsen and fellow castmates Pamela Barry, Molly Dowell Baum, Lindsey Rixner and Karen Sowienski retell these experiences through powerfully worded, first-person monologues.
One monologue Madsen performs is titled "My Angry Vagina," in which she goes on a humorous tirade about the injustices the female genitals faces on a regular basis.
"She's angry," Madsen said. "She's angry about exams. She's angry about tampons. She's angry about douches."
The play doesn't pull any punches when it comes to dialogue. Madsen affirmed that audience members, possibly men in particular, may feel uncomfortable at first; the effects of which will likely wear off 10 minutes into the first performance.
Subjects such as sex, menstruation, child birth, rape, masturbation, orgasms, body image, genital mutilation and the different names used for the vagina are all talked about with zero hesitation.
Despite the bluntly descriptive dialogue, Lamb's production of "The Vagina Monologues" is meant to feel less in-your-face and more accessible to today's audiences. To further emphasize this point, the set is made to look like a living room in the midst of a girls-night-out style dinner party, complete with rustic furniture, inviting artwork and tall glasses filled with wine.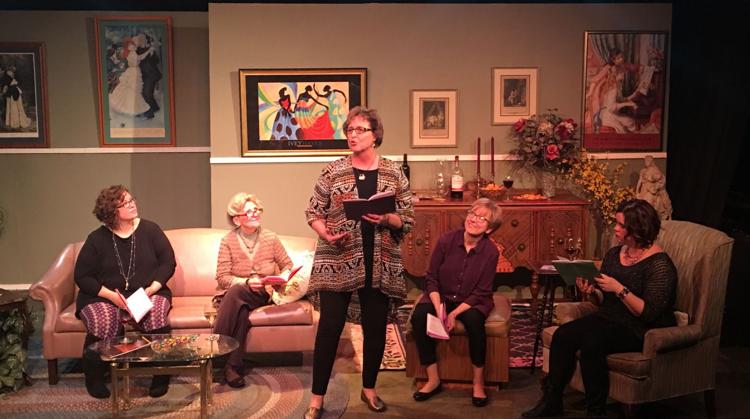 Director Diana Guhin-Wooley said, "I like what we're doing. It's just like a party. We're just talking. I've never seen it done that way. It's not in an in-your-face, angry way."
Although a setting has been put in place, there is no underlying story weaved into the monologues. There are no real "characters," per se, at least none identified by name. If anything, Madsen said, the vagina is made to appear as the play's central character. For the monologues, Madsen said she pictures a woman sharing her experiences.
"In my monologues, I think of a specific kind of woman telling that story," said Madsen, adding that she also makes connections to the topics and themes discussed in the play. "With my angry one, for example, I guess how you feel embarrassed, humiliated during exams or all those years of wearing tampons. Why couldn't they be easier?
"Sometimes what we're saying is if men had to go through this, their life would be easier or that somehow things would be made easier or more comfortable."
Madsen said "The Vagina Monologues" is an empowering play. That word empowering was repeated many times during my interview with Madsen and Guhin-Wooley.
It's empowering to tell these purely feminine stories molded by true life occurrences. It's empowering to speak about taboo topics so freely and to do with so with equally taboo vocabularly. It's empowering for the cast of women to be able to share and instill this felling of liberation with the audience inside The Box stage at Lamb Theatre, a smaller and more intimate space that further illustrates the point of the play.
"I say words in this show I've never said aloud before, let alone saying it in front of other people," said Madsen, referring to a specific monologue in which the speaker reclaims the C-word despite its negative connotation.
The show has given Madsen a new perspective. "It's made me think about the vagina in so many different ways," she said. "I came from a more prudish time period than some of our younger gals, maybe. But it's got me to think about it in different ways. It shouldn't be hidden. It's another part of my body that I can be just as proud of as my eyes or my hair. I think we've always kind of hidden that pride, that part of our body."
Guhin-Wooley agreed. "It's kind of empowering," she said, before correcting herself. "Not 'kind of.' It is empowering."