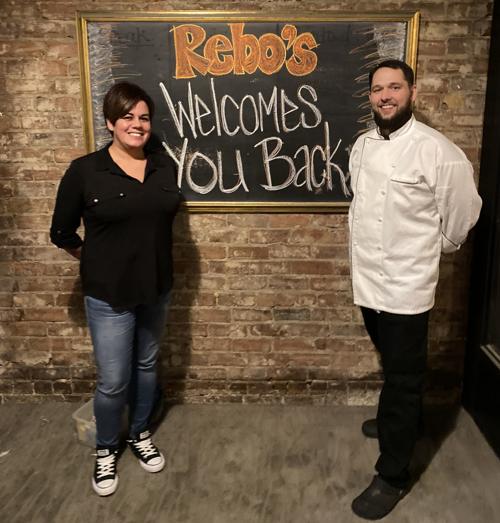 This has been proven wrong with a Sioux City staple, a favorite among Sioux Cityans.
Rebo's has opened its doors once again to the public due to demand and a new partnership between previous owner Brian Rees and 1008 Key Club and Rox & Rails owner Jesus Sanchez. Also joining the team are Candice McDowell as general manager and Chef Clay Lillie (1008 Key Club).
McDowell, a mother of four and a fan of the previous iteration of Rebo's, had worked with Lillie in other restaurant gigs and was approached by Sanchez when the manager position became available. She said she "jumped at the opportunity.
"Clay was already working for Jesus (1008 Key Club) and he's obviously done amazing work there," said McDowell. "We wanted to get him on board here with Brian and the new menu."
"Sioux City is a small town and we (chefs and food service staff) have all worked together," said Lillie. "We all know we are a good team. I'll be able to balance this with the Key Club because I have a really awesome team over there. I have full confidence in them. Lately, I haven't been there. I've been focused on this. At least until me we can get everything up and running. We are setting our sights even further down the road."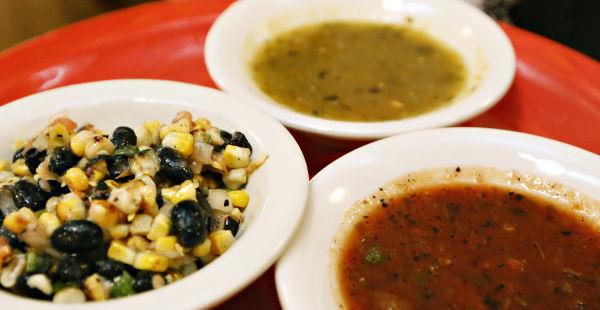 We bet you are wondering if your favorite dishes will still be on the menu. Well, chances are they will be.
"I would say 90% of it is still there," said Lillie. "All the favorites. We didn't get rid of the Black & White, obviously. That IS Rebo's. A lot of the things Brian agreed weren't hot-ticket items were left by the wayside or revamped. We did expand on the entree part of the menu. We will be doing a market steak with red chili butter. We will be coming out with a lobster gratin potato, which I think is going to be a star. We will also be doing veggies of the week."
Some more new items will be the jerked Berkshire pork chop with mashed plantains, the fresh red-snapper, the homemade sweet potato fries and a fire pepper blend (a signature flavor profile that will be infused in a lot of Rebo's food and drinks, as well).
Rebo's will also look different when you visit, as the once-cavernous room has been split in half. A new business will be opening next door in the near future, but this gives Rebo's a smaller, more manageable space in which to operate. It's almost the size it was when it occupied the space The Diving Elk currently occupies.
"Rebo's started in a smaller venue," said Lillie.
You have free articles remaining.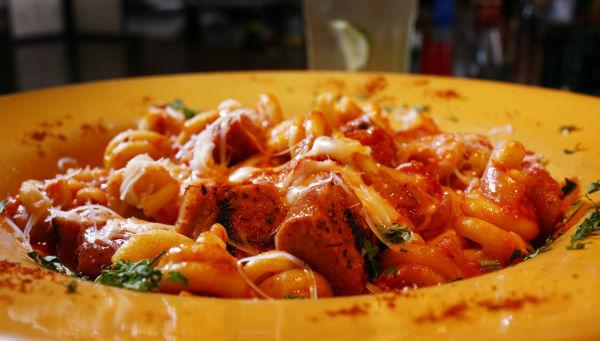 "We're bringing it back," said McDowell.
"It's hard to handle the seating like that with a bigger room," said Lillie. "We are looking at 108 seats now, including the ones at the bar. We will be half the size with twice the feel."
So there is a new business partner and a new additional chef; why still call the restaurant Rebo's?
"Why wouldn't we?" asked Lillie. "Don't fix what ain't broken. Brian did big things here. Sioux City loves his food."
"The feedback we've gotten has been phenomenal about re-opening," said McDowell.
Now that Lillie and Rees will be working together in the kitchen, they will need to get used to each other's styles of cooking and make compromises where needed.
"It can be a nightmare or it can be like magic," said Lillie. "We lucked out. Everybody has their own way of doing things. This is an art. Everybody interprets art differently. Brian and I are on the same wavelength, and it's pretty cool. It's honestly sort of weird how connected we are."
For the loving patrons of Rebo's, Lillie wants you to know that the restaurant is picking up right where it started.
"We are starting back up like we haven't missed a beat," he said. "This will be the product they expect. For those who said Rebo's was their favorite restaurant, it still will be; maybe even more so than before. I think that with what we have in store for people, they will be more than impressed. Brian and I are learning a lot from each other and in turn teaching each other a lot."