When Wayne Blum was given free rein to direct just about any show he wanted at Shot in the Dark Productions, he immediately knew what he wanted to produce.
"The Last Five Years," a musical written and composed by Jason Robert Brown, is the latest show occupying the Evelyn Larson Theatre. Blum said he has wanted to direct this particular production for about four years, but has struggled to find a theater that was available to host it.
Years ago, he said, the Sioux City Community Theatre presented "The Last Five Years" on its mezzanine. That was the last time he had seen it performed in Sioux City.
So when Shot in the Dark's board of directors contacted Blum and asked what show he'd like to put on, he jumped at the opportunity to tell the story of a five-year relationship inspired by Brown's failed marriage. A story Blum believes every person in the audience can relate to.
"Whether they were married or not, everybody's been through a relationship that hasn't been the best or ended before they thought it should," he said. "It kind of touches everybody's heart… and the music is amazing."
Coordinated by music director Travis Metzger and performed solely by Katherine Ruddy and Ian Curtis, "The Last Five Years" is almost entirely music driven. The onstage couple -- Cathy and Jamie -- interchange songs, detailing the state of the relationship at particular points. Jamie's songs mark the beginnings of the relationship and are told in chronological order, while Cathy's point of view begins at the end of the relationship and works its way backwards.
"I mean, it's not like you have to worry about a spoiler – you know what's going to happen," said Blum.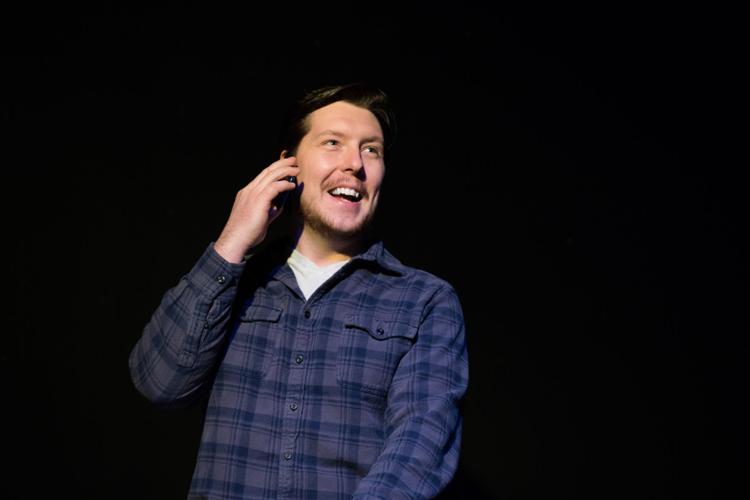 Through the musical's unique structure, we find out what happens to the couple and how the relationship ends. But Blum stressed that "The Last Five Years" isn't a completely melodramatic show, and in fact has its fun moments.
"Have fun with these characters," he said. "There are real people. This was written from a real place."
The intimacy of Shot in the Dark's stage directly benefit's the show's strong suits. Blum said the Evelyn Larson Theatre is a "perfect spot" for "The Last Five Years."
"I like the fact that it's a smaller venue," he said. "I can get away with two people [singing] without having to have them use mics, and the audience is right there watching this happen and feeling it happen."
And it feels real. When rehearsals began, Blum asked his two actors what they thought the biggest reason relationships ended. Both Ruddy and Curtis said communication was a big factor.
"To a point, they're right," said Blum. "According to Jason Robert Brown, it's also unrealized expectations. Both of these people come into this relationship of their life and their life with this other person. And neither of them are being met, really. 'The Last Five Years' is them coming to that realization."
Working with only two actors has been wonderful for Blum, and sometimes even relieving. He laughs just thinking about it. "It's been so easy to schedule," he said. And that's partly due to the structure of the musical, which hardly ever has the couple interacting with each other.
This format allows the characters of Cathy and Jamie to develop. Working with only two actors helps tremendously in that regard. The result should be a genuine performance, which Blum wants above all else.
"As much as it's a musical and as much as you want people to have great voices, if they can't act it you're just listening to the soundtrack," he said.