Come one, come all to the 17th annual cardboard sled race, happening on Feb. 10 at Cone Park.
The race was the brainchild of local Siouxlebrity and Rivercade aficionado, Phyl Claeys.
"I grew up in Sioux City," said Claeys. "Grandview Park was always a big sledding destination…we would always go there to sled in the winter. The first race we did 17 years ago was at Grandview Park. In subsequent years, they banned sledding at Grandview Park, so that's when we moved out to Sertoma Park and got the Sertoma Club involved. It's grown since then. In the 16 years we have done it, we had to call it off on three separate years because there wasn't any snow. Three years ago, there wasn't any snow, but a friend of mine and I went to Southern Hills Mall and filled up his pickup truck with snow. That way, we at least had enough snow to cover a 10' by 20' area on the hill. Now with Cone Park we don't have to worry about snow anymore because they have artificial snow machines."
If you are worried about qualifying, don't be. This event isn't just for the kiddos (it's also for the kiddos at heart). It is for people of all age ranges, and there are multiple heats in the race with four divisions, ages four to 99. There will also be a business and club division. Trophies will be given to first, second and third place winners in each division, and one person in each division will win a "most creative sled" trophy and crisp 50 dollar bill in cash.
"Sledding, to me, is something that is worth-while," said Claeys. "That is why I started this race.
"Starting at 12:30 to 1:30 we do the check-in. At 1:30 we have the judging for the most creative sleds. We develop the age divisions when we see the people who turned out for the event. The actual races start at 2 p.m. We start with the kids and work our way up to the adults. All said and done, the races should take about an hour."
A new addition to the festival is happening this year. The Sioux City Musketeers will be skating at the ice rink, so you can meet with your favorite Sioux City hockey players.
"This year, as part of it, we have the Musketeers coming down," said the organizer. "They will be doing a meet-and-greet, and you can skate with them from 12 to 2 p.m. at the ice rink at Cone Park."
When it comes to creativity, your mind is your only limit while making the sleds.
"In the creative end of it, we have some people that go bat s--- crazy with it," said Claeys. "We also have some that just bring out a sheet of cardboard. Some people scoot on down the hill in a box. At Long Lines Recreation Center, they have 3x4 sheets of cardboard available free to the public up until the day before the event if people need to get cardboard. There can be no steel, metal or plastic runners on the bottom. It has to be cardboard to snow on the bottom of the sleds. Wax, paint or soap are allowed to be put on the cardboard…just no metal, plastic or wood. They can coat them with any kind of coating they want…it's funny because some of these sleds go so fast that people fall off the sleds halfway down the hill. It is something that is just so fun to observe. People just come down to watch it because it's a really, really fun thing."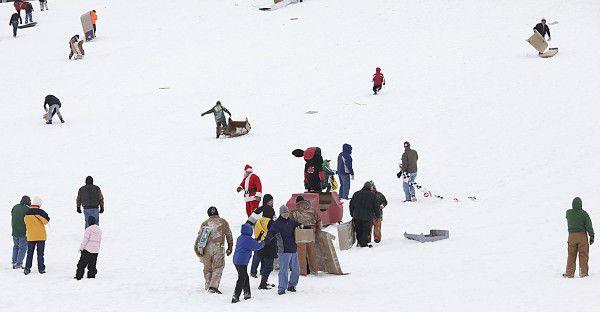 It may be obvious to many, but why did Rivercade decide to host this event at Cone Park?
"We now have a snow park," said Claeys. "I consider this as something many of us in Siouxland have waited years to have. This is a place where we have snow that is being made. This year is a perfect example of why we needed this park; we have had a lack of natural snow this year. With the lack of snow that we've had, there is snow at Cone Park, and there is sledding. We are blessed to have it. The Parks & Rec. department have been a big part of this. The Sertoma Club is a big part of it. It is a Rivercade event, and it is presented by Winnavegas Casino…the main sponsor of all of our events. Also, there is no entry fee!"
Every year people design sleds to impress and to outdo themselves from previous years. What have been some of the cool ones?
"One year a bar came out and they had built a bus out of cardboard," said Claeys. "There were 18 people in the darn thing standing up while sliding down the hill. The more creative, the better. We push creativity, but you can also just slide down the hill on a flat piece of cardboard. There have also been sleds made to look like cars, trucks, rockets, tanks, the Batmobile…some double-decker things…hell, someone built a horse once."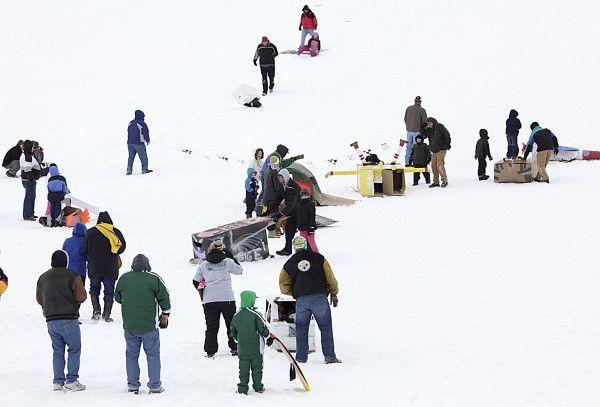 People may wonder what attendance is like each year. Last year had the biggest turnout.
"Last year we had our biggest year, and we had 90 people of all ages turn out," said Claeys. "This year I hope we see 300."
What is the reason people should turn out to support this event?
"It's just a unique Sioux City Rivercade event," said Claeys. "We try to create truly unique family-friendly events. This is the kickoff for the 56th year of Rivercade. We've got Cone Park; this is what Cone Park is meant to be used for. We are honored to have this event down there. It's a Sunday afternoon in winter…get out of your house and see something fun, or even be part of it. Whether it's cold or not, it is a fun event and we will do it for as long as we possibly can."