During his drive from Louisville to Sioux City last weekend, Travis Barnes listened to a collection of original songs written and sung by his late father, and he couldn't help but feel like he was practicing for some kind of test.
Listening carefully to his study guide playlist of Benny Barnes tunes, the Sioux City-born musician made mental notes of each track, memorizing as much as he could. By Friday, Travis would take his spot center stage at The Marquee playing guitar alongside his dad's old bandmates and singing his dad's old songs.
"I'm going to try to do as many of his originals as I can," said Travis. "He had so many, though. Learning all the words to them in a short amount of time will be a little bit of a challenge."
Travis will be pulling a double header that night; performing not only with his dad's old group, the Tradition Band, but also with the reunited Travis Barnes Band. Formed in 2010, the Travis Barnes Band played a mix of country and rockabilly. The group also put its own honkytonk spin on alternative songs from the '90s and patched together novelty medleys made up of songs by pop country artists.
Having moved away from his hometown about five years ago, the last time Travis performed his dad's classic country-style tunes in Sioux City was right around the time of Benny's funeral in 2015; they were sung as more of a memorial to his father, who spent a great deal of his life playing music in bars around town.
Although he was probably much too young to legally enter (rules were a tad bit lax back then), Travis remembered tagging along with his dad to these pubs and taverns, watching him entertain audiences with a personable demeanor and sing traditional country with that high-range baritone voice of his.
"My dad played with a lot of musicians over the years," said Travis. "He started in the '60s and he played just about every place in town. He was staying busy. Toward the end of his life he was still playing. Not with any regular band, but with different people. That was one thing that was really cool about him – he always kept playing. He didn't stop for any length of time."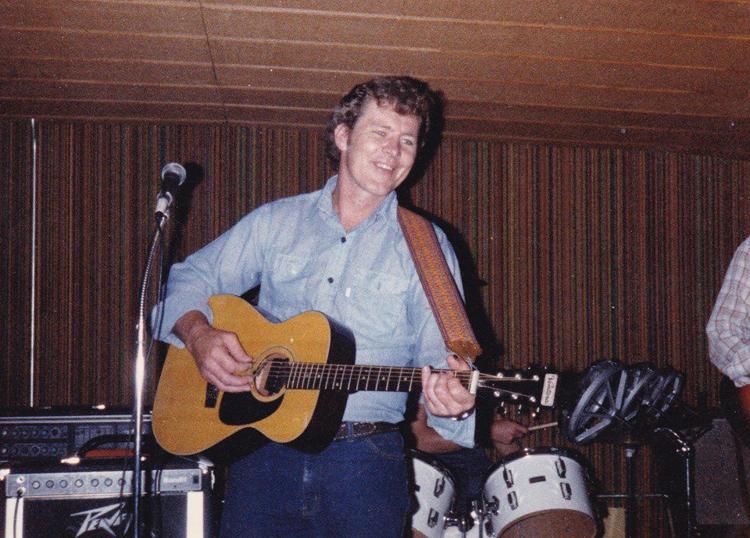 By the time Travis reached adulthood, he'd grown to emulate Benny's singing voice and adopted his passion for classic country musicians like Merle Haggard. From time to time, father and son would share the same stage and perform gigs as a duo.
"He was always the lead singer," Travis said. "I was usually playing lead guitar. Poorly."
In a YouTube video published March 1, 2009, Benny and Travis are seen playing onstage at The Chesterfield singing the Haggard song "I Had A Beautiful Time." Benny is wearing dark dress clothing and strumming away on an acoustic guitar, his silver hair shimmering against the harsh stage lights. Travis appears the complete opposite with his short black hair, glasses and striped long-sleeved shirt. Likewise, he's playing electric guitar.
Despite the stark contrasts in their overall appearance, the chemistry between the two is clear, and much can be said about Benny's influence on Travis as a musician. Although Benny never directly taught his son how to play guitar (that credit goes to Bob Dawdy of The Velaires), Travis said he picked it up "by osmosis." As such, the father's natural vocal "twang" was passed down to his son.
"It's kind of hard to lose it," said Travis. "But it comes out pretty easily in songs. When I do more alternative stuff I try not to have that flair, but it comes out. I didn't necessarily get lessons from my dad, but I watched him play and learned a lot from him."
Travis also books gigs for himself when he can. This time at pubs and restaurants in Louisville, frequently playing many of the same cover songs his dad performed. Songs originally written by some of Benny's favorite artists like Haggard and Hank Williams.
Those cover tunes may have revealed Benny's influences and tastes in music, but it was his repertoire of original songs that revealed a more personal side.
Travis said, "He didn't talk about feelings much in person, but in his songs he had some very emotional themes. Parents passing away. Rough and rowdy times growing up. It came out in the music. It's kind of cool to hear all that.
"There might be people who really never heard of them or some of the more obscure ones he recorded. So I'm going to do my best to do them justice."