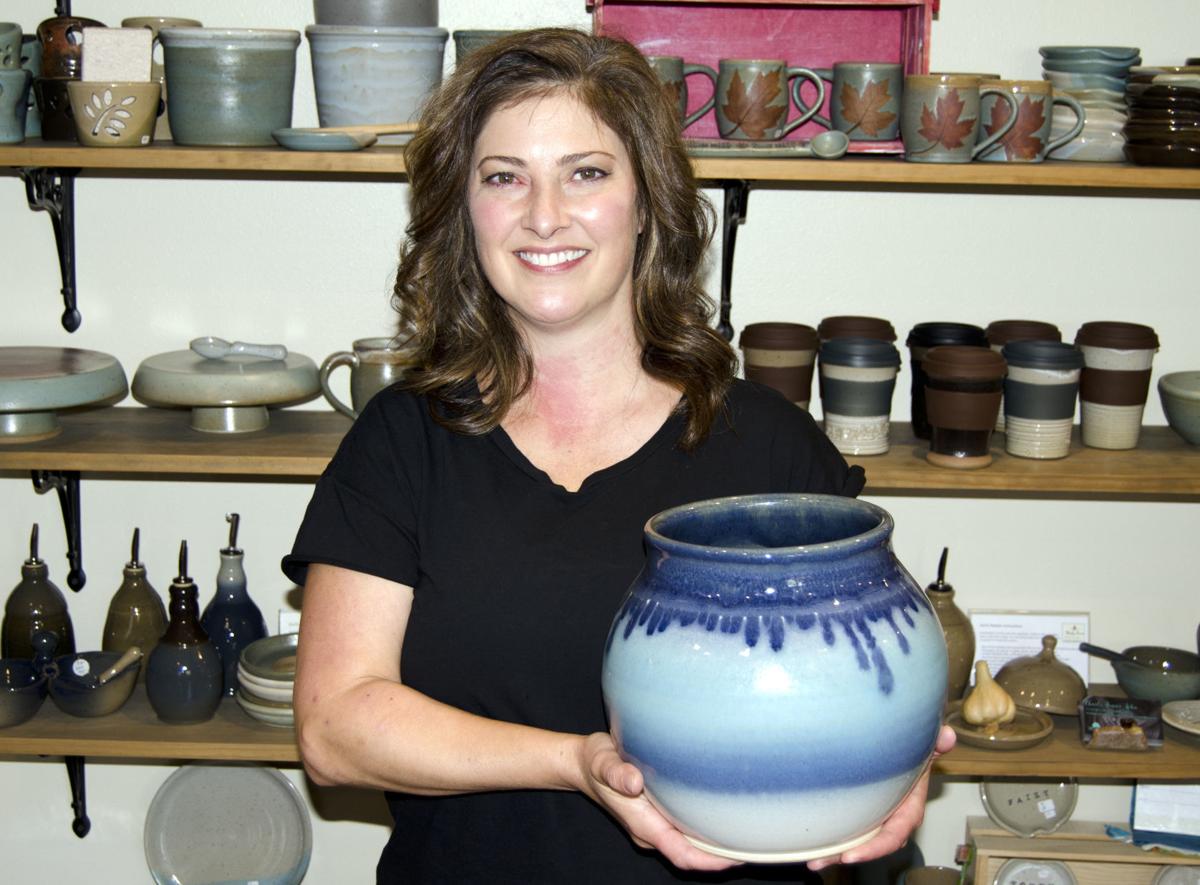 Chaeli Hanna-Kohn is a potter, mother and step-grandmother who lives on the outskirts of Sioux City in a place that is perfect for her to work on her craft.
She likes to travel with her husband and family when she can, Hawaii being her favorite destination.
Outside of traveling and art, she likes to spend time with friends and also likes being a homebody and gardening.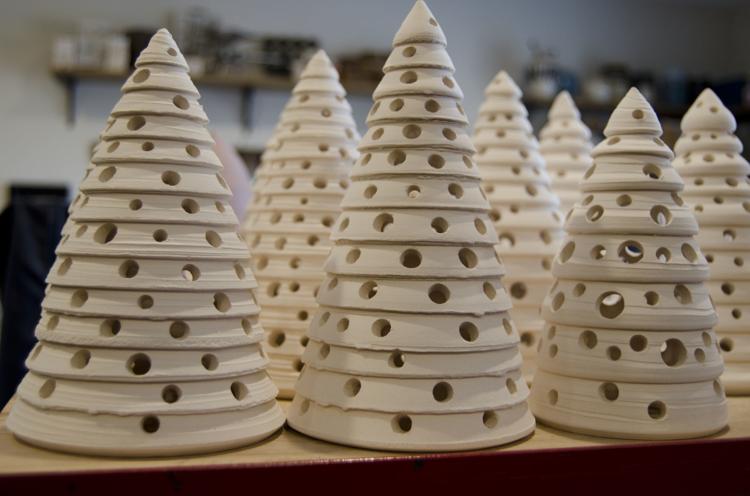 Weekender: When, how and why did you initially get into this craft?
Kohn: "I took interest in pottery in high school. It was about the only class that I liked, so I just stuck with it from there. I started going to WITCC right after high school and started needing health insurance, so I quit school because I wasn't interested. I still wanted to do pottery and was planning on going to USD, but had a change in plans. I started working with a local potter, Steve Kammerer, who started doing pottery the year I was born. I did an apprenticeship job with him, mixing glazes and clay. I would get to use the wheel, so that was good. I ended up buying equipment from him."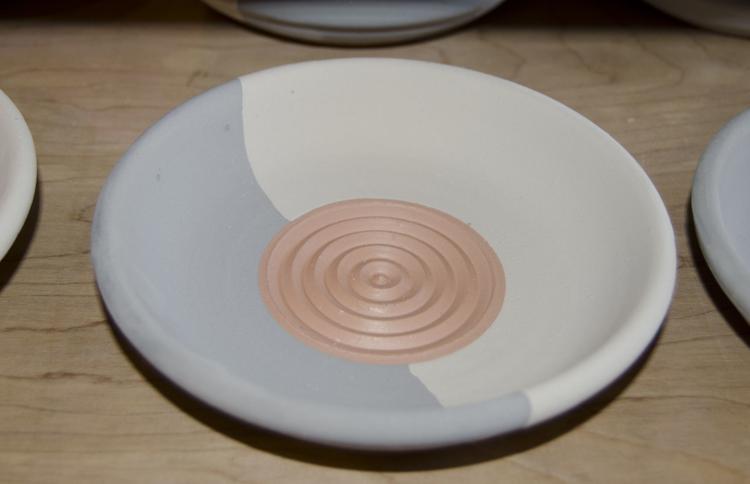 Weekender: Who influenced you when it comes to creating pottery?
Kohn: "There are a few potters out there who have influenced me. Paul Soldner is one, and my favorites would be Bill Van Gilder and Amy Sanders; they have some really neat pottery."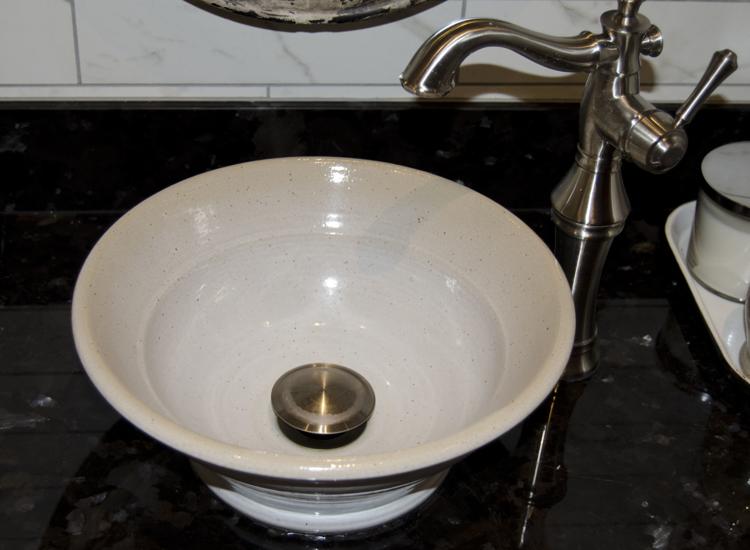 Weekender: What in life inspires you to create?
Kohn: "Gotta go with nature. It comes from the ground; even with the chemicals for the glazes and everything. Anything as simple as going outside and taking a walk will spark the creativity. I just see patterns and different colors and try to incorporate those into the pottery."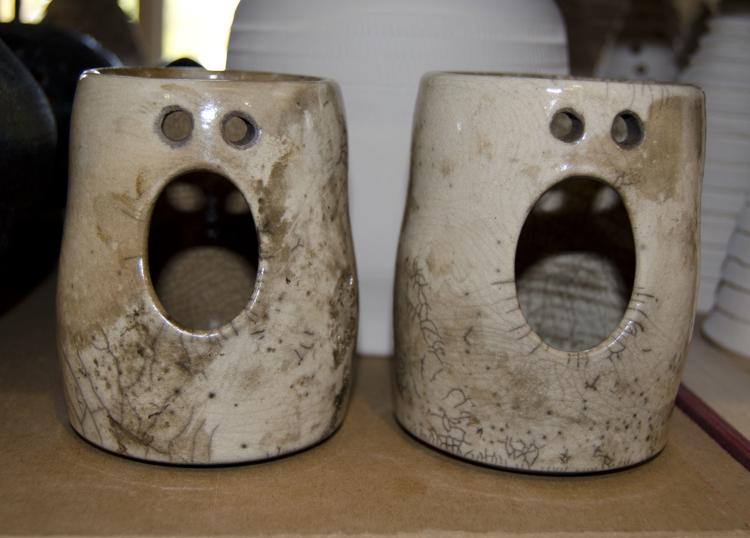 Weekender: Describe your experience teaching children to make pottery.
Kohn: "That's always fun. They've always got ideas, and I just let them go with it and coach them with their own creativity and ideas. I need to give them the basic forms on how to make it, but I like to sit there and listen to them. They are funny. My granddaughter was here a week ago, so I put her on the potters wheel for the first time. She made this cute little pot and wrote her name in it. I have this bucket of trimmings that were dry which usually go into recycling. She took some of that, crumpled it up and put it on her pot for 'sprinkles.'"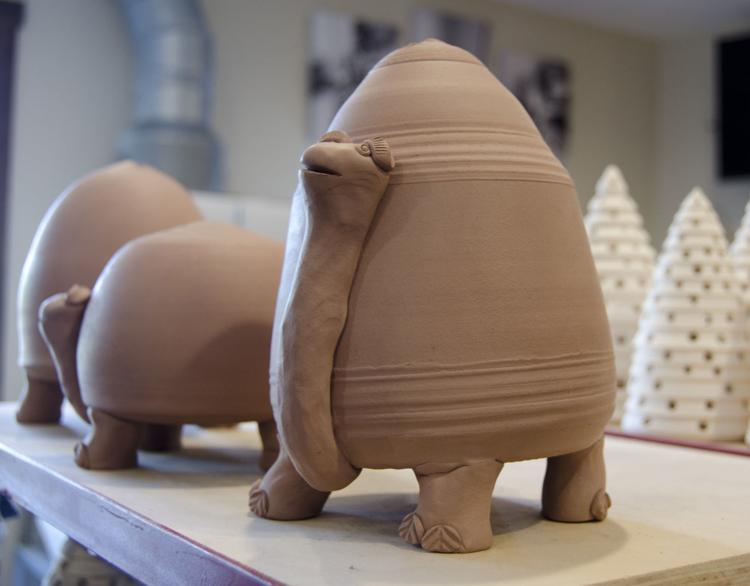 Weekender: Do you enjoy making practical or decorative creations and why?
Kohn: "I'd have to go with practical/functional pottery. I never run out of ideas or things to make. I love to hear people say it is useful. Instead of just hanging it on the wall, they are going to use it every day. That's the reason it is my favorite; I know people are using it."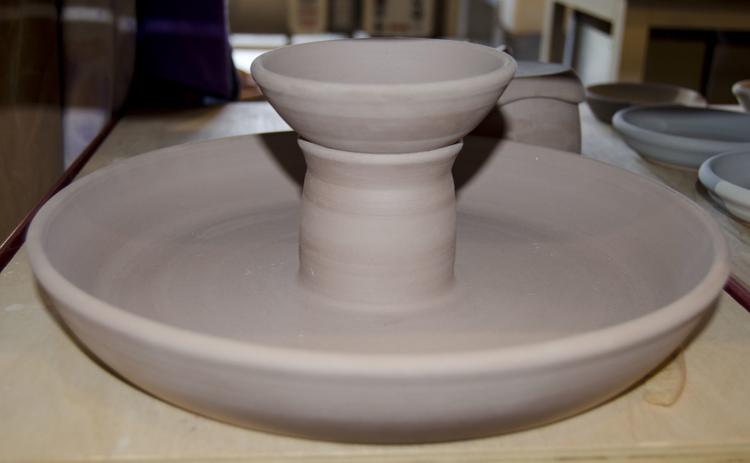 Weekender: What do you deem to be your specialty?
Kohn: "The stonewear functional mugs and bowls. I think bowls are my favorite things to make; and vases. Vases are always fun because you can use them year-round for decorating and for holding fresh flowers in the summertime. They are always a good gift."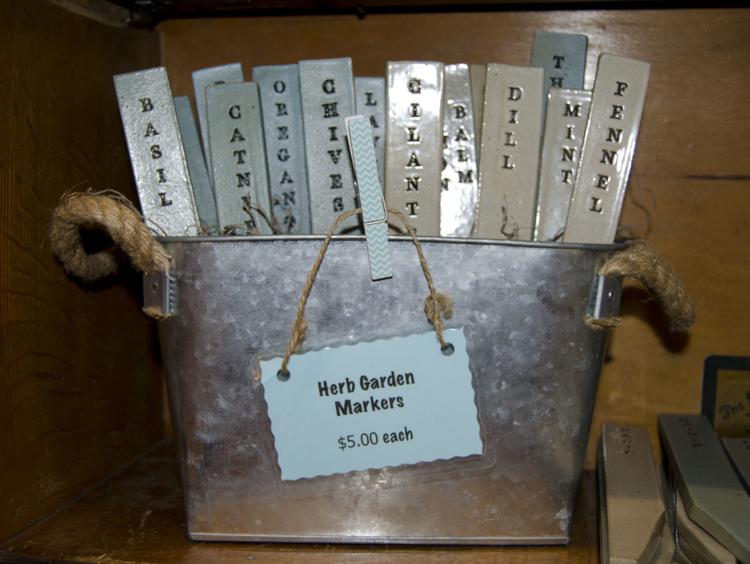 Weekender: What makes your works different than other potters in the area?
Kohn: "I'll have to go with the glazes. I've been trying to come up with my own recipes. There is a place I go to in Sioux Falls to get supplies. I'll use a base and then add colorants to it and try to make my own instead of using a commercial-style glaze. You can use the same glaze and it will turn out differently, especially if you are using the gas-firing over electric. Electric is what I normally do because it is consistent and I can get a load done more quickly."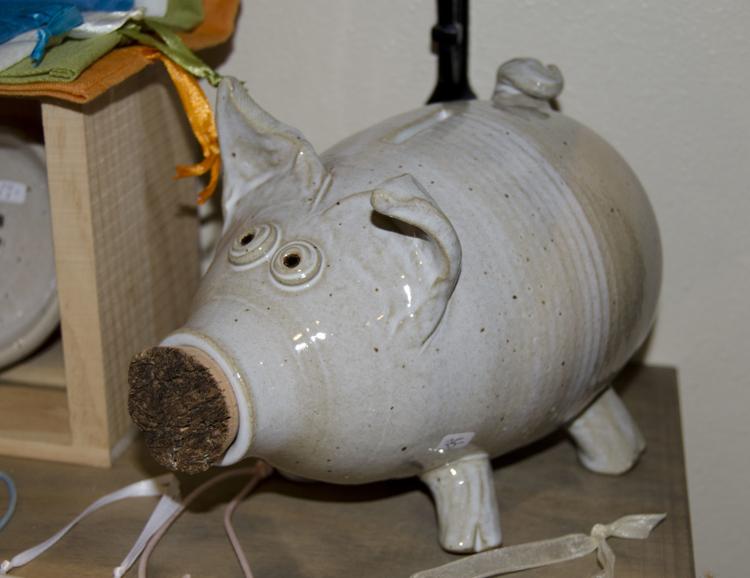 Weekender: Did the movie 'Ghost' impact your vision of pottery?
Kohn: "Of course it did! If I was thrown a pot that looked that good on the wheel, I don't care how hot the guy was if he walked behind me and threw me off and ruined that pot, I would be mad."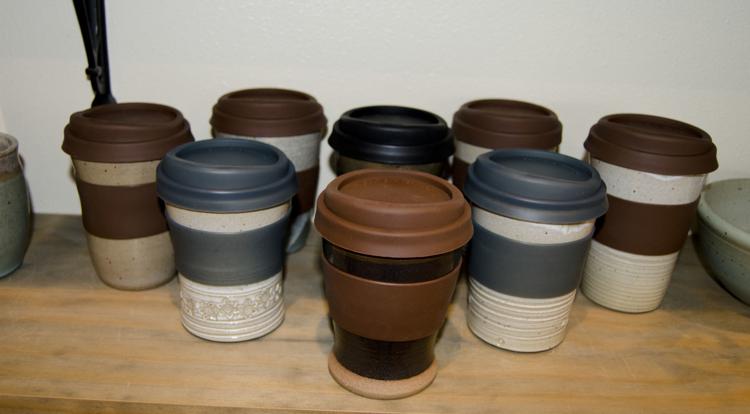 Weekender: What is your favorite style to create?
Kohn: "I love creating stoneware, but Raku is much more fun. You never know how the glaze is going to turn out. Sometimes it's disappointing and sometimes it's great. Also, that's where my husband will help fire. It's more fun to do that in a group setting. We have a group of friends come over and he runs the kiln. He's a retired firefighter, so he puts on his fire coat and has the tongs and does the fun part."
Weekender: What creations of yours do you personally use in your home?
Kohn: "I only get my rejects. I have to sell all of the better things. I use my mugs, bowls and vases. I even have wall hangings that I keep if they get cracked during the firing. I did start classes at the Art Center taught by Steve Kammerer, so with that class, I'm keeping all of my creations."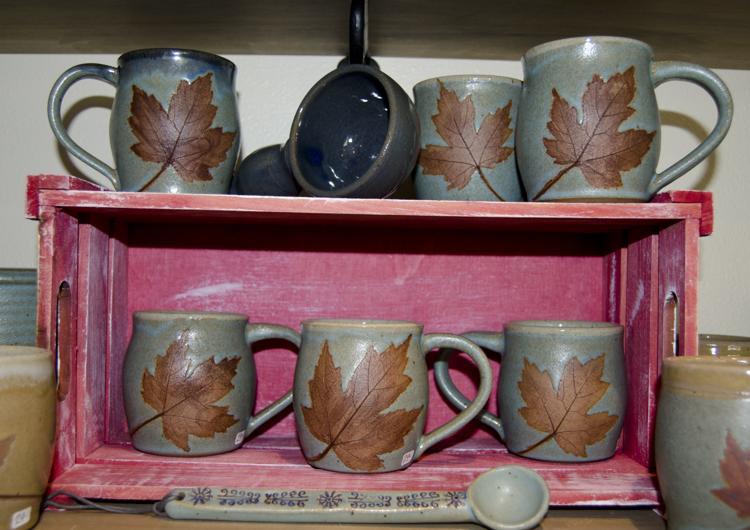 Weekender: What are the feelings you have when you sell original pieces?
Kohn: "It's neat. I'm thankful that somebody likes it enough to buy it. I feel grateful."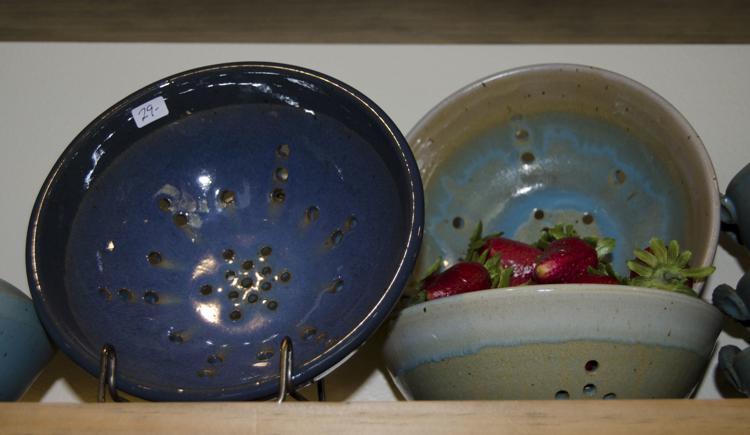 Weekender: How do you incorporate objects from nature into your works?
Kohn: "With the Raku firings I use leaves and sawdust in the chamber for the reduction process. Anything combustible like that. The glazes and the clay are all from the Earth. When it gets into the winter months, I start using the extruder and make coil baskets with branches for handles. You have to make the pottery fit the branch."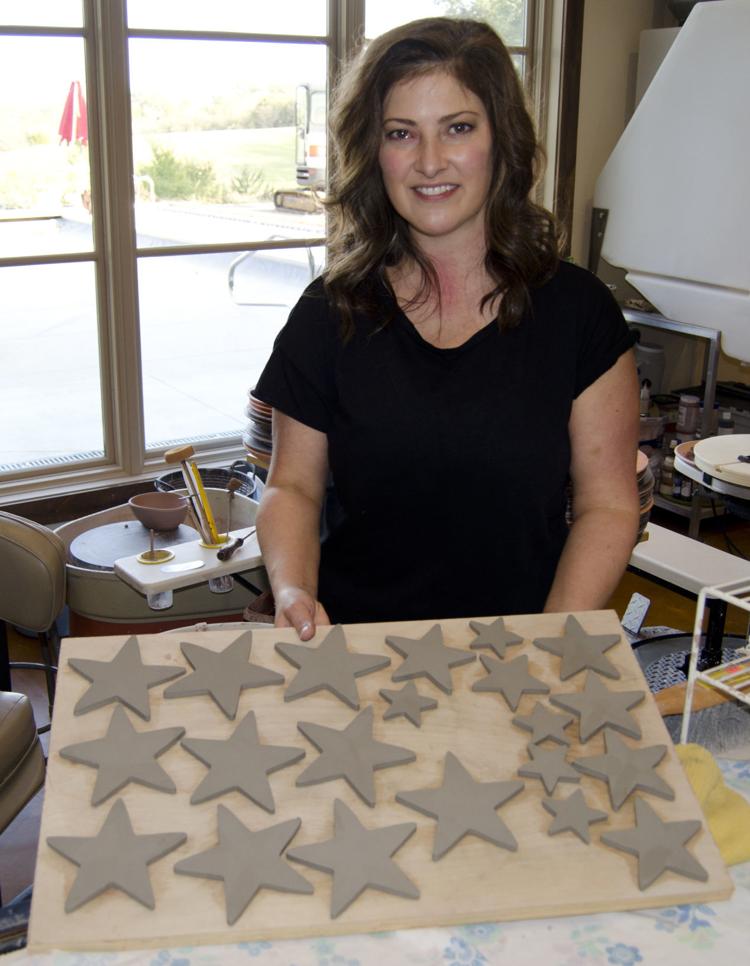 Weekender: What is your ultimate goal in the world of pottery?
Kohn: "To keep improving. My best example would be that I love texture. I always feel like I'm so behind that I need to get these dozen mugs made, whereas I'd like to make six mugs and spend more time decorating them; put more textures into the mugs and the handles.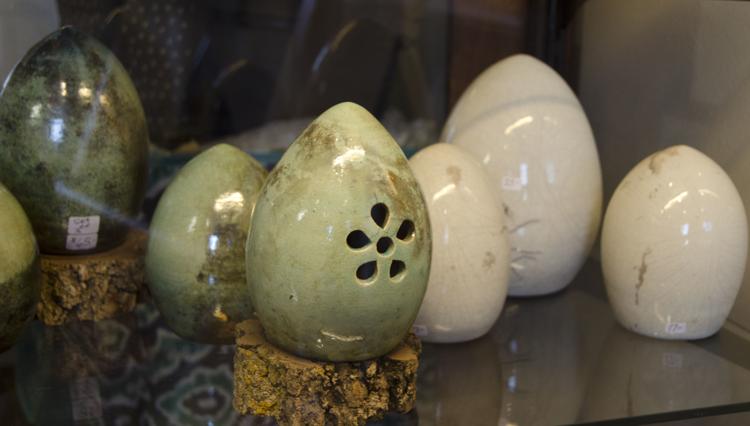 Weekender: How has Sioux City impacted your art?
Kohn: "It helps. I was born and raised here; I always thought I was going to move away from here, but I never did. It helps to know people in the community."
Be the first to know
Get local news delivered to your inbox!