A typical visit to Pickled Palette means looking at the assortment of pottery pieces on display -- blank and ready to be painted. For a set fee, guests can choose to decorate things like mugs, plates, trinkets and charming figurines, using just about any colors they want. Once the creation is to the customer's liking, it is sent off to the kiln to be fired and glazed, and be picked up at a later date.
But throughout the month of January, pottery bowls decorated at the Morningside Avenue art studio will not be returned to their respected artists. Instead, they are being collected for a local fundraiser.
In an effort to raise hunger awareness in the community, Pickled Palette has teamed up with the Food Bank of Siouxland to create a month-long workshop called Bisque for Benefit, which allows visitors to hand-paint bowls to be donated at the annual Empty Bowls fundraiser Feb. 2 at the Delta Hotel Center, formerly the Marina Inn Convention Center.
The social event includes a soup dinner, musical entertainment and a live auction. Attendees will be given hand-crafted bowls to take home as a reminder of the ongoing struggle in Siouxland.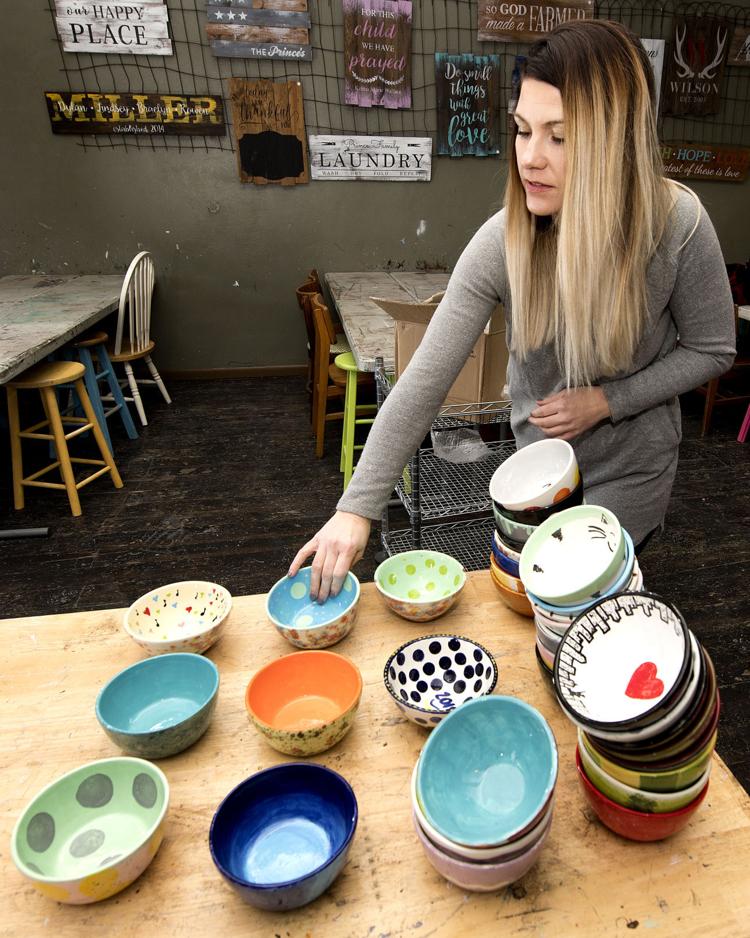 Last week, Lexie Ryan was working on one such bowl. She wanted to add a few finishing touches to her custom-painted vessel before giving it to the Pickled Palette staff for glazing.
Seated at a rustic wooden table near the back corner of the art shop, she carefully inspected the vessel for any spots she may have missed before painting more leaves along a winding stem, which stretched across the outer sides of the bowl. Inside the dish, Ryan had painted a vibrant, fully bloomed flower, a nod to her work as a florist at the South Sioux City Hy-Vee.
This was Ryan's second time visiting Pickled Palette since she moved to the area nine months ago. After seeing a Facebook post about the arts and crafts store's involvement with the Empty Bowls fundraiser, she decided she would spend her day off with her fellow co-worker, Penny Boggess, painting a bowl and playing a part in the fundraiser.
"I've actually been looking for different ways to branch out and do a little charity work here and there," said Ryan. "I work a lot of nights and that kind of stuff, so I don't get to be at places when they're doing events. So I thought this was a good idea just to pitch in a little bit."
There are no creative limits when it comes to decorating bowls. Whether a person is artistically inclined or has never taken a single art class, all levels of skill are welcomed to decorate. This is good news for Ryan who said she is "not a painter by any standard."
"I'm pretty crafty, but painting is not my best forte normally," she said with a laugh.
Opposite Ryan's decorative floral bowl, Boggess took a simpler approach to painting her piece: sparkles. Or, in her own, words: "sparkly stuff." It was glitter galore for Boggess. "I didn't get talented like she did," she said, pointing to Ryan's unfinished bowl.
"I just thought I'd free hand and see where it goes," said Ryan. "I just want them to look at it and smile. I think it's an awesome idea. And the fact that it's going to help somebody warms my heart a little bit."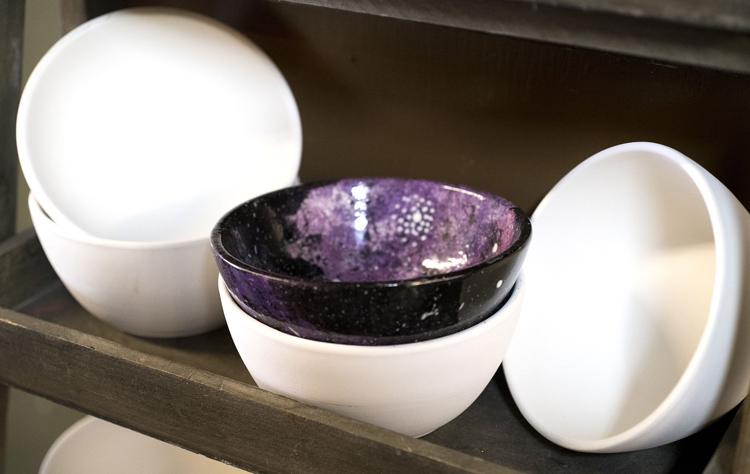 Last year was the first time Pickled Palette had collaborated with the Food Bank of Siouxland's yearly fundraising event. During that time, members of the community produced about 150 bowls. This year, Pickled Palette owner Ashley Prince hopes to meet a goal of 200 bowls.
Within the first week of Bisque for Benefit, Prince said Pickled Palette had produced up to 50 bowls.
"We have a lot of customers come in to specifically paint the bowls, which we're really excited for," she said. "It gets them into the studio, and I think it helps loosen up their artistic abilities a bit because they know it's going to be donated and it's for a good cause."
Creative freedom is entirely up to the artist painting the bowl, which has yielded some fun results so far. Apart from the decorative free-hand and sparkly designs (a la Ryan and Boggess), some artists have taken to inspirational quotes about fighting hunger in the community.
"It's also nice to see families come in and explain to their children what this is benefitting," said Prince. "It's just a feel-good project."
Opening the kiln to see a bevy of colorful, toasty warm bowls warms Prince's heart, as well as her hands. She compared the experience to unwrapping gifts on Christmas Day.
"You see all of the projects, all the fun colors and all the love and time that has gone into creating these," she said. "It's definitely a gracious feeling."
When attendees depart from the February fundraiser, they'll be leaving with a custom-made bowl in their hands; a bowl that will serve as a poignant reminder of the hunger difficulties that Siouxland and other areas suffer from.
"They're always going to remember that this is a struggle that our community faces," said Prince. "It's a keepsake that also has a lot of meaning behind it."