With three years working for the Sioux City Explorers, Briar Cliff University alum Julie Targy has crafted her own career playbook -- and had fun in the process.
The Bellevue, Nebraska, native started working for the Explorers as an intern, and within a year became promotions manager. She now works for John Roost, owner of the Explorers, so in addition to working at the ballpark, she also has duties at Rooster's Harley Davidson and some of her employer's other companies.
While attending college, Targy jumped at the opportunity when she found out the Explorers were hiring.
"I got the email about the job from my basketball coach in college," said Targy. "I needed a job for the summer so that I could stay in Sioux City to work and do the summer basketball workouts. It caught my eye because I really love sports and promotional stuff.
"I had never worked for a baseball team, but as soon as I got here, they hired me on the spot. They gave me a microphone and here I am. I've loved every minute of it."
At games, she's often announcing promotions and leading fans in songs and cheers.
"Not everyone can be a doctor or an accountant. Not everyone can be good at math," said Targy. "It's just one of those things. God gives you abilities and you should work with them. That's what I love about this job. I can make other people's lives entertaining and fun, help them have a great atmosphere and put smiles on their faces."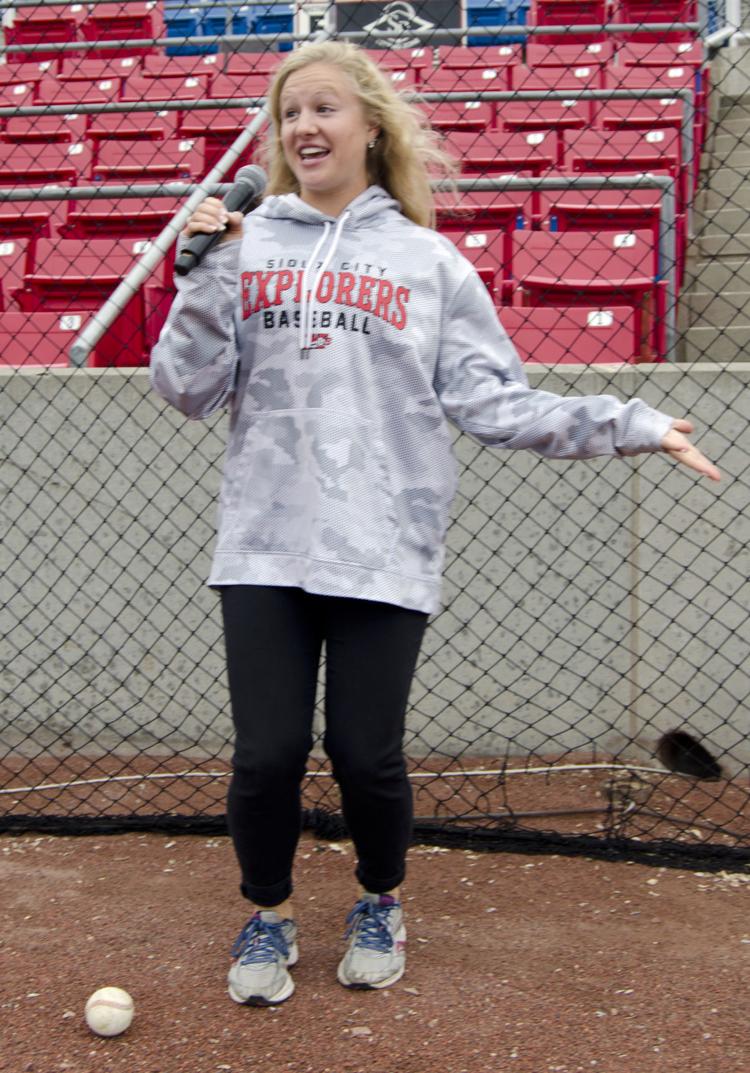 While attendees may see her as a face and personality of the Explorers, her job encompasses much more.
"Up until this year, my job has entitled me to create the scripts for game days, the inserts for the programs and all of the promotions, as well as everything that is said from the PA's standpoint," Targy said. "Basically I had to create everything for the script that would run the show. If that didn't happen, it would just be the baseball game without the whole production. Everything that would come out of my mouth and the PA's mouth is pre-scripted. Every game is different. This summer is also different for me. I still do some of that, but I now have another employee who helps me since I have other jobs."
Over the last three years, Targy has built a rapport with the team and fans.
"My favorite relationships have been with the fans," she said. "I have a good, friendly relationship with the players throughout the seasons, but not everyone stays.
"The fans are so dedicated to this team and to Sioux City in general. That's what makes my job so rewarding, being able to make a better environment for them to have a good time. They are always willing to come and participate, even when it's raining and thundering, or when it's just sunny and hot."
When Targy is out shopping, fans will recognize her and immediately start talking.
"If it is the off-season, they will tell me that they've missed seeing me. They are really sweet, kind people."
Among those promotional tasks: singing during the seventh-inning stretch.
"I'm not a very good singer, but I still get to perform," said Targy. "I love that aspect. I like acting and speaking in front of people, so instead of being a singer, I'm the promotions girl on the field who gets to use a microphone. I think we create this really fun environment for people whether the game is going well or not-so-well. Luckily the Explorers have been doing well this season, so it makes my life a whole lot easier."
A tough aspect of the job happens when the game isn't going in favor of the Explorers. The weight falls upon Targy's shoulders to keep the audience happy and entertained.
"The other team could have a billion runs, and we can have none, but I will still bring the same excitement to the crowd so that when they go home they can say, 'the Explorers may have lost, but we still had a great time at the game and will keep going back,'" explained Targy. "That is my goal."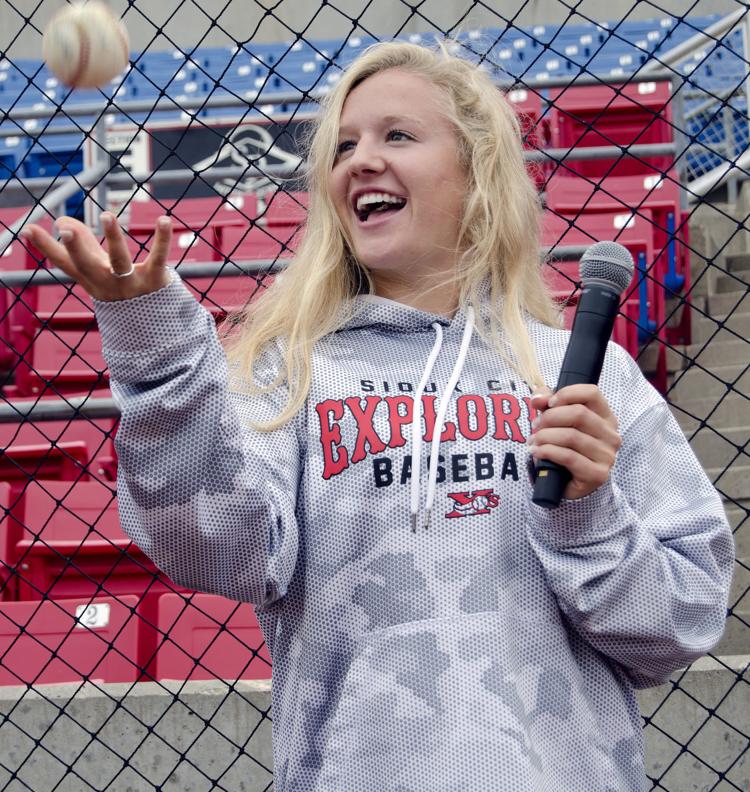 The mass communications graduate has learned no games go according to the plan. And time management.
"There are so many variables that can go wrong in a game, weather included, that I will have a script planned for the whole game and we will have to change it on the fly whenever something happens."
That flexibility has proven valuable in an ever-changing field.
"Right now I'm climbing the ladder here," said Targy. "I'm hoping to, at some point, be top dog at one of the companies I work for, whatever that may be. I don't have an end goal. I'm a mass communications major, and I'm lucky to have an employer who sees the qualities I have to offer."
Because the Explorers are in the playoffs, Targy hopes to see attendance rise to show support for the home team.
"Come see what we're all about and cheer on the Explorers," she said. "We always like new fans!"