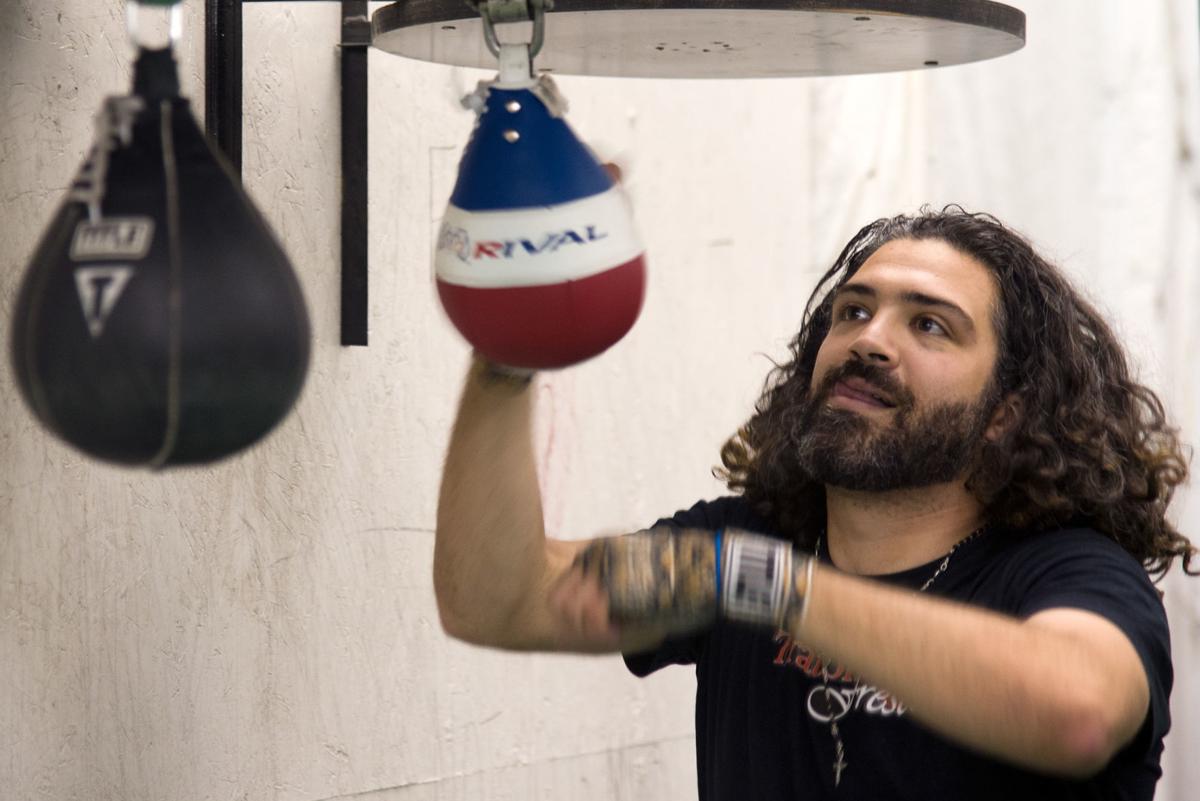 Rah-tah-tah-rah-tah-tah-rah-tah-tah!
Rah-tah--tah-rah-tah-tah-rah-tah-tah!
Rah-tah-tah-rah-tah-tah-rah-tah-tah!
A fighter relies on the theory of three every time he hits a speed bag. 
When he strikes the bag, it will swing forward, then backward and, finally, forward again. 
"That's the pattern," Israel Padilla explained, inside a sweltering gym on a humid June afternoon. "You hit it and boom! Wait for three bounces, you hit it again and boom!
"Hitting a speed bag, you're focused on what's ahead of you while concentrating on the natural rhythm," he said.
"You know where your hits are going to land and you know how the bag is going to react," Padilla said, alternating with a right-right-left and a left-left-right rhythm. "It's all in the timing."
At age 31 and following a three-year layoff, he knows that time isn't on his side.
After all, boxing is a sport that's not very welcoming for guys like Padilla, who must balance marriage, four children and the demands of owning a successful Italian restaurant.
Nevertheless, he will be on the fight card when "King of the Cage: Vendetta" hits the Tyson Events Center on Aug. 24.
"I never looked to fight but fighting has, somehow, always found me," Padilla said with determination. "This time, I can't turn the other way. This time, I won't turn away."
FROM THE STREETS OF CHICAGO
Born into a restaurant family, Padilla attended after school programs since both of his parents worked.
"This was how I got into boxing at age 10," he remembered. "Boxing was one of the sports being offered back then."
Which seemed strange since the sport wasn't especially popular at the time.
"You have to remember this was before the MMA popularized combat sports," Padilla said. "More people knew boxing from 'Rocky' movies than from actually going to fights."
Still, coaches saw something in the young pugilist.
"I fought in both the Silver Gloves (a competition for amateur fighters, age 10 - 15) and the Golden Gloves (which is for amateurs, 16 and above)," Padilla said. 
A natural brawler, he was also smart in the ring.
"People think boxing is all about strength," Padilla said, shaking his head. "Instead, it is a sport that requires strategy, precision and thinking on your feet."
Which actually sounds like a recipe for success. This is perhaps what he is best known for.
THE KITCHEN TO THE GYM AND BACK AGAIN
Padilla opened Trattoria Fresco more than a decade ago. 
In its location at 511 Fourth St., the restaurant is best known for authentic Italian cuisine like Pesce alla Fresco (seasonal vegetables, scallops, shrimp and salmon served over bow tie pasta and a garlic wine sauce); Alla Pescatore (linguini topped with calamari and fresh clams over marinara sauce); and larger-than-life pork chops that are stuffed with Mozzarella and spinach).
Padilla is quick to point out opening up a restaurant and starting a family took precedence over everything, including a boxing career.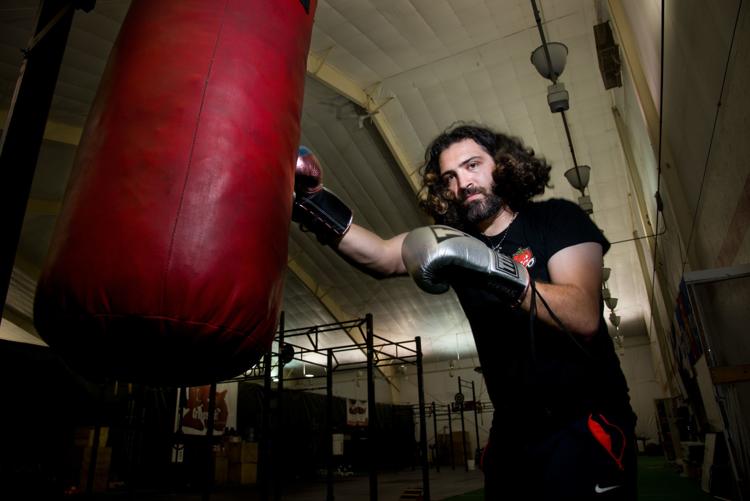 "I started a family and a restaurant when I was very young," he said. "Because of that, I've gotten to the point when I can tell my kitchen staff that I need to take three hours off to go the gym."
Indeed, that's been pretty common for Padilla for the past three months. He'll begin by jumping rope, hitting the bag and do a little bit of sparring in the ring.
This is essential since Padilla needs to lose weight by fight time.
"I began at 210, which is a heavyweight," he explained. "I can't fight in that category because those guys are all monsters and I'd end up being the smallest heavyweight anyone's ever seen." 
You have free articles remaining.
Padilla will have to fight as a 160-pound middleweight, which means plenty of cardio and a diet that is limited when it comes to carbs.
Over the past few months, Padilla has been challenging his chefs to create a diet for him.
"We take turns cooking for me," he explained. "I cook for myself some days. Then, the other guys take a turn."
So, what can Padilla eat? Plenty of salmon. What are the no-no's? Practically everything that he ordinarily loves. Stuff like breads and pasta. 
Wait, what about chicken. Chicken's a lean meat, isn't it? 
"Chicken is a lean meat," Padilla admitted. "But I don't eat chicken."
If Padilla seems like he makes things hard on himself, well, that's because it is usually the case.
A longtime regular of Four Seasons Health Club's late night basketball club, Padilla met Brett Welling, owner of Red's Boxing Club.
"Brett knew I had done some boxing back in Chicago," Padilla said. "Once he found out how extensive amateur boxing was, Brett asked me if I wanted to  return to the ring."
"I said yes," he explained. "My wife, family and pretty much everybody else immediately said no."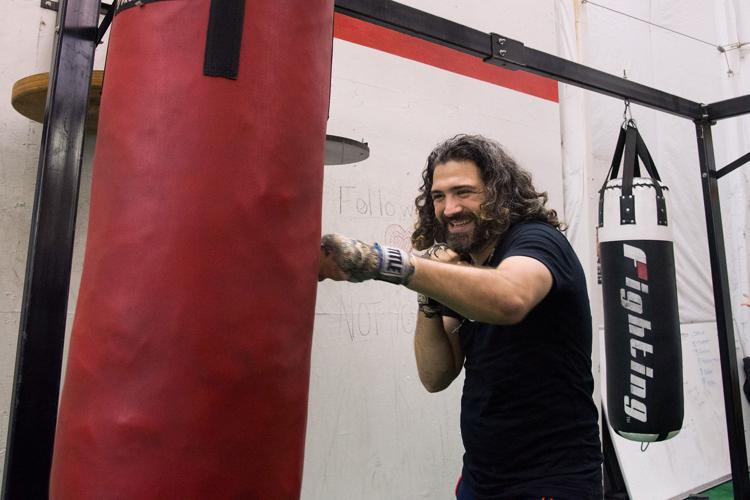 Padilla, however, said his mind was made up.
"I was a fighter long before I was a chef," he said. "If I passed up this opportunity, I'd regret it for the rest of my life."
CAGE TRAINING VS. TRAINING IN THE RING
When Padilla was boxing in the Golden Gloves, he was known as someone who worked the ropes to his advantage. 
"If I could get the guy out of the middle of the ring and onto the ropes, I knew I got him," he said.
When he competes at the King of the Cage, Padilla won't be able to work the ropes.
"In a cage boxing match, you fight in the middle of the ring," he said. "That will take some getting used to."
So will fighting an opponent whose life consists of nothing but boxing.
"I don't want to be known as a restaurant owner who boxes," Padilla said. "This is serious for me. I've lived my life trying to be the best son, husband, dad and person I can be."
"Now, I want to be the best fighter I can be," he insisted. 
When Padilla was growing up in Chicago, he knew boxers fought out of necessity.
"Boxing is still a working class sport," he said. "That never changed."
Yet Padilla knew it took real passion and courage to get into the ring. 
When a fighter is young, brawling can take the place of technique. As a fighter matures, his approach to the sweet science need to make a similar upgrade.
This is when boxing becomes a battle of wits, when strategy trumps sheer strength.
Padilla acknowledges he isn't the same fighter he was when he was younger. Instead, he's simply a smarter one.
"When I go back into the ring, I'll be doing it for me."
No matter the outcome, Padilla promises to bring both passion and experience.
"Boxing has always had a funny way of finding me," he said. "This time, I want to see where it takes me."