After a successful fourth year, which eventually earned the team its first championship win, the Sioux City Stampede is eager to kick off its 2018 season playing in a new league and on a new field.
Now a part of the Northern Elite Football League, the Sioux City semi-pro football team will play its first game against the Granite City Renegades 4 p.m. Saturday (May 5) at Memorial Field, instead of the team's previous home at South Sioux City High School.
Stampede co-owner and general manager Chad Hueschen spoke to The Weekender about the team's latest adjustments and what he's expecting for the upcoming season: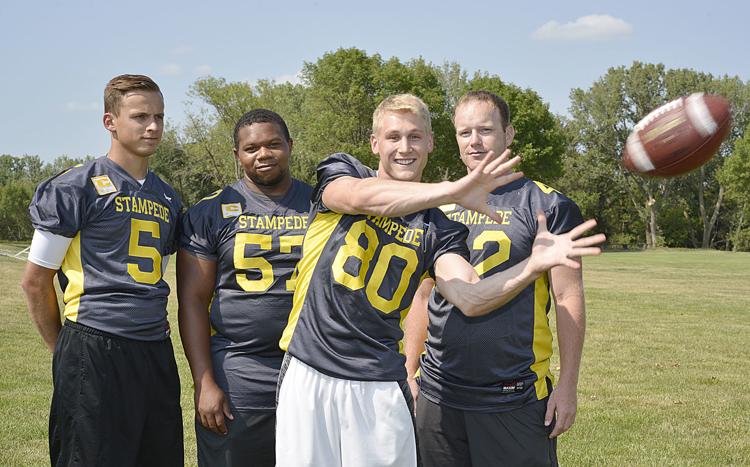 A lot has happened for the Stampede during pre-season. What are the biggest changes?
Hueschen: The biggest things this year is we moved from South Sioux over to Heelan's field [Memorial Field]. They've been very cooperative with us and invited us in with open arms. It's been a really good partnership already. We've been in contact with Heelan's top guys and we've had several meetings on how we could benefit both of us. That's a real big thing. The facilities are excellent, you know. And they have that brand new field so the players are very excited to be able to get on a turf-style field like that. That's the main thing.
Remind me again, what league is the Sioux City Stampede in?
Hueschen: It's the Northern Elite Football League (NEFL). They've been in existence since 2008. They're a very reputable league based out of Minneapolis. Several of their league champions have gone on to be at national championship games. We have some history with the NEFL. We've played several of their teams. We've done well against the NEFL teams, but they've also done well bringing in quality teams and building their current teams. It is going to be a very quality league. It's going to be tough from top to bottom.
So that means the team is no longer in the Midwest Football Alliance (MFA)?
Hueschen: Right. We were in talks with both leagues and decided to go to the NEFL. 
Was there a particular reason why you ultimately chose the NEFL?
Hueschen: It was nothing against the MFA. We just felt like the NEFL's social media presence was a little better and was a little more organized and was better with the times. We felt they could broaden our image a little more and felt it was a good fit for us. 
Given last year's MFA Championship win, what sort of things are you expecting or looking forward to this season?
Hueschen: We expect to compete for the championship. Anything less would be a letdown to the players. I think the players expect to be in this championship run, as well as the coaches. I think the definite goal is to get to the playoffs and get another ring. That would be a big accomplishment in semi-pro to go from one quality league to another quality league and win both leagues. I don't think you see that very much. That would definitely put us among the elite, if we're not already. 
I wanted to talk a little bit about last year's win. What do you think pushed the team over the edge to secure the win this time?
Hueschen: Falling short a couple years, we've always been in the running for the championship game. Three out of the four years that we've been in the existence in the MFA and then falling short of playoffs the one year, I think that drive was definitely there to finally get this ring when we'd fallen so short and been so close. The hunger and the drive of the players is definitely there.
I don't think we changed a whole lot from our systems or anything. We got a few new guys here and there, but everything else was the same core group of guys and we just got after it. We cleaned some things up from the following year and that's about it. We didn't make the mistakes we did in the following years and everything just got better. Another year of experience helped us and definitely the hunger of wanting that ring. We knew we were capable of winning it in the past.
The Stampede is now 5 years old. 
Hueschen: Yup! And that's very good for semi pro. 
What are your thoughts on making it this far?
Hueschen: That's a testament to the ownership group and staff that we have. [Co-owner Jason] Garnand has always been like an owner in the first place. Even though on paper Garnand and I are now owners, nothing has really changed. We still want to bring in quality coaches and quality players. Having that mentality of bringing in the best of everything and then trickle it down to the players and even the uniforms and gear we have. That's a big deal.
Any parting thoughts you want to leave with folks who are fired up for the upcoming season?
Hueschen: Make it out to the games! It's going to be an exciting year! I think we're going to have a fun year at Memorial Field.