You can learn a lot about a man by the way he wears a kilt.
According to Work & Church Booze Parlor proprietor Mac Dolan, a kilt must be worn, Urkel-style, at least six inches above one's navel.
"If you wear it lower on your waist, the kilt ends up being way too long," he explained.
Seems reasonable to us. And what does an Irishman wear underneath his kilt?
"I usually go balls-out," Dolan said. "Except during the St. Patrick's Day Parade, which is sometimes windy, and may have too many women and children present."
Ah, leave it to the Weekender for asking one question too many.
Nevertheless, no one's a better authority on Sioux City's annual St. Patty's Day Parade than Dolan, who has been organizing it for the past 11 years.
This year's parade will begin at 3 p.m. Sunday on the eastern end of Historic Fourth (Fourth & Iowa Streets, to be exact), heading due-west to the front of Work & Church, 215 Fourth St.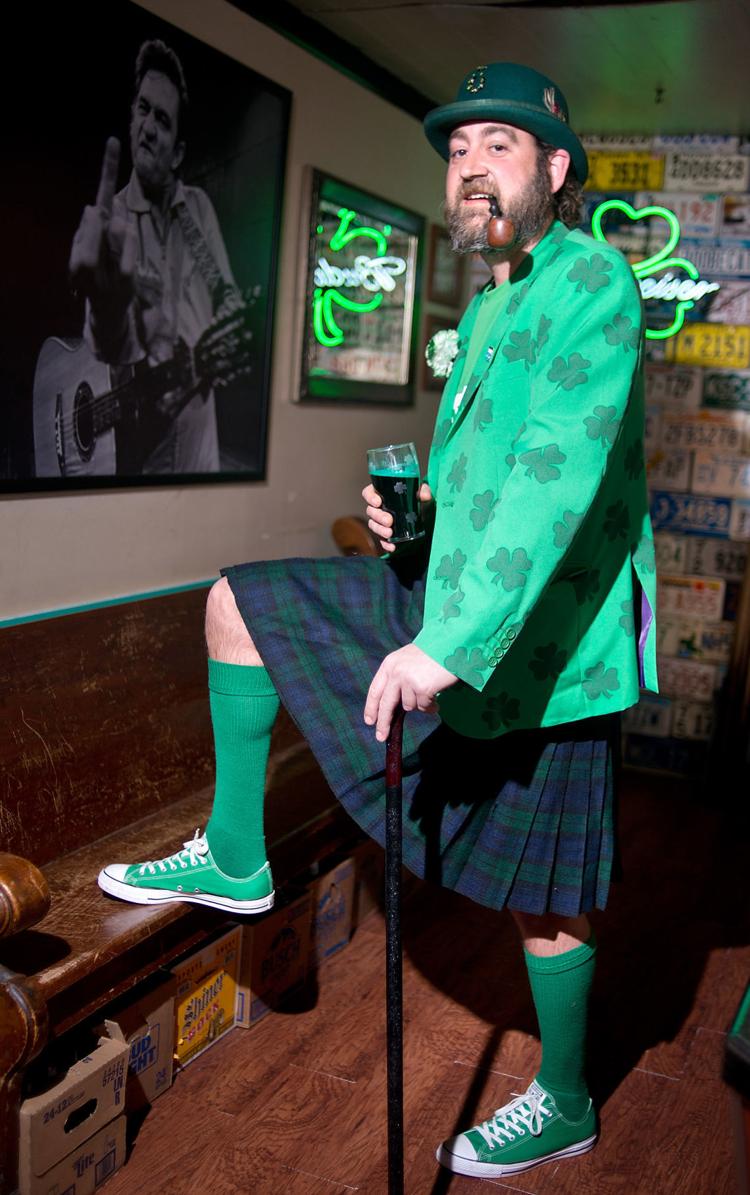 "Before that, nobody was doing anything special on St. Patrick's Day," he explained. "I figured if the city wasn't throwing a parade, I would."
SHELLING OUT A BIT O' GREEN
After all, a veteran tavern owner like Dolan knew customers were willing to shell out a bit o' green on March 17. Indeed, he was able to acquire a pot of gold courtesy of his famous corned beef and cabbage omelet.
"At every bar I've owned, I've served a two-egg omelet with a hearty heaping of corned beef, cabbage and cheese," Dolan said. "I've done it for the past 18 years and people seem to love it."
AN EGG-CITING WAY TO CELEBRATE
Indeed, some lucky leprechauns make it an annual pilgrimage to a Dolan-owned pub, specifically for his egg-y nod to the Emerald Isle.
"There are a few guys that I only see, once a year, on St. Patrick's Day," he noted. "That's OK. As long as they were at my door at 6 a.m. on St. Patty's Day, we're fine."
Oh, did Dolan say 6 a.m.? Of course, he meant 8 a.m., since St. Patrick's Day lands on a Sunday this year.  
"Because of Iowa law, we can't sell liquor before 8 a.m. on a Sunday," he said, acknowledging that green beer is the perfect accompaniment for an omelet. 
Spoken like a true son of Ireland, right?
However, St. Patrick's Day -- which celebrates the day in which St. Patrick, the Patron Saint of Ireland, died -- was, originally, more of a religious holiday than it was an excuse to guzzle Guinness. 
ST. PATRICK'S DAY ... AN AMERICAN TRADITION? 
In fact, St. Patrick's Day -- with parades, corned beef and dudes in kilts -- is mostly an Irish-American innovation.
Which is fine by Dolan, who enjoys the party aspect of the day.
"St. Patrick's Day is fun," he allowed. "It's a day in which everybody can be Irish."
That's a startling intuitive statement since the real St. Patrick is ... uh-oh! ... actually a Brit!?!
SNAKE BANISHER OR SECRET BRIT?
Believe or not but the fifth-century "Apostle of Ireland" was likely born in England, before becoming a Romano-British Christian missionary and Bishop, when he emigrated to the Emerald Isle.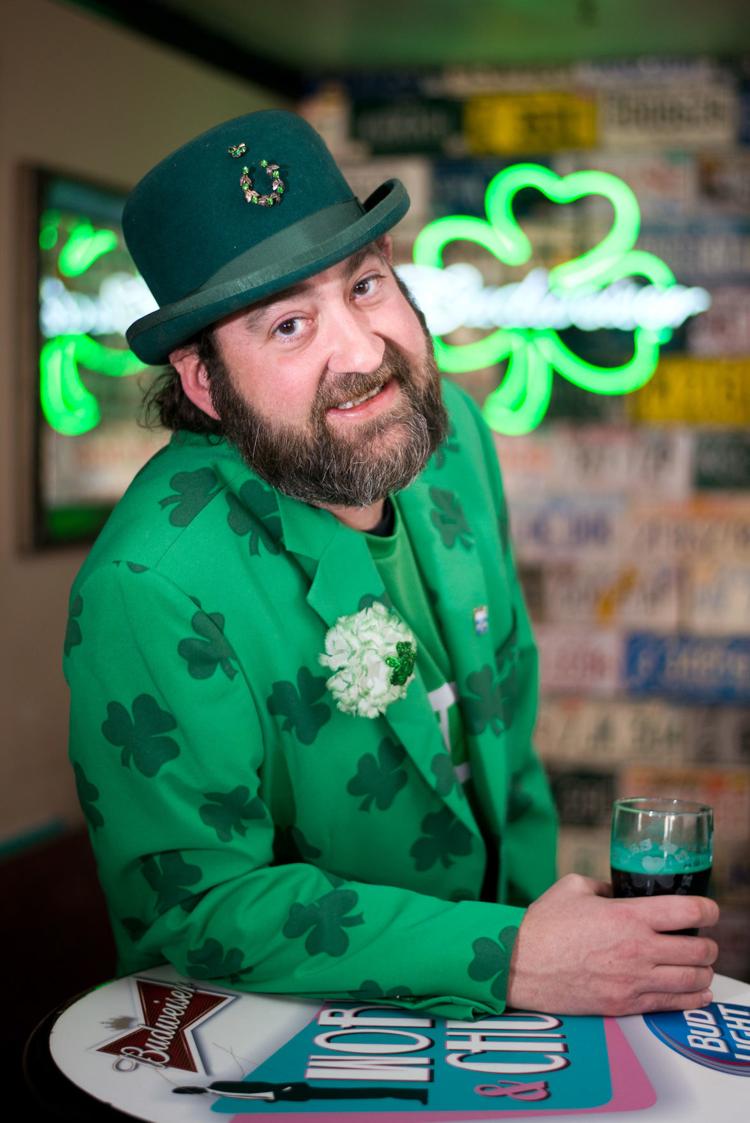 But St. Patrick actually did banish snakes from Ireland and really did use a big-ass walking stick, right? Um, sure. Also, Chicago rivers suddenly take on a greenish-tint in mid-March while McDonald's make their Shamrock Shakes with real-life four-leaf clovers!
Sheesh, sometimes believing a myth is more fun than just the reciting facts.
Having said that, the beer that Dolan's holding is naturally the color of an emerald, ain't it?
"Nah, it's just food coloring," he admitted.
Oh well, let's get back to the St. Patrick's Day parade.
IRISH FOR A DAY ... AND A NIGHT
What can we expect to see this year? Bunch o' green on a bunch o' floats. More than 50, in fact.
Anything else? Less bagpipe music.
"Last year, we had a Chicago bagpipe player who was in the area for a wedding," Dolan said. "He didn't make it in time for the parade but we shuttled him from bar to bar."
There were two things that Dolan learned about bagpipes. 1) they don't play well in cold weather and 2) once you've heard one bagpipe song, you've kinda heard every bagpipe song. 
On a more positive note, Dolan said a $100 prize will be given to the best (or, actually, largest) family representation at the parade.
If you ask Dolan, that's actually what the holiday is all about. 
"It's not all about eating or drinking," he said. "It's all about spending time with your family."
In Dolan's case, that also includes his dad, who annually makes a pilgrimage from the Twin Cities to attend Sioux City's shindig.
Also, Dolan's parade partner -- Kelly Quinn, of Marty's Tap and Brioux City Brewing -- will likely be accompanied by his own brood.
But what about all of the people who don't have a thimble-full of Irish blood in their entire bodies?
According to Dolan, being Irish isn't strictly a lineage thing. It's a brotherhood -- or sisterhood -- thing.
"Everybody's Irish on St. Patrick's Day," he said with a shake of his shillelagh.