Fitness and dance lovers of Siouxland, a new pole fitness and dance studio has just opened and the staff is ready to help get your core in tip-top shape.
Jasmine Preston, a 24-year-old mother of one, pole enthusiast and entrepreneur has decided to bring her passion to Sioux City in the form of Studio 302 "Art in Motion." This fitness studio features a variety of pole-related exercise and hula-hooping classes for people of all ages and genders.
"I really got into the pole fitness after seeing the acrobats at the circus when I was little," said Preston. "I loved the acrobats, and recently pole fitness has been published more on YouTube. I went to a recital about two years ago and it really interested me. Last year I went to Las Vegas and got certified to be a pole trainer."
Now, two years after she gained interest in the craft, Preston normally works out on a pole (a full-body workout) for around three hours a day.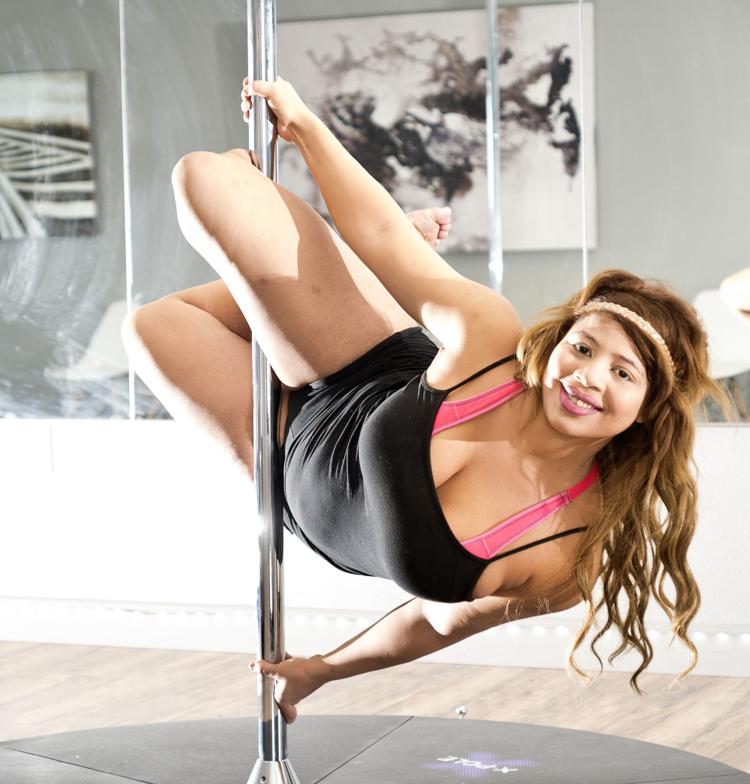 While some people might instantly correlate pole dancing with eroticism, many probably don't know the origins of the practice. First of all, it started as a male-only sport in China and India around 800 years ago. More often than not, women weren't even allowed to be spectators of the sport. Much like what you will learn in Studio 302, it had nothing to do with stripping…it was purely for exercise and competition. It was recognized as a sport in the US in the 1970s. In 2017 the practice was recognized as a sport by the Olympic Committee. It will not be an event in the 2020 Olympics, but should have a shot within eight to 12 years.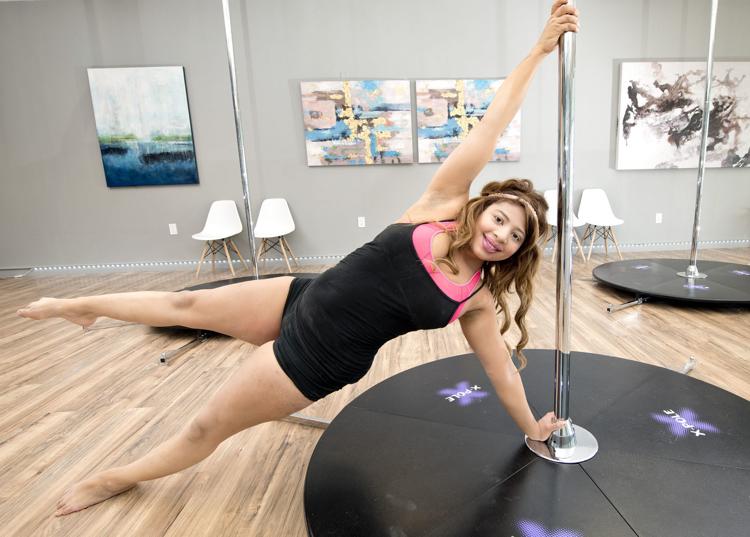 Even though there is a sexual stigma to the craft, Preston doesn't want to be "put inside that box." She explains there are many benefits to pole dancing and fitness.
"If you are interested in pole dancing and are worried about the stigma, come and learn it is more about body strength and mental and physical confidence in yourself," said Preston. "A lot of the time, the first time someone gets on the pole, they get addicted. You just want to level up and keep going. You gain a lot of flexibility and it can take you many places. I want to educate people that this has been around for a long time as a fitness sport."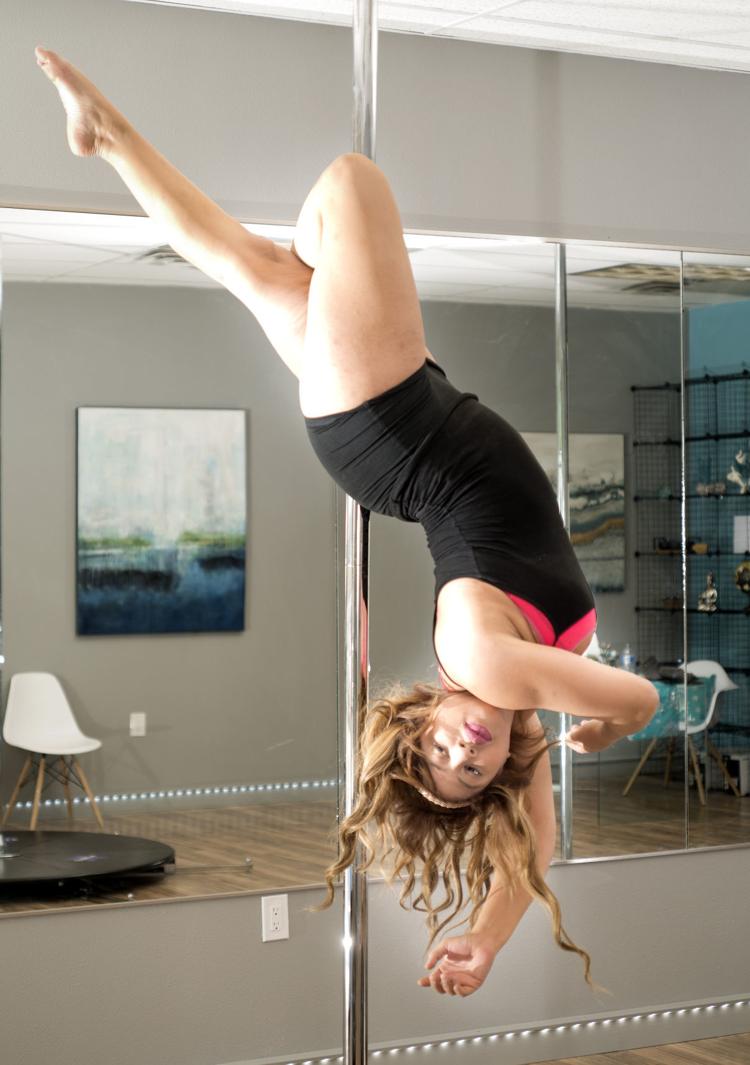 Studio 302 will offer a variety of pole classes for different ability levels.
"I'm starting off with beginner and intermediate classes for the fitness and dance," said Preston. "In the pole fitness classes you will be learning moves, but they will be moves that will build up your core as opposed to the pole dancing classes that will be more lyrical and hip-hop based where you use the pole in your dance routine. In another class I will teach floor work, which is a combination of exercise and dancing. Also, I'll be teaching pole yoga, which is really fun."
For those that still harbor skepticism when it comes to this activity, Preston has some encouraging words.
"Erotic pole dancing is completely different than pole fitness and pole dancing," said the owner. "With the pole fitness and dancing, you are going to focus on moves catered to your body, your experience and your confidence. It's not for anybody other than yourself."
What will happen during a pole fitness session?
"We always start with warming up the body and getting it ready to take on a physical toll," said Preston. "We'll slowly go into where your gripping will be; we work on your grip points so you have a firm grasp. We will work on several spins, and once you reach a certain point we will work on climbing. It builds off from there, however far you want to take it. We then end with a little pole yoga to stretch out the body when we are done."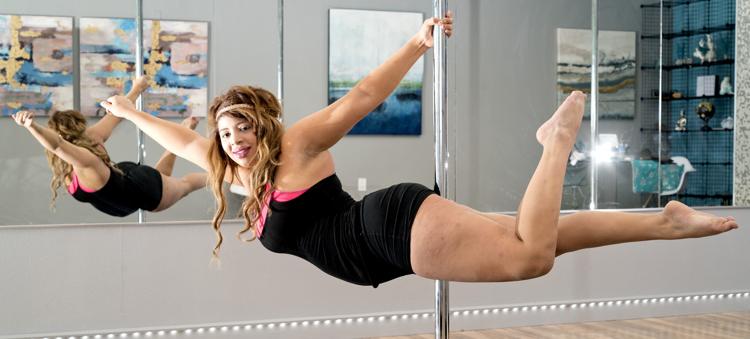 In addition to the pole activities, Tosha Riggs, local hula-hoop expert, feather crafter and mother of two, will be teaching the hula-hooping classes at Studio 302. She thinks the hula-hooping option will get people in the doors that may have apprehensions about the pole dancing aspects of the studio.
"I think hula-hooping will pull in more people that are on the fence about coming to a pole studio," said Riggs.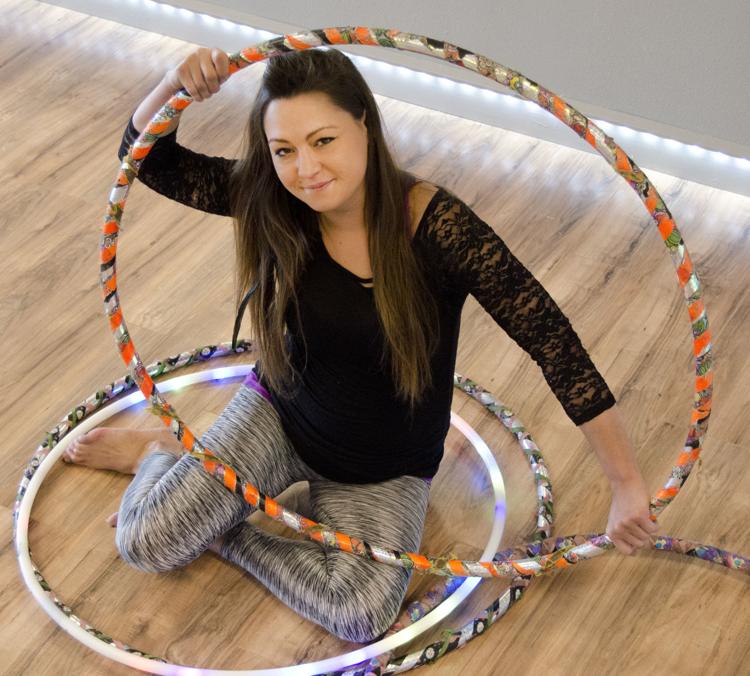 Riggs first got into hooping while living in Colorado.
"I lived in Colorado for about six years before moving back to Sioux City in 2012 and I saw a lot of the LED light hoopers and fire hoopers," said Riggs. "They were very inspiring to me. I moved back to Sioux City and saw my very first hoop on the wall of Uncle Dave's on West Third. Even though I didn't know any of the tricks yet, I decided to pick it up. They let me hoop in the bar every single time I'd go there, so I just started there."
What kind of workout does one get while twirling a hoop around his or her body? Another kind of workout that involves the whole body.
"It can be very therapeutic," said Preston. "It works on balance and body movement. It strengthens your cerebellum."
"It's a lot of core and your arms actually build quite a bit," said Riggs. "The more you learn, the more confidence you will have in yourself dealing with things you haven't done before. I think it also helps you get in touch with your inner child. It has helped me with my hand-eye coordination. I'm excited that Jasmine asked me to be a part of this. I've been trying to manifest this for a while."
Studio 302 will offer beginning and intermediate hula-hooping classes to all ages, and will offer Mommy-and-Me classes for parents and their children together.
When spring comes, Studio 302 will offer outdoor classes in parks around Sioux City, so be on the lookout in the coming months for announcements.
"Pole fitness is not only very beneficial to your body and strength; it is also very fun," said Preston. "Who doesn't have a fun time spinning? Sioux City doesn't have anything like it. You literally get to fly in my class."