Adam Gonshorowski went to great lengths to make sure Shot in the Dark Productions' upcoming play is as immersive as it can be. He acquired a hand-stitched American Flag made in 1945, which currently hangs on the wall inside the Evelyn Larson Theatre; he ordered reproduced military service pins and election buttons as both props and keepsakes for his eight-person cast; and he's currently in the process of recreating the Oval Office with the help of a couple black-and-white snapshots.
There are no prior shows for Gonshorowski to seek reference or inspiration. What is being done at Shot in the Dark Productions is a completely original work written and directed by Gonshorowski himself, who based the drama on real events in United States history; a time when a fledgling President faced the most difficult choice he'd likely ever have to make. Gonshorowsi named his play "The Truman Decision."
Set shortly after the death of Franklin D. Roosevelt, Vice President Harry S. Truman is sworn into office as the new commander-in-chief in the midst of a global war. During that time, Truman is informed of a secret weapon that some suspect could put an end to World War II. Over the next 117 days, the nation's new president must decide whether or not to use this newly created and highly experimental atomic arsenal, whilst struggling with the personal and political conflicts to his actions.
"It's basically Truman learning this bomb exists, what this bomb does and then deciding to use it to end a war, and the ramifications and implications of being the first country with this power and what that means for humanity," said Gonshorowski.
"The Truman Decision" serves as the debut play in the newly developed American Playwright Series, formed by Shot in the Dark Productions' board of directors. Planning to be a yearly event, the series seeks out original works about the "American experience," or "what it means to be an American, past present and future." According to the series' website, the theater wants plays that delve into the "personalities, events and diverse population that have had a profound impact on the shaping of America." Gonshorowski hopes this series gives Shot in the Dark an identity from other theaters in Sioux City.
"I was always pushing for something that we do here that's unique to this theater," said Gonshorowski, vice president of Shot in the Dark's board of directors. "Every theater in town can do any musical or show that they can license. So what makes this place unique? Yeah, we have a stage space that's smaller and intimate, but that's not really something to be known for. What can we do that can make us known around town and outside of town? The only way we can do it is if we do premier shows – stuff that people haven't seen before."
Once "The Truman Decision" has concluded, the board can then start skimming through submissions by other playwrights. Specifically, Shot in the Dark will be looking for drama or comedy plays – no musicals – that coincide with the mission statement of the American Playwright Series.
"Stories about the American experience -- whether it is immigrants moving from Mexico to the United States or the story we're telling, which is a defining moment in the 20th century," said Gonshorowski. "That moment, whether you realize or not, has affected everybody. It's a hugely defining American moment. It's gotten its due diligence in terms of books and the broad scope of history, but I don't everybody has done a super detailed character study on the moment itself."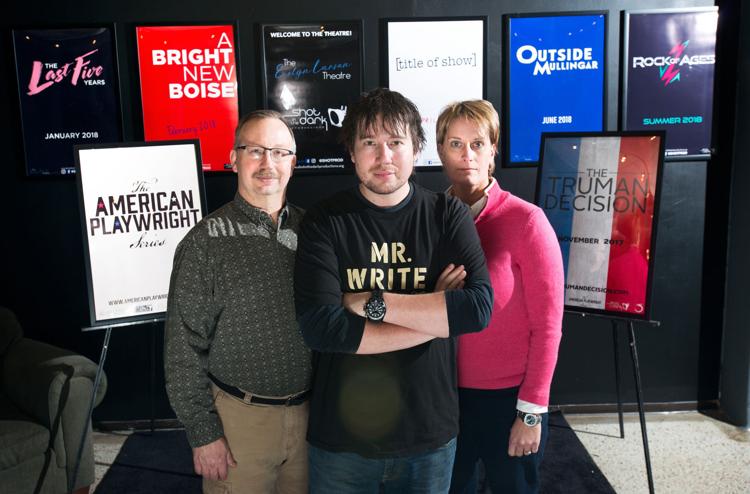 "The Truman Decision" is scheduled for four weekend performances starting Nov. 17, ending Dec. 10. But there's still work to be done long after the show concludes. In between show dates, Gonshorowski will be directing the play as a feature film, which he expects will include extra scenes outside the ones filmed on the set of the resized White House Oval Office. The director has gone so far as to order a custom clapperboard specifically for "The Truman Decision."
Gonshorowski is no stranger to filming. In 2013, he wrote, produced and helped with production design and visual effects in a short film called "The Captain," a story which delved into the backstory of Captain Hook. The film school graduate said the experiences between the two projects are totally different. His short film credits were predominantly filmed while he was living in Los Angeles, a city whose culture is intertwined with movies and has a much larger pool of actors and crew members to choose from. The circumstances "The Captain" was made under is "polar opposite" to the play/film being made.
"We don't get 12 hours a day down here to solely focus on this," said Gonshorowski. "Whereas when we were doing ['The Captain'], that was 80 percent of our day. Completely different circumstances. And this is completely different from 'The Captain' in terms of the sheer amount of research, which took about six months. That was before I even started writing."
Gonshorowski was intrigued by Truman's choice itself, the moments and conversations leading up to the decision and why it was ultimately agreed upon to use nuclear weapons on the Japanese cities of Hiroshima and Nagasaki. When researching background info for the play, Gonshorowski narrowed his search to the time between April 12, 1945 and September 2, 1945 -- the end of the war. The challenge came from recreating or dramatizing events that had not been recorded.
"The characters that are in it are more than just their historical counterpart," said Gonshorowski. "You do have to make it dramatic and you do have to add in things. We're not fudging history or anything, but we are sort of filling in the lines of private conversations that there are no true records of."
Tackling an original work has also come with its fair bit of challenges. Licensed scripts are already finalized and published, and theaters are instructed to follow the work exactly as written to an extent. However, "The Truman Decision," Gonshorowski noted, is a "working, living document" that's been beaten up and rewritten with the help of cast input, which he said has been hugely instrumental in getting the project to where he expected it to be. Sioux City-born actor Gregory Giles, who is cast as President Truman, said Gonshorowski has been generous and patient with the script suggestions.
"He doesn't jealously guard the word," said Giles. "Not that we're critiquing on a daily basis, but it has to work."
Added Gonshorowski, "We're all collaborating to make a final product, whether it's written by me or anybody else. We really want to do what's best for the audience. And everybody comes from a place of wanting the audience to experience a good show."
To do so with an entirely new play would be even more impressive, which is why Gonshorowski and the Shot in the Dark Productions board have spared no expense in making sure the theater's debut original play makes an impact. It's especially important to Gonshorowski, who hopes audiences leave the theater valuing original art in any form, and not view the arts as "some high society" thing. By filming "The Truman Decision" with the original cast, perhaps his work can live beyond the 12 scheduled stage shows.
"This is probably the first and only time you'll get to see this play on this stage with the original cast, the people who originated these roles and helped shape these roles," said Gonshowrowski. "You get a chance to meet the people who made it from the ground up, from blank page to final bow. We're the ones who actually made it happen, which is a crazy cool experience."