Kicking off the new season at Sioux City Community Theatre is "Honk!," a musical adaptation of "The Ugly Duckling" story, which will be playing from Sept. 14 to 30.
After getting his onstage start at SCCT during "Les Miserables," and his directorial debut in "Escanaba in da Moonlight," Eric Sorensen, who works for Allied Solutions in Dakota Dunes, will be directing this family musical.
"'Honk!' is a funny musical for the entire family to enjoy," said Sorensen. "'Honk!' tells the story of the Ugly Duckling and his journey to find himself. On his journey the Ugly Duckling runs into chickens, swans, dancing frogs and cats doing the tango."
According to Colin McCue, a Dungeons & Dragons master who plays the characters of the Farmer and the Turkey in this show, "Honk!" delivers an important message to the audience, especially with all the bullying going on in schools and in society itself.
"The reason people should come see the show is that it conveys a message everybody needs to hear at some point in their lives, if not multiple times," said McCue. "While it's a very funny show, it has uplifting moments, especially for people who have been in the situation of being bullied. It has brought back some memories for me. I used to be on the 'bullied' side of the spectrum. I never thought I'd hear the term 'ugly duckling' in a musical, let alone it being the focus of an entire show."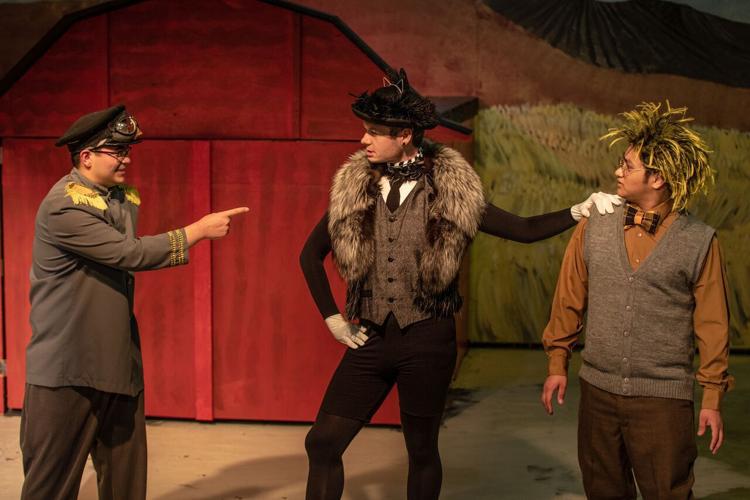 Cast members Wendy Bryce (Mother Duck) and Brandon Mojica (Ugly Duckling) concur with McCue's sentiment.
"I've played this role before, about four years ago," said Bryce, an English teacher at East High. "I'm drawn to this show because there are so many wonderful characters. It's funny, but it's also very heartwarming and enduring. The whole message of people accepting who they are and being themselves is a message we should all take to heart. The show is representative of society and people wanting to belong somewhere."
"I'm not used to happy characters spreading a message," said Mojica, a senior at North High. "This is a message that isn't represented well in a lot of shows. It ends up being a side-note in some other shows, but is represented fully in this one."
Rife with fun barnyard animal characters and entertaining musical numbers, the show has been a crowd pleaser since 1993.
"It's a lot of fun," said Sorensen. "We have great costumes and an awesome set. You will come and have a blast."
The SCCT's 71st season will also include "Fruitcakes," "Rumors," "Bridges of Madison County," "The Complete Works of William Shakespeare (abridged)" and will finish up with "Into the Woods."