LE MARS, Iowa -- By day, Candice Nash is best known for being one-half of KSUX's "Tony and Candice Morning Show" with Tony Michaels.
But for four performances, she will be moonlighting as an actress, making her Le Mars Community Theatre debut. 
What juicy role will Nash be playing?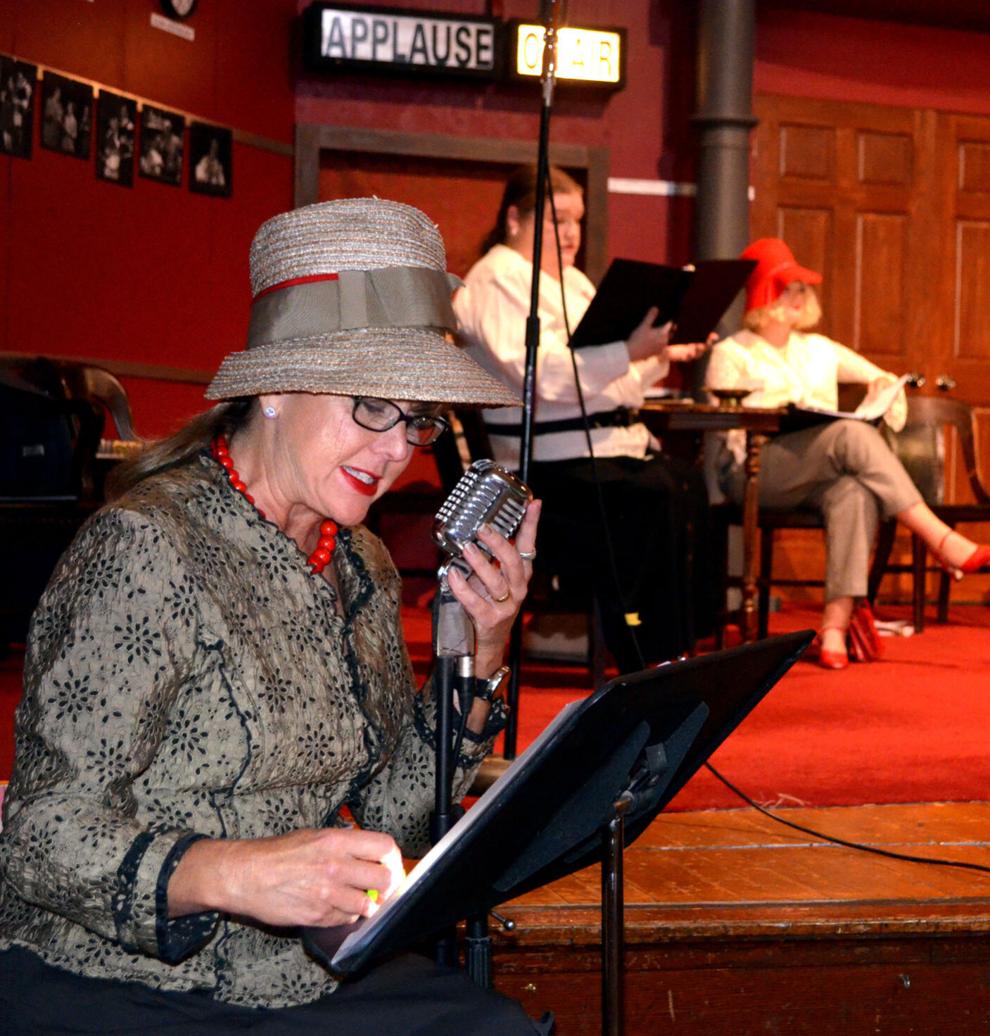 "I play the part of a radio show announcer," she explained during a recent dress rehearsal. "I sit by a microphone, reading my lines off of a script.
A radio announcer, huh? That's not really stepping out of your comfort zone, is it?
"Just between you and me, I'm not much of an actress," Nash confided. "Since I have no memorization skills, I can't be trusted learning dialogue either."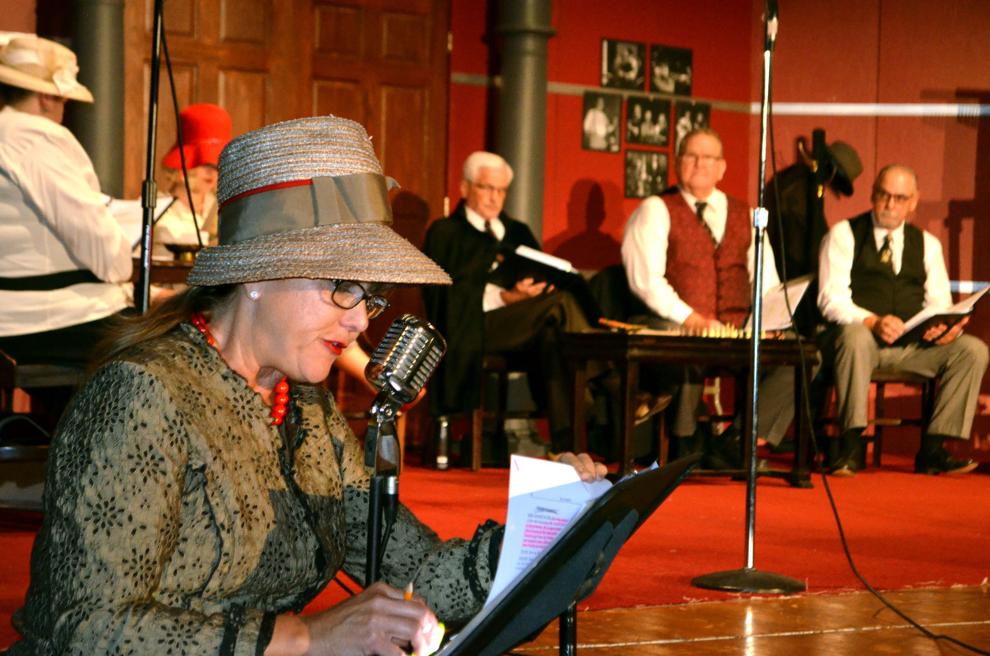 Jennifer Scholten insisted Nash was being too hard on herself.
A veteran with the Le Mars Community Theatre, Scholten was directing Nash and 11 other actors in a production of "Vintage Hitchcock," which is a re-imagined radio show that offered abridged versions of such Alfred Hitchcock movies as "The Lodgers," "Sabotage" and "The 39 Steps."
Adapted by playwright Joe Landry, "Vintage Hitchcock" will be performed at 7:30 p.m. Thursday, Friday and Saturday; and 2 p.m. Sunday; at the Plymouth County Historical Museum, 335 First Ave. S.W., Le Mars. 
"It was very common for movies to be adapted for the radio," Scholten said. "In addition to playing our announcer, Candice has been giving us suggestions on where to place microphones and on how actors should speak into their mics."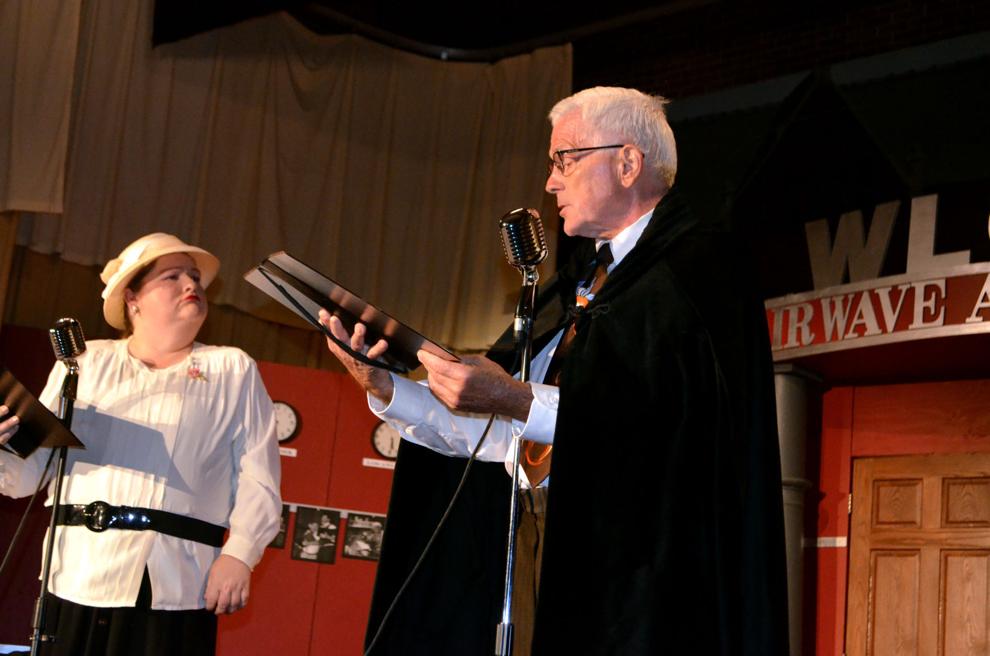 And make no mistake about it. Even though it was written for the stage, "Vintage Hitchcock" is also 1940s-era radio theater, complete with sound effects man Eddie McKee and a singing commercial or two.
"The show literally takes you back to the golden age of radio," Scholten said as actors, dressed in vintage suits, hats and gloves, make their way onto the stage. 
"Vintage Hitchcock"'s unique format of three self-contained playlets, presented back-to-back-to-back, was challenging for Allison Hanson, an actress who appeared as a British mom, a brusque Irish cop and a small Cockney boy in different scenes in the same show.
"Since it's supposed to be a radio show, an actress can play a male and a female and get away with it," Hanson said. "I just have to remember which accent goes with which character."
On the other hand, Trinity Brunsting was just playing female roles. However, one was British and the other one was Canadian.
"I'm cheating a bit," she admitted. "My Canadian accent sounds a lot like an American accent."
What Brunsting may have lacked in dialect versatility, she made up for in a very different way.
"Trinity's a screamer," Scholten said. "It isn't easy to scream on cue. Since 'Vintage Hitchcock' has some scary moments, an ear-piercing scream comes in handy."
A Le Mars Community High School 11th-grader, Brunsting wants to become a professional actor.
"I'd love to have a career like Scarlett Johannson," she said.
For Carl Johnson, a retired farmer and commodities broker, acting is simply a lark.
"I literally have no acting in my background," he said. "One day, I decided to audition for a part, got it, and have been acting in Le Mars Community Theatre plays ever since. It is very addictive."
Like Johnson, Bob Hill plays multiple roles in "Vintage Hitchcock." Also like Johnson, he is a later-in-life newcomer when it comes to acting.
"I made my acting debut at age 56 and I'm now 59," Hill explained. "I feel completely comfortable on stage."
So, what is Hill's day job?
"I'm a maintenance man for a retirement home," he said.
In addition, Hill served in two distinct capacities for the Le Mars Community Theatre. He is not only an actor but he is also its unofficial bat wrangler.
"Apparently, bats love this place," Hill said, inside the Plymouth County Historical Museum's cavernous auditorium. "When I blow my electronic bat whistles, they seem to go away."
According to Scholten, bats were never an issue at the Postal Playhouse, which is the longtime home of the Le Mars Community Theatre.
"The problem with the Postal Playhouse is that we couldn't socially distance from one another," she said. "Actors were often only a few feet away from the audience."
This was good for intimate drama but a big no-no for COVID-19 concerns.
"We hope to be back at the Postal Playhouse by the end of the year," Scholten said. "We just grateful that the museum is allowing us to use their space."
A spooky former high school might be the right venue for something from the legendary "Master of Suspense."
"I love movies in general but I've always enjoyed a good movie thriller," Scholten said.
Theater newcomer Nash isn't into scary movies at all.
"I've started watching (Hitchcock's classic 1960 movie) 'Psycho' a few times," Nash said. "I've never once been able to finish it."