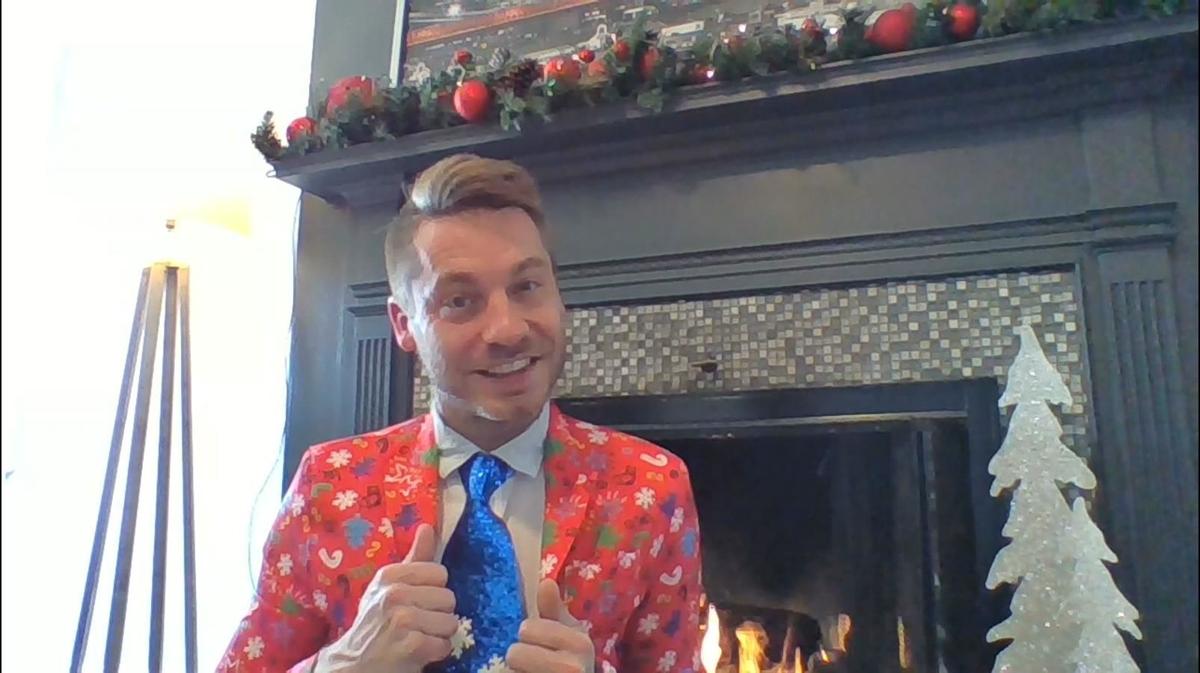 Dressed in a festive, Christmas-inspired suit jacket and bedazzled, blue tie probably wouldn't earn him any "Best Dressed" plaudits, but it will certainly put Donny Short in a festive mood.
Which is good, since the veteran director will soon be presenting "A Visit from St. Nicholas" -- a new holiday production that presents Clement Moore's classic poem and setting it to popular seasonal carols as a virtual offering.
The show will be accessible at the Betty Strong Encounter Center's Facebook page (Facebook.com/sclandc) beginning at 2 p.m. Sunday.
"We would ordinarily do this as a regular show," Short, who has been a director, music director and choreographer for LAMB Arts Regional Theatre for nearly 20 years, explained. "Now with COVID, it will be online only."
Luckily, Short is becoming an old hand when it comes to adapting with new media. After all, he is also a fifth grade "virtual teacher" with the Sioux City Community School District.
"If I can communicate with elementary school kids, I think I can handle theater folk," he said.
Indeed, Short enlisted the help of many of his theater friends to participate in "A Visit from St. Nicholas."
These performers included Brian Hamman, the Rixner family, Angela Iversen, Wayne and Onnastasia Blum, Matt Cihak, Leslie Werden, Jen Parra, Ian Curtis, Josie Kasik and Allysa Collett.
"Each person contributed a video of their song and I'll edit it into a package," he said.
Easy-peasy, right? Well, not exactly.
"Everybody wasn't as comfortable with video as me," Short allowed. "Some of them needed help."
Luckily, Short already had a good relationship with Tracy Bennett, the assistant director with the Encounter Center.
"When I first moved to Sioux City, I danced with Ballet Sioux, which Tracy was also involved," he explained. "As soon as I said this show would be like the old 'Holiday Spectaculars' that Ballet Sioux used to be, Tracy immediately got it."
For instance, when the poem started: "'Twas the night before Christmas, when all through the house; Not a creature was stirring, not even a mouse" would be a perfect spot to plug in a performance of "Silent Night."
"It was just a matter of going through every part of the poem and segue into a song that would set the appropriate mood," Strong said.
So, what part will Short play? He'll be both a narrator as well as Rudolph the Red-Nosed Reindeer.
Um...does Rudolph actually make an appearance in "A Visit from St. Nicholas?" 
"Well, an assortment of reindeer do make it into the poem," Short said. "So, Rudolph will be there as one of Santa's team."
Plus Short will be adding his own favorite Christmas carol to the playlist.
"I've loved the song, 'Here Comes Santa Claus' since I was a little boy," he said. "It is a peppy number number that adds to the anxious drama of St. Nick's inevitable arrival."
"Everybody needs Santa Claus in their lives," Short continued. "Especially this year."
He ain't kidding. With coronavirus keeping everybody at a safe social distance, it is hard to get in the proper festive mood.
Short hopes shows like "A Visit from St. Nicholas" will bring a bit of normalcy during a decidedly less-than-normal time.
"It's hard to be sad when you hear 'Twas the Night Before Christmas' set to your favorite carols," he said. "This may be considered an early Christmas gift."
Perhaps, this may become an annual tradition at the Encounter Center?
"Only next year, let's hope we can do it in person and not virtually," Short said. "Wouldn't that be nice?"  
Be the first to know
Get local news delivered to your inbox!