The walls of suite 240 in the Benson Building are always adorned with works of art.
Jamie Bowers' colorful, abstract paintings fill up most of the studio which oversees downtown Sioux City. His work corner houses large, paint stained tables with works in progress hovering above empty Folgers Coffee containers. The opposite corner is reserved as a cozy seating area with warm lighting and a homey arrangement of furniture. Each space is surrounded by Bowers' work, but come next weekend (April 21 & 22) his art will have company.
Fellow artists Amy Foltz and Mark Bowden will display their work inside Bowers' own studio during the local exhibit, "Art to the Third Power." Though all three carry with them the same passion and drive for art, their results and processes vary.
For the past 10 years, Bowers has spent most of his time painting on harder surfaces like wooden doors. "I do a lot of layering and pulling off with screens and carving," he said. "I guess I'd be called a method painter or a process painter." He also works with different media and often manages two or three paintings at one time; while one is busy drying, Bowers sets his sights on the next piece and rotates his workflow.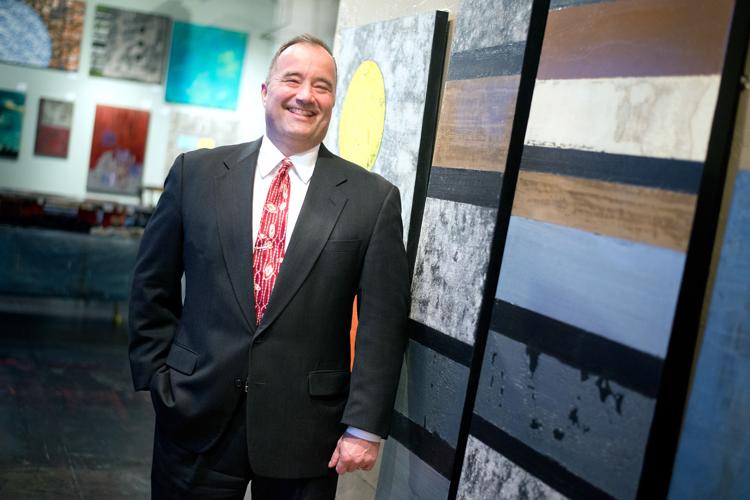 Bowers sees himself as a problem solver. He wants to accomplish something and feel the joy of completing a specific project or figuring out a solution to a problem. But he's not one to tiptoe around mistakes and prevent them from ever happening. Sometimes he'll come across "happy little accidents" while he's painting. He adapts to his work and capitalizes on those accidents.
"Each one of those problems that you solve is sort of a nice, little accomplishment," he said. "When you leave it at the end, you say, 'This is the painting. I'm done with it.' And that's rewarding in itself."
When an idea emerges – whether it comes from waking up at 3 a.m. after a dream or in the middle of a work day – he keeps it in his mind until the weekend when he can walk into his studio and give it life with the help of a few paintbrushes. However, he's not a sketch artist. Bowers' concept art doesn't really translate well from sketches.
That's where Foltz differs. Foltz, who will be displaying her works of faceted glass windows, said she frequently begins with a sketchbook. This is where her process and ideas start. But the end result often morphs and changes. She, too, adapts. "But if I can find a way to get from Plan A to Plan B, the unfinished product, I'll go for it," she said. "It's sometimes convoluted and doesn't always get me directly there. It takes me a roundabout way to it."
There's risk involved when creating art. Bowers embraces it. He's attracted to the risk of failure. Foltz, on the other hand, wants safety nets or does things she knows how to fix.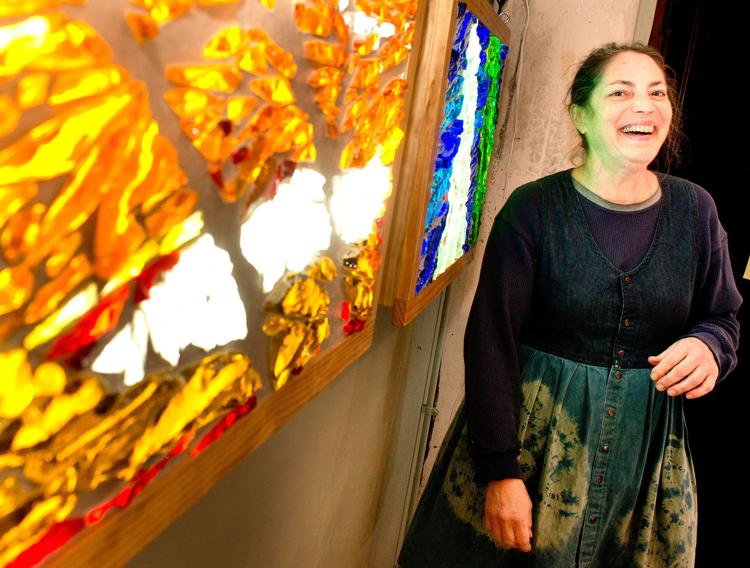 "I know other people take risks," she said. "I may take little risks. Because I want something to work out, I don't want to take that risk."
But she's not one to half-ass a project. She's compelled to come up with new ideas, new plans and then manifest them completely and to the best of her abilities. "Instead of biting off a chunk, chewing it a little bit and then discarding it, I want to try to see it through to the end of what is acceptable craftsmanship on my behalf," she said.
For instance, Foltz's faceted glass windows -- made of colorful glass shards held together by epoxy and a simple frame -- tested the artist's patience. Collecting the shards necessarily can normally take three minutes or so, but Foltz slowed down her process and managed to create even smaller pieces in a few hours. The results make the meticulous effort worth it in the end.
And if there's anyone who knows about meticulous work, it's Bowden. In addition to displaying paintings at "Art to the Third Power," Bowden will also present a few of his handmade surfboards. A single surfboard, he said, can take up to a year to finish.
Initially, Bowden pictured himself carving canoes once he reached retirement. He figured he'd start out with a small canoe. Then the idea of surfboards crossed his mind. After searching online for directions on how to make surfboards, Bowden went to work. It was an entirely new process. "It's a long and drawn out thing," he said. "You gotta glue it, you gotta clamp it all and then you gotta let it dry. Then you scrape and scrape. Then you sand. You have to be patient."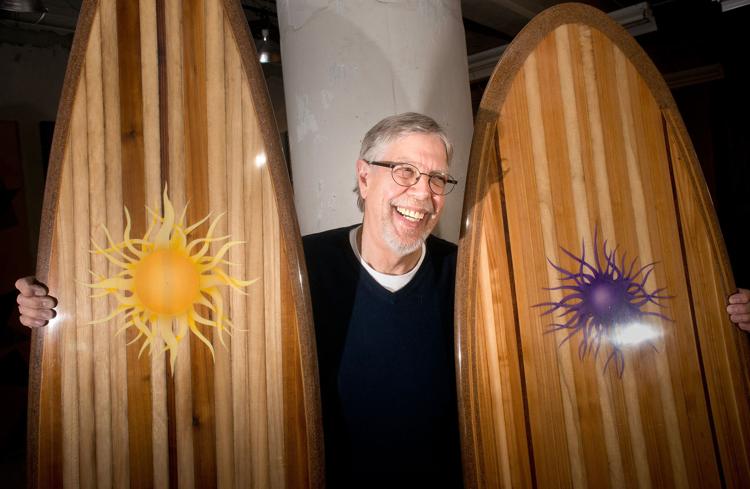 Hard surface paintings, colorful glass windows and enormous surfboards – all in one studio. Although each piece is vastly different from the other, all three local artists have given the same level of care and effort to their respected works. The outcome is an entire room filled with experience, craftsmanship and expression. Otherwise known as art.
Art to the Third Power opens at 5 p.m. April 21 and 10 a.m. April 22 at studio 240 in the Benson Building.