After a year of being absent from the music scene in Sioux City, Vangarde Arts is back, serving up world class music and tasty beverages to patrons of all ages.
The Vangarde was forced to close its doors at 420 Jackson St. over a year ago due to unrealistic rent hikes, but that didn't stop owner Brent Stockton from searching for a new home for his passion project. The club owner is a music enthusiast and needed to find a place to hold the concerts that other establishments in Sioux City may otherwise overlook. Mind you, the bands that Stockton has coming through his joint should not be tossed aside, as they are normally exceptional.
"The reason we were nowhere for a year was because we were chasing down two or three locations and looking to buy one," said Stockton. "We were unsuccessful and decided to back down, but our long-term goal is still to buy and own a permanent spot for the Vangarde."
Stockton has been promoting concerts for many years in Sioux City, starting with venues such as The Blues Cellar and The Attic Lounge.
"I've been in Sioux City most of my life," said the promoter. "I got my start promoting events at The Blues Cellar with Damon Lohrey. Damon was booking the bands, but I was helping promote the events. That's kind of how I got the bug for putting on shows. The Blues Cellar shut down after some time, and I was out of the game for a year until I went into a partnership with a guy at The Attic Lounge in South Sioux. I started booking bands over there around 1999. Eventually Rick Swanson and I started the Chesterfield, which is still around (currently called The Marquee). I then started getting involved with events at the Art Center and helped promote some local artists. Some of us then formed a group called the Sioux City Live Music Club in 2008, and four years later we formed Vangarde Arts, and here we are today."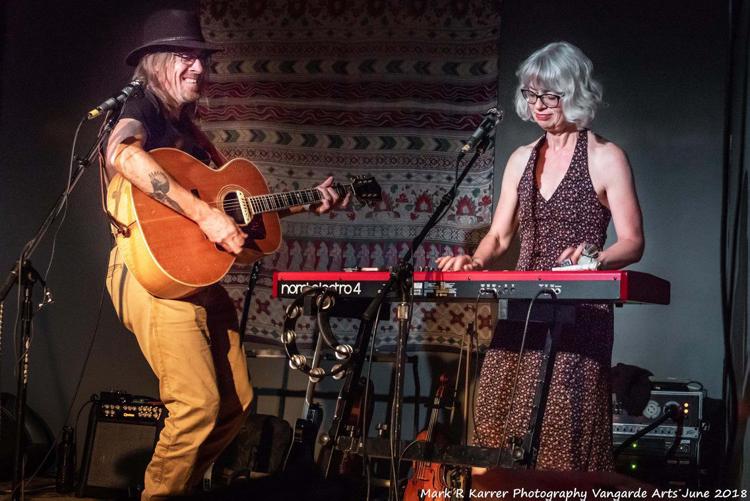 The name Vangarde is an homage to the term Avant Garde, which in military terms means advanced guard. In the arts, Avant Garde means new and unusual or experimental ideas, which fits this Sioux City venue perfectly. While it is a venue for music, it also features many works of art, most of which are for sale and created by local artists.
The shows at the Vangarde typically get started at 8 p.m. and normally don't go past 11 p.m., which is ideal for crowds both youthful and long in the tooth alike. The older generations of patrons get to enjoy a show and go home, while the younger crowd can still hit up later running shows at other venues and enjoy multiple shows in one music filled night. There is one thing for certain, the Vangarde shows are all about the shows themselves.
"Our shows are all about the music or comedy, whatever the shows may be," said Stockton. "We don't have video games or pinball machines. Hell, we don't even have an in-house phone other than our personal cell phones. It's all strictly about the arts. You can't come in here and watch a ballgame because we don't have any TVs."
Having booked shows for over 20 years, Stockton gets many requests from friends and fans for musical acts to be booked.
"Literally every day I have someone sending me a request for a band they want to see," said Stockton. "Some days I get six or seven requests. Booking has become so much easier because I have worked with so many agents. There are thousands and thousands of bands out there. There are certain bands that we wouldn't likely book, though, because our audience is accustomed to American roots music. Blues, jazz, bluegrass, rock, Americana, folk…certainly a broad range of music, but it all comes down to being mainly in the American roots genre."
The things that keep the crowds coming back to the Vangarde are the outstanding music and artists you would normally not be able to see around Sioux City…well, that and the all-around vibe of the venue.
"The caliber of music keeps people coming," said Stockton. "There is nowhere else in Sioux City that consistently brings in the quality of music like we do. That being said, there are lots of places doing great music, but the international and national touring acts on a level that we bring in keeps the people coming in the doors. The experience here, too, is a big part of it. If you hang around here, particularly after the show, you'll hear people talking about the vibe of the place. It's sort of like seeing a show at The Orpheum, only in a more intimate venue."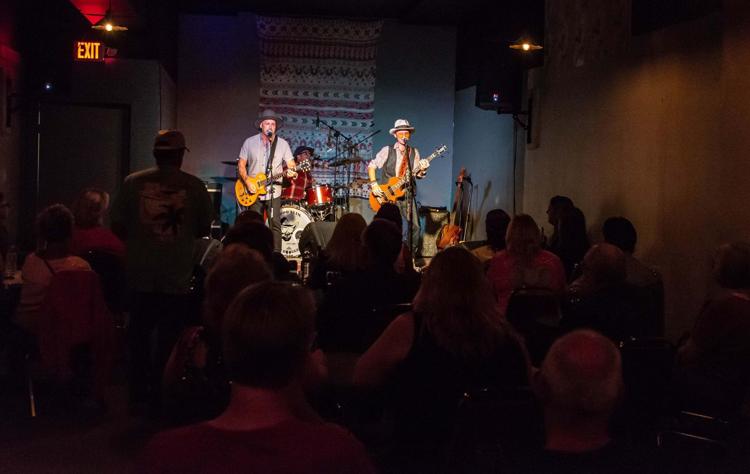 Brent and his wife, Paula, are involved as volunteers in many other events around Sioux City. They volunteer with Saturday in the Park, Downtown Live, Rivercade, Riverssance and many other events around town. To keep with the volunteer mindset, the Vangarde is also non-profit and volunteer driven.
Every Thursday evening the Vangarde opens its doors to musicians and fans alike for an open mic night. They will also be starting a monthly youth open mic night on Sept. 26 which is open to performers 18 years old or younger. The kids can perform in front of family and friends in a cool club environment.
There is also a big show happening on Oct. 5, when Jim Lauderdale will grace the stage.
"This is a big show for us," said Stockton. "Jim is a three-time songwriting Grammy winner and plays Americana, country and folk. He's performed with the Levon Helm Band and many others. That will be a big night.
"Our goal is to increase the exposure of art in Sioux City, whether it's visual or performing arts. We just want to open people's eyes and get them to check this place out and see what we have to offer."