Apparently you're not supposed to say the phrase "I work well with others" on a resume. I read that somewhere. They say that's a given. They say that's what people are supposed to do these days, that it's an unspoken requirement we combine our efforts to complete tasks and activities. Well, if that's so true, then why hasn't every band in Sioux City released a split EP like Tapwater Shrimp and Rev?
Perhaps the idea hadn't crossed their minds. Perhaps those other bands were too busy or couldn't find the time to plan out a collaborative project. It's not totally unreasonable to think a split work would take a great deal of time and effort to fully complete. In fact, it took almost a year for the Sioux City punk(ish) band and hip-hop artist to fulfill their proposed idea of a split EP, which Tapwater Shrimp bassist Dylan Leiding said derived from a similar project he was exposed to.
"If I think about it, it probably stemmed from me liking the Front Bottoms and GDP split," Leiding said of the Split 7-inch EP "Liberty and Prosperity," released in 2014 by the New Jersey-based indie rock band and hip-hop artist.  "I honestly don't know how it ended up all coming together, really."
Rosario Perez Jr., known in the music scene by his rap moniker, Rev, said the collaboration "just sort of happened" and that he had been inadvertently delaying its release due to a busy schedule. The plan, he said, was to start ordering CDs in fall 2017. Despite the postponements, the project was kept relatively under wraps until the announcement of the project's release show at Whiskey Dick's.
The six-track "Rev/Tapwater Shrimp Split" features three songs from each artist. Why the collaboration between Tapwater Shrimp and Rev? Simply put, both enjoyed the other's music. Rev said he had been a fan of the Sioux City punk band since he first saw Leiding, Austin Brinkerhoff and Sam Wigton play together as a three-piece – the band has since upgraded to a four-piece with Larry Watts on guitar.
"I think I actually made it public on Facebook the first time I saw them," said Rev. "I was like 'Tapwater Shrimp is one of the best bands in Sioux City.'"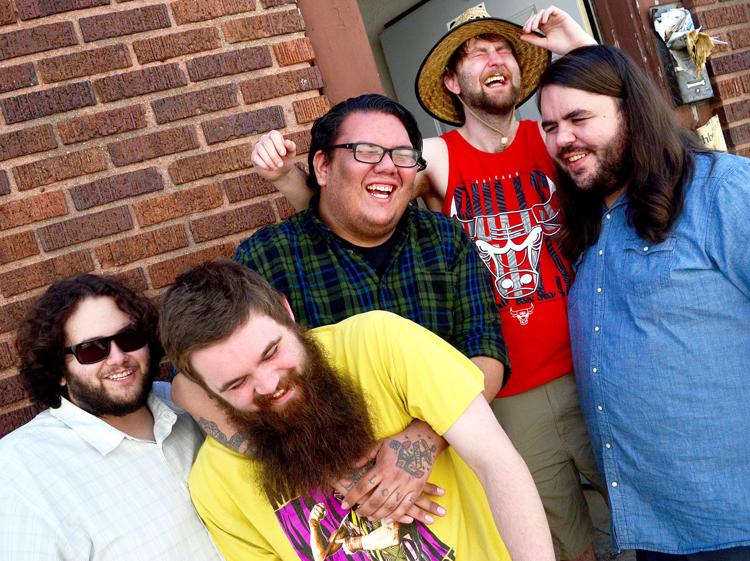 You have free articles remaining.
With no particular game plan set in place, both Tapwater Shrimp and Rev were given a blank slate and were left to their own devices thematically and stylistically. Rev said he was hoping he and the band could find time to "knock out a song together as a collaborative effort" but they weren't able to make it work. "However, that is going to happen in the future for sure," he said.
For Tapwater Shrimp, Brinkerhoff said the EP was a good platform for the band to soften up its sound a little bit and allowed him and his bandmates a chance to test the waters.
"If people hate it, then I guess maybe we won't do that in the future," the singer-guitarist said. "Two of the three [songs] are with acoustic guitars instead ofdistorted electric guitars and whatnot. It's softer but it's still fast-paced and all that jazz."
Although Tapwater Shrimp and Rev have different methods and sound, Leiding said the structure and progression of songs in the split EP "still feels like one, constant thought even though everything on it is very separate and its own idea."
Being able to work together with a fellow artist for an EP, Leiding said, has been a fantastic experience. "There's a lot of really good creative energy going on in Sioux City lately," he said. "There probably always has, but especially lately I feel like there's a lot of good stuff coming from everywhere."
Apart from liking the group itself, Rev said he viewed the team up as an opportunity for him to reach out to a different side of the music scene. "I've got this chip on my shoulder, like, 'I'm not a rapper, I'm a f***ing musician!' You know what I mean? So this is a chance for me to prove that I can hang with just about anyone."
The collab also boasts the idea of unity within the local music scene, something Wigton is a big proponent of. "A few years ago, this probably would have never been a thing or the idea was just kind of out there, but to actually have two sides of the scene come together in one CD or one project is kind of interesting," he said. "It's very exciting to see what happens."
Rev added, "I do feel there is a lot more unity going on in the scene right now. People are making it a point to unite. One-scene-one-love kind of stuff. You see that all across the board. I think the scene, right now, is in a really cool place."