What happens when an adolescent with pure, raw talent gets a guitar at age 9 and devotes his life outside school to practice?
Son of David and Jen Dykstra, Eli Dykstra is a 16-year-old guitar whiz and junior at Boyden-Hull High School who will be releasing his sophomore album at a party on April 14 at The Marquee.
Over the last seven years, Dykstra has been honing his skills and slaying audiences with his lightning-fast finger-work and sounds of screaming metal and rock. If Slash of Guns and Roses fame were to see Dykstra, he would know this style of guitar shredding will continue through at least another generation.
"My whole world is guitar and music," said Eli. "I'm just a teenager who goes to school and sometimes gets out early to do cool stuff. Teachers have been getting cooler with me leaving school lately because they have begun to get used to it and I always get my homework done."
"I don't think very many people at school know what he does," said Jen. "He's not the kind of kid who comes out and talks in school about anything he does. A lot of the kids at school put posters up on their lockers of bands, whatnot, but Eli doesn't have anything on his…but he could have a different poster on his locker every week from events he plays. Nobody knows his accomplishments because it is all outside of school."
How did this infatuation with the guitar begin?
"I had always been attracted to it (the guitar)," said Eli. "I think the reason I started really getting into it was because my dad brought home Guitar Hero for Playstation. I got to be able to hold a guitar for the first time, albeit not a real one. Beating Zakk Wylde and all the other amazing guitarists on that game was awesome, and I wanted to do it in real life. That inspired me. I got my first real guitar on my ninth birthday."
In order to get proficient at an instrument, one must have some sort of practice regimen.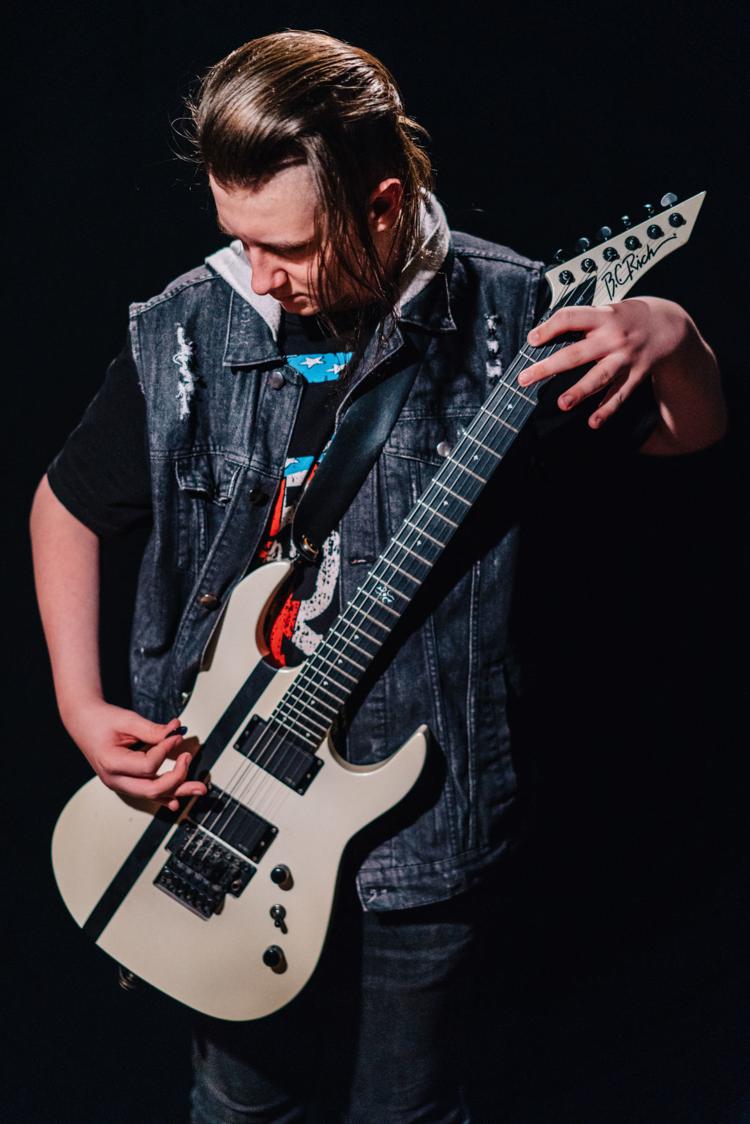 "It (practice regimen) could be better," said Eli. "I practice songwriting all the time, figuring out different chord patterns, scales and progressions that work well together. During school it is a struggle trying to find the time to practice; there are even some days when I can't pick up a guitar at all, but during summer I practice all day."
"Any time he can, he's either going to choose to play guitar or watch 'The Office,'" said Jen.
Eli is recognized and respected by adult musicians all over the area as an up-and-coming guitar master.
"It feels really good to me when I have someone who is an accomplished musician or is someone who is older than me come to me and tell me I played well," said Eli. "It's a cool feeling. It keeps pushing me when I get the approval of other people. I want to keep getting that attention."
Joining him for the release of "Time," his sophomore album, are Hemlock, Devour Once Dead and Stitch Nine.
"All the bands playing are some of my favorite bands from Sioux City," said Eli. "And then there is Hemlock, and they have been around forever. I'll be playing my new music and we will (hopefully) have my new CDs.
"My new album has 10 tracks and is some of the best music I have ever written," said Eli. "I'm excited to get it into people's hands. The concept is 'time' because time doesn't really stop. The CD is kind of like that. We listened to it three times in the car today and couldn't even tell it went through three times. You never really notice time changing because it's in your everyday life."
"It does flow very well," said David. "It's going to be a high-energy show."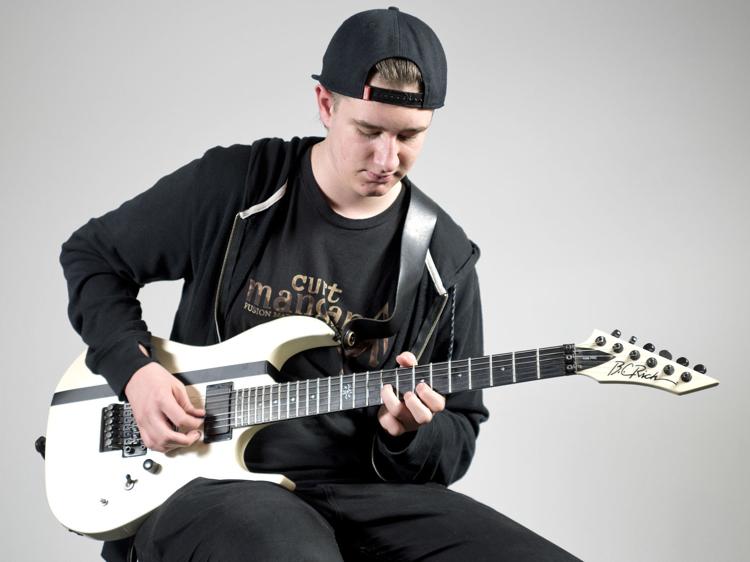 When you are 16, you are going to have a hard time getting into a bar without some sort of obvious/lucrative talent. Because of this, Eli's peers can't come to see most of the shows he plays, which is understandable from the bar owner's perspective, but unfortunate for Eli's younger friends.
"He (Eli) has known all of these bands for quite some time now," said Jen. "It's making those connections…I feel that if he had to wait until he was 21, and this was what he wanted to do, where would it put him when it comes to meeting other musicians and getting this experience?"
"He's created a network through social media and people we've met along the way," said David.
Where would Eli like to see himself? What is his ultimate goal in the world of guitar and music in general?
"To destroy the world and conquer everything in the scene," he says with a laugh. "No, I always said when I was young that I would love to play Madison Square Garden. That's still kind of the goal today. I want to make money doing the stuff I love. I want to be in a band and play places like Tyson Events Center and the Denny Sanford Premier Center; places like that…I want to play in arenas in front of thousands of people."