Rasmussen Ford
"Come Be A Part Of Our Family"
| | |
| --- | --- |
| Sunday | Closed |
| Monday | |
| Tuesday | |
| Wednesday | |
| Thursday | |
| Friday | |
| Saturday | |
Special hours: Service: Mon - Fri: 8:00 AM - 5:00 PM Saturday: 8:00 AM - 12:00 PM Sunday: Closed Parts: Mon - Fri: 8:00 AM - 5:00 PM Saturday: 8:00 AM - 12:00 PM Sunday: Closed Body Shop: Mon - Fri: 8:00 AM - 5:00 PM Saturday: 8:00 AM - 12:00 PM Sunday: Closed
Rasmussen Ford is a Ford dealer in Storm Lake, Iowa offering New Ford, used Ford, Pre-owned Ford Service and Parts in Storm Lake, Iowa.
Accepts:

American Express

Cash

Cashier Check

Check

Discover

Insurance

MasterCard

Money Order

Visa
More About Rasmussen Ford
Welcome to Rasmussen's
Our commitment does not end here though. Once you become a Rasmussen Ford customer, you have the option of scheduling appointments by filling out our online service appointment form. Also, if you have a need for parts, you can use our online parts order form at your convenience.
We invite you to visit our web site www.rasmussenford.com often, as the information and selection are updated regularly. Here are a few reasons to buy from Rasmussen Ford today.
- Family owned and operated for more than forty years.
- Your purchase supports the local economy.
- Local ownership means we will be here after the sale to serve you.
- Award-winning service department.
- Complimentary service loaners and pick-up and delivery service.
- Competitive pricing on all products and services.
- Member of Storm Lake United.
- Actively support the local area school districts and extracurricular activities - from athletics to after-prom.
- Annual contributor to the Buena Vista Regional Medical Center and Buena Vista University.
- You benefit from our extensive involvement in community activities and organizations.
You become a part of our family.
We always welcome your comments. If you have any suggestions on ways we can improve your experience here, please let us know.
Is this your business?
Promote your business through our innovative Marketplace system! It's free to sign up!
What is AutoCheck Score?
Only AutoCheck vehicle history reports include the AutoCheck Score, a tool that enables you to understand a vehicle's past quickly and easily, compare it to other vehicles, and lower the risk of buying a vehicle with undetected problems.
Your vehicle's history can affect your vehicle's AutoCheck Score. Factors that can negatively influence the Score include:
·         Accidents
·         Mileage
·         Title brands such as salvaged or rebuilt title
·         Problems with the odometer such as rollback or broken odometer
·         Frame damage
·         Water damage
·         Whether the vehicle has been branded as a lemon
·         Whether the vehicle has ever been stolen or repossessed
·         Whether the vehicle has ever been used as a police or taxi vehicle
Think of the AutoCheck Score as a rating summarizing the longer list of report data. Paired with the AutoCheck Score Range, the AutoCheck Score allows you to quickly compare vehicles of similar age and class. View a sample AutoCheck Score tile below:
30 Day - 1000 Mile Coverage
Body Shop
Rasmussen Ford has been serving Iowa's automotive needs since 1969. Being a family operated business, we give personal attention to our customers. At Rasmussen Ford, we know your time is valuable, that's why we are a one stop shop for all your collision repair needs. Our fully equipped collision repair shop can handle your auto body repair needs.
Rasmussen's has gone green, environmentally friendly, by using DuPont's Waterborne Cromax Pro Paint System. The use of Waterborne paints also means less solvents which is better for everyone. Waterborne paint has been used on cars and trucks from the factory, both foreign and domestic for the last 15 years, which gives us a better color match and finish.
We operate closely with insurance companies to ensure that your vehicle returns to a like-new state quickly. The paint shop works tirelessly to match all colors and trims, yielding a factory-quality finish. From a mild fender bender to a more serious car crash, no one likes a car accident. Allow our trained professionals to complete your automobile restoration to manufacturer-specified standards.
Our highly trained staff is here to guide you through the repair process and get your vehicle back to its original condition. We understand how to repair your car and how to explain it to you in simple, understandable automotive terms. Our collision repair team spends many hours in training to ensure that they are qualified to handle all auto body makes and models. We can handle all your auto body needs and explain to you how we're going to do it!
In 2011, our body shop received 100% customer satisfaction certified by CSi Complete. Our technicians have a combined 50 years experience. These techs are highly trained being both ICAR and Ford trained. Stop in today and let us get your vehicle back in the shape you want.
The all-new Ford GT. 
*Preproduction model shown.
Ford Warriors in Pink is working on some really good things right now in order to make more good days for those in the fight against breast cancer. Find out more: http://oak.ctx.ly/r/3w098
Enter to win either colored 2015 Ford Escape here:
Comment with your Ford vehicle personality.
Next, enter to win one of these vehicles here:
More Results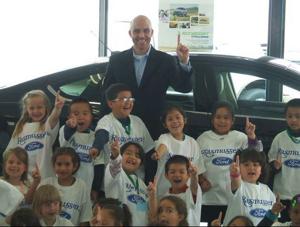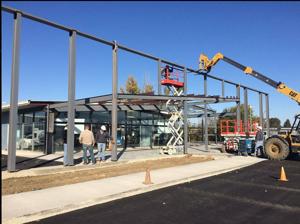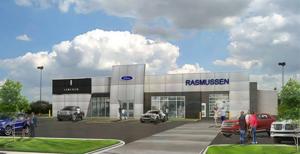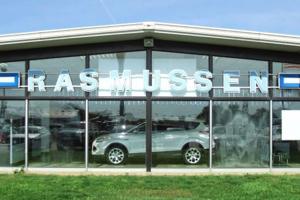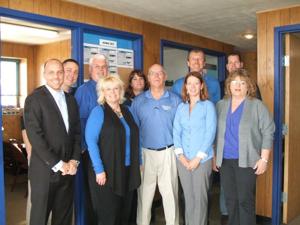 Rasmussen Ford commercial produced by KCAU-TV out of Sioux City, Iowa.
WRITTEN, DIRECTED, SHOT AND EDITED BY
Rasmussen Ford commercial starring Elias Rasmussen. Do you know how easy it is to use RasmussenFord.com?
Latest commercial for March Madness 2012
Written, Shot, Directed and Edited by Kevin Kirby
Rasmussen Ford of Storm Lake & Cherokee, Iowa. Latest commercial produced by KMEG-TV and aired on KMEG, KPTH and KTIV out of Sioux City. R…
Rasmussen Ford TV commercial produced by KMEG-TV Sioux City, Iowa