Dive into the archives with a look back at some of our favorite editions of Siouxland Life through recent years.
Eating, for me, was definitely the worst part of visiting China. The best was seeing all sorts of history. While I couldn't keep the dynasties…
After spending more than a week in the country as part of a Siouxland Chamber of Commerce-sponsored tour, I realized it's a lot friendlier, cl…
"Someday you're just going to have to do it," my dentist said. I took care of those babies like crazy. Sure, it felt like I had teeth near my …
Is a musical life truly sustainable? For one member of Sioux City-based Ultra Violet Fever, it's about fun. But for a couple of other band mem…
Breezy Struthers Drake compares kitchens, one of the biggest ticket items, to shopping for a car. You can be more frugal and purchase a basic …
Go inside the featured home from the most recent Siouxland Life magazine. We have a firsthand look at an indoor pool, unique wall decorations …
Budgeting is, of course, as old as money. But student debt has skyrocketed in recent years, sparking more conversations and more angst about f…
"People are smart enough to realize they're being conned, either by someone on the phone or someone online," a police official said. "But they…
Rare be the risk-free, profitable place to park your money. But there are strategies to keep your money as safe as possible and still get some…
Beginning slowly by making artisan breads, empanadas and cake pops for family and friends, Jada Tirre started Filled With Love in the summer o…
How long should you wait after hitting your head to see a doctor? Are there symptoms to watch out for?
According to a 2018 Pew Research survey, roughly 3-in-10, or 29 percent, of U.S. adults reported that they make no purchases using cash during…
Curently, Leo Marquez works 12-hour shifts at a cheese factory in Hull, Iowa, and as a dental assistant at Rock Valley Dental. "(In) August, I…
Sioux City once had up to 15 national banks, all of which could've printed their own bills. "There's a lot of notes that they've never found o…
When the new owners of a mid-century modern home began the restoration and remodeling process nearly four years ago, they turned to Amy Macfar…
A guide for living in Siouxland.
I am not a morning person.
I fell asleep on my leather chair and when I awakened I had a rash on my arm. Is there a leather allergy? Or what could it be?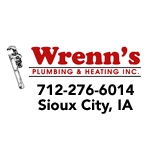 Wrenn's Plumbing & Heating Inc.

SIOUX CITY -- In the 1930 RKO movie "Danger Lights," a tough-as-nails railroad boss befriends a young drifter who, ultimately, comes between h…
ARNOLDS PARK, Iowa -- For a young Dominican, Jamaican, Jordanian or a person of any other nationality, a summer gig at Arnolds Park could be s…
SIOUX CITY -- Years before "the selfie" surged in popularity with the advent of social media apps such as Instagram and Snapchat, Siouxland vi…
ARNOLDS PARK, Iowa -- The last time Tommy James and the Shondells played the Roof Garden in June 1974, they were a juggernaut rock act with fr…
SIOUX CITY – Imagine you are the last line of Rebel defense against the impending doom of the Evil Empire, the Death Star charges to full powe…
SIOUX CITY -- Christine Dekker would like to make one thing abundantly clear.
SIOUX CITY -- Inside the green room at Hard Rock Hotel & Casino, Missy Rarrat inspected a guitar-shaped box filled with such retro candies…