SIOUX CITY -- In every county in Northwest Iowa, crop land values posted an increase in 2020 compared to 2019, according to Iowa State University's annual farmland value survey. 
On average, an acre of cropland in Northwest Iowa is valued at $8,976 per acre. This includes Woodbury County, which has the region's lowest average values at $7,014 per acre, and Sioux County, which has the highest values in the region and the state's second-highest overall, at $10,549 per acre. 
Sioux County and Lyon County (which has an average acre price of $10,028) are among the highest-priced in the state, well above the state average of $7,559 per acre. Lyon County also had one of the largest one-year price changes, at 6.1 percent over last year, and the largest dollar-value increase of $577. 
O'Brien County, which borders Sioux to the east, was the third area county with an average value in excess of $10,000 per acre, with O'Brien's average rising to $10,656. Four other area counties -- Buena Vista, Cherokee, Osceola, Plymouth and Sac -- had average values above $9,000 per acre. 
The high value of land in this part of the state is partly a factor of its natural fertility -- an endowment left behind by long-ago glaciers driving nutrients into the soil -- and by high demand meeting a finite supply.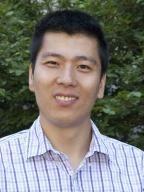 "In Northwest Iowa, especially, there's always a tight market because there's extra competition among the livestock producers for acres," said Wendong Zhang, an assistant professor of economics at Iowa State and the man behind the Iowa Land Value Survey. 
Overall, the state's farmland values jumped by an average of 1.7 percent. A handful of counties, mainly in the southeast and southwest, saw their land values either decline or increase only very slightly. This was the state's second consecutive year of broad farmland price increases, following a slight drop in 2018. 
Zhang said that low interest rates -- the Federal Reserve has maintained its interest rates just above zero for most of this year -- were a major factor in the strong prices. This is in part because low interest rates reduce borrowing costs, making it more affordable to purchase land and helping drive up demand. 
"Plus it means that the alternative investment returns, such as bonds and others, will be lower," Zhang said of the low interest rates.  
Major federal assistance to farmers also helped prop up land prices this year; the positive effects of the government's aid to the farm economy will probably be felt for a few years to come, Zhang said.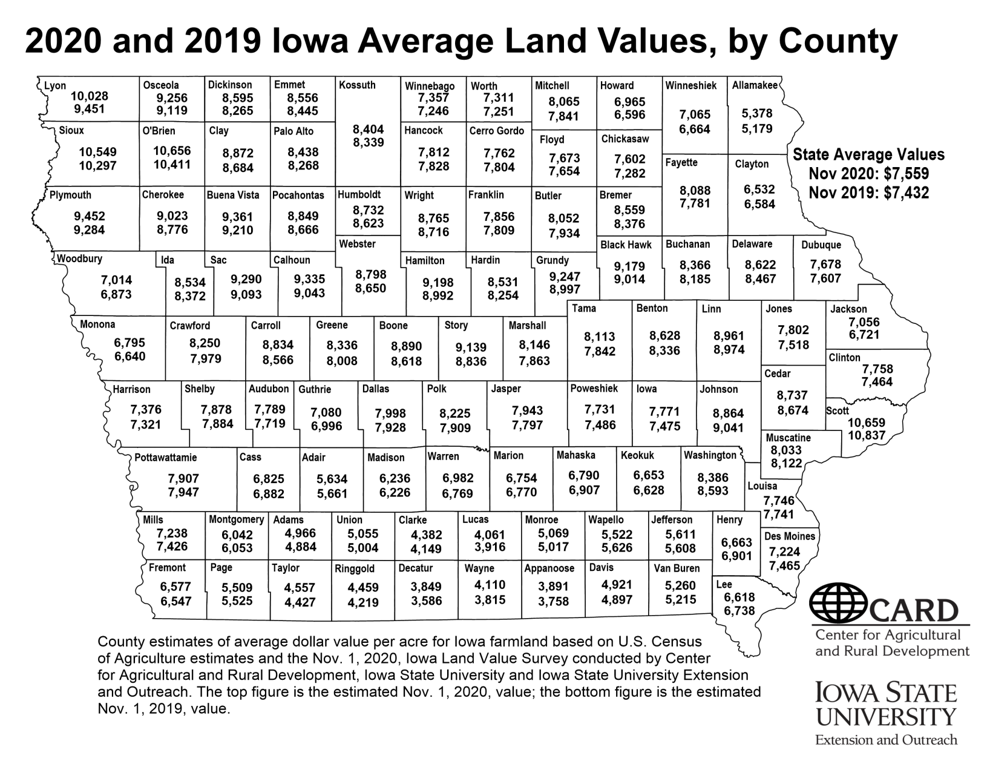 Agricultural commodity prices, especially for livestock, plunged due to the COVID-19 pandemic, but subsequently rebounded -- corn and soybean prices have jumped sharply since the fall. 
The rebound in prices came about because of "surging exports to China and other countries," Zhang said. "Typically, when you are entering this post-harvest season, you typically will see much lower prices, rather than a surge or a rally... So this phenomenon is rather unique and unconventional. But it's really driven by really strong, surging exports to China." 
Farmland values in Iowa have increased in price at roughly double the pace of inflation in recent decades, though annual price fluctuations have settled down during the past few years. In 1973, the state's average price per acre of cropland was only $635. Prices were volatile during the 1970s and 1980s, with huge price increases during much of the 1970s followed by a crash during the Farm Crisis of the 1980s that largely offset the gains of the preceding decade. 
A staggering increase in land prices took place in large part in the years between 2002 and 2013, though prices dipped slightly in 2009. Prices reached their highest-ever in 2013, at an average of $8,716 per acre, before dropping during the following three years.  
The rally of those years was brought on by several factors: low interest rates, China joining the World Trade Organization in 2001 (paving the way for massive importation of U.S. crop commodities) and the implementation of ethanol mandates. 
"That (ethanol mandate) helped, especially corn prices, significantly," Zhang said.